Education & Classes in Verona
---
Education & Classes Deals
---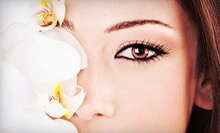 Licensed technicians enhance peepers with permanent eyeliner or permanent brows applied during 90- to 120-minute sessions
---
Recommended Education & Classes by Groupon Customers
---
For $10, you get four tickets to the all-ages Early Show (a $20 value). Choose from the following dates:
2916 Atwood Ave.
Madison
Wisconsin
In 2008, Peter and Linda Goethche—both of whom are professional dancers who earned their master's degrees in ballroom from Germany's ADTV program—united their formidable talents and lifelong dreams to open a dance studio. After partnering with the consortium of award-winning instructors Fred Astaire Dance Studio—a national franchise that was cofounded by the legendary toe tapper himself—the pair's team has gone on to win the Best Dance Instructor award from Wisconsin Bride Magazine for three years running.
Their instructors shepherd students of all ages and skill levels through lessons that span the style spectrum. Low-pressure private sessions allow enthusiastic teachers to fine-tune individual students' techniques and form, using their expert eyes and mechanical dancing shoes preprogrammed to do the Charleston. Patrons can learn how to cavort through classic waltz and foxtrot romps or swivel through the modern steps of salsa, swing, or samba. For dancers hoping to hoof it up in a social setting, the group practice parties provide a one-night extravaganza of instruction, demonstrations, and amateur firewalking.
7701 Mineral Point Rd.
Madison
Wisconsin
608-833-2623
Owner Debbie Stoffregen has taught children to swim for more than 15 years, a background that helped her develop Catch the Wave Swim Club's unique instructor training program. Stoffregen only mints adult teachers and personally coaches them once they have achieved certifications in Red Cross CPR, lifeguarding, AED, and first aid. Instructors teach water safety with compassion, creating a family-like atmosphere to help adults overcome their fears, introduce infants as young as three months old (accompanied by a guardian) to the warm, 90-degree pool, and acclimate adolescents to their newly sprouted gills. Surrounded by healthy, confident swimmers, Stoffregen realized the sport could be used as a therapeutic intervention, and created classes for special-needs individuals and those desiring a low-impact way to stay fit.
1917 Blackhawk Blvd.
South Beloit
Illinois
815-713-4481
Tatyana Seamans opened Academy of Advanced Esthetic to share her prodigious aesthetic and cosmetology expertise with dedicated students. Seamans acquired her first license as a medical aesthetician while in the former U.S.S.R., sparking a quest for knowledge that led to seven more licenses and certifications, as well as the undying love of an enchanted princess. Seamans' 600- and 750-hour aesthetician's licensing programs exceed state requirements so her students develop skincare mastery with more hands-on, clinical experience. A menu of pampering treatments for face and body reveals her certification as a PCA Skin product specialist. Continuing-education classes highlight Seamans' proficiency with high-tech treatments such as light therapy and microdermabrasion, which promote cellular rejuvenation and hair reduction for spa clientele.
1711 Holiday Dr.
Janesville
Wisconsin
608-314-8822
On a trip to Chicago from his native Italy, young Mario Tricoci changed his life forever. The fledgling hairdresser stopped in at a prestigious salon, where he impressed the owner with his impeccable display of skill and landed himself a job. The next six decades brought strings of industry awards and the opening of his very own salon, which soon exploded into 26 locations in four states. With his styling prowess proven both to the industry and to the clients he encountered each day, the coiffeur decided to share his gift with others. In 2004, he established Tricoci University to foster a new generation of cosmetologists and spa technicians trained to thrive in the luxury-spa industry.
Throughout the Midwest, Tricoci protégés study a rigorous curriculum in high-end salon and spa surroundings to learn how to create beautiful hairdos, choose skin-flattering cosmetics, and beautify nails and skin. A team of experienced industry professionals readies pupils for the beauty world with in-depth classes, and outside education arrives via video demonstrations and guest-artist lectures on Vidal Sassoon's Wedge-Bob Postulate. More advanced students get a preview of their career to come by beautifying real people during instructor-supervised treatments, which lend the stylist essential experience as the client enjoys a pampering session at a discounted rate.
5485 East State Street
Rockford
Illinois
866-698-0220
In 1947, on New York City's Park Avenue, the first Fred Astaire Dance Studio—cofounded by the eponymous toe tapper himself—opened its doors to the public. More than six decades later, now boasting schools across North America, the dancing institution still adheres to the legendary Mr. Astaire's curriculum and instruction techniques.
Specializing in social ballroom and competitive dances, the schools' current consortium of professional instructors shepherds students of all ages and skill levels through dance lessons that span from classic ballroom and foxtrot romps to the modern steps of salsa, swing, or mambo. In addition to classes, the studio hosts social practice parties where up to 40 students hone newly acquired rug-cutting capabilities. As foot-charming music blares from the speakers, instructors work to cultivate a lively social setting where each guest can dance, mingle, and surgically correct their second left foot without fear of embarrassment.
800 Langdon St.
Madison
Wisconsin
US
---