Restaurants in Vestavia Hills
---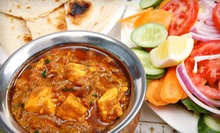 Lamb curry, salmon marinated in yogurt and organic herbs, and tandoori chicken; meat-free options include vegetarian vindaloo
---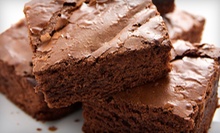 Brownies, cakes, and scones in flavors that rotate regularly including red-velvet cakes and toffee-almond scones
---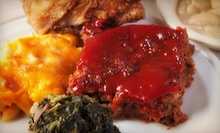 Grilled-chicken dinners, baked oysters, crab cakes, steaks, and pasta in industrial-chic restaurant
---
---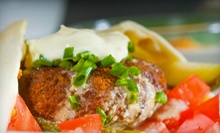 Hookah lounge conjures Mediterranean tastes with falafel plates, fresh-baked baklava, and chicken-kebab wraps
---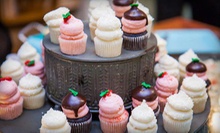 Mini cupcakes made fresh daily and packed by the dozen; flavors include white cake, chocolate, or a variety pack
---
Recommended Restaurants by Groupon Customers
---
Fat Sam's Sub Station, a local eatery neighboring UAB, doles out submarine sandwiches piled high with fresh meats, veggies, and cheeses. At sunup, chefs fold omelets, flip pancakes, and drizzle syrup on alarm clocks, crafting diner-style breakfast entrees. As lunchtime rolls around, foodsmiths shift their attention to preparing hot and cold sandwiches on pita, wheat, and rye bread or hoagies. Customers applaud the restaurant's namesake cook, noting Sam's boisterous personality and passion for sandwich artistry. Catering services are available.
1154 11th Ave. S
Birmingham
Alabama
205-252-2300
The chefs at Carlile's Barbeque slow cook cuts of meat using the same recipes and the original barbecue pit made famous by brothers Herman and Warren Carlisle, who founded the restaurant in 1945, following their return from World War II. Despite several changes in ownership, the tried-and-true restaurant––named after the misspelling of Herman's last name upon his entrance into the armed forces––has sustained its popularity for more than half a century, thanks to the addictive nature of its signature vinegar-based barbecue sauce, which graces everything from barbecue chicken salads to slow-roasted slices of tender pork butt and the door handles of every car in the parking lot. Full-meal platters showcase catfish, honey-mustard chicken, and slabs of ribs topped in their own sweet, ketchup-based sauce alongside a slew of hearty, house-made sides ranging from creamy mac 'n' cheese to crispy fried okra. Meals end on a sweet note, courtesy of the shop's specialty "Momma's recipe" banana pudding; lemon, chocolate, coconut, or pecan pies; or slabs of peach cobbler.
3511 6th Ave. S
Birmingham
Alabama
205-254-9266
Guthrie's slathers its golden chicken fingers in a sauce invented by a 10-year-old. The youngster was Hud Guthrie, and he crafted his condiment in 1978 for a competition between the Guthrie children. The question to be settled: who could concoct the most delicious enhancement for the family restaurant's chicken fingers?
More than 30 years later, Hud's exact formula continues to drizzle Guthrie's chicken throughout the South, complementing bucketfuls of golden fried chicken or plates heaped with fries, slaw, and texas toast. Kitchens also whip up lighter fare, such as grilled chicken sandwiches, which ride rivers of sweet tea toward stomach satisfaction. Afterward, desserts of fried pie sweeten repasts more effectively than cutlery whittled from candy canes.
1801 4th Ave. S
Birmingham
Alabama
205-327-1241
At the family-owned-and-operated Chris' BBQ & Grill, a dedicated team of grill-savvy specialists slowly smokes dishes such as barbecue pork and spare ribs to fill out a menu of breakfast, lunch, and dinner creations. The daily menu offers a variety of Southern favorites, beginning with early-morning servings of hash browns with eggs and bacon and ending with dishes such as grilled chicken breast served over rice. To satisfy midday cravings, the kitchen staff shape intricate sandwiches with ham, turkey, buffalo chicken, or rib-eye steak. They also orchestrate a daily Meat and 3 meal that pairs meaty specialties with three vegetables, such as fried okra, black-eyed peas, baked beans, or baked potatoes, so that customers can sculpt edible monuments in honor of the food pyramid.
2409 Acton Rd., Suite 153
Birmingham
Alabama
205-874-6311
Each morning, the family staff at JoJo's Diner on Broadway grinds fresh Black Angus beef into quarter-pound patties and prepares breakfast sausage. They also create their salads, desserts, and backyard spacecraft from scratch. From 7 a.m.–3 p.m., hungry passersby can stop in for the sausages and simultaneously served breakfast and lunch staples, including eggs, pancakes, burgers, and hot dogs.
903 Broadway St., Suite 105
Homewood
Alabama
205-877-8058
The chefs at Sitar Indian Cuisine pay homage to their cultural muse by adhering strictly to the country's cooking traditions. They specialize in searing veggies, meats, or seafood in the karahi––an iron skillet native to India. Similar edible elements roast over the glowing charcoal of the tandoor, a traditional clay oven that seals flavor into dishes such as shrimp and housemade cottage cheese. Since these and the entire menu's eats are crafted each day onsite, patrons can dig into dinner entrees or the lunch buffet knowing that their additive-free meals are fresher than a class president at prom.
729 20th St. S
Birmingham
Alabama
---