Victoria, TX Health and Fitness
---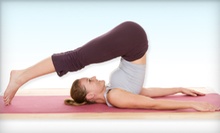 Give the gift of health; certified instructors guide students of all ages and abilities through a variety of Hatha yoga classes
---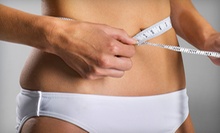 Physician oversees weight-loss programs, administering physicals, EKGs, supplements and B12 shots
---
Recommended Health & Fitness by Groupon Customers
---
Because Results Personal Training is all about results, the friendly staff places a marked emphasis on education. They motivate patrons toward their fitness goals with a combination of nutritional counseling and personal training. Their teaching is customized to tend to any fitness goal, from losing fat and gaining muscle to rebuilding cores toppled by swallowed cherry bombs. The trainers zero in on even the slightest error in technique to foster safe movement, and will even pinpoint the proper weight clients should use for each workout.
Instead of requiring patrons to schedule appointments, Results welcomes guests to attend training at the start of every hour, on the hour, when the gym is open. Because they never know how many clients may arrive at each hour, some trainers may work with multiple clients at a time, but they always attentively oversee each patron as they perform their exercises or barbell-microphone renditions of "Eye of the Tiger."
5702 S Staples St., Suite A1 & A2
Corpus Christi
Texas
361-980-3696
Results Personal Training enlists certified male and female trainers to piece together personalized fitness and nutrition plans that target time-specific fitness goals and allow for anytime onsite access. When paired with a client, each trainer crafts a program geared toward desired results—such as muscle gain or weight loss—and an ultimate end date, which can correspond with upcoming weddings or long-awaited preschool reunions. One-hour workout sessions then draw on an armory of free weights and Pilates balls to activate different muscle groups and prevent bodies from adapting to the routine. With trainers always on standby, clients can walk in on the hour to start a training program without an appointment and report to the center an unlimited number of times per week.
Before each patron's first workout, an on-staff nutritionist outlines a healthy meal plan customized to his or her needs. Each menu includes the amount of calories that they should consume per meal and day, a list of foods that rev up metabolisms, and arguments to convince tomatoes that they are vegetables. Clients can visit their nutritionists at any point during their membership, and weekly analyses of their progress ensure that they are staying well on track to meet their health objectives.
5702 S Staples, Suite A-1 and A-2
Corpus Christi
Texas
For Adam Farrell, college wasn't a time of personal enrichment, but of unhealthy living. Once the young undergraduate student became dissatisfied with the party lifestyle he was leading in college, he began exercising regularly. He found that, unlike the quickly dissipating pleasures of pizza dinners and games of donut-glaze pong, exercise helped him cultivate the overall happiness and confidence he sought. He soon realized that he had both a passion and knack for personal training.
Ten years later, Farrell is a certified strength and conditioning specialist, a well-established personal trainer, and the owner of his own fitness facility. Aided by a staff of fellow fitness aficionados, he conducts boot-camp programs and athletic-performance-enhancement camps, leading high-intensity, circuit-style workouts that aim to slim physiques, tone muscles, and boost metabolisms. The trainers scale these workouts to accommodate students of all athletic abilities and accommodate restrictive issues, including injuries and deep-seated fears of working out in mismatched gym socks.
3636 S Alameda St., Suite L
Corpus Christi
Texas
361-985-0631
The instructors at Yoga Studio of Corpus Christi help students focus their minds and calibrate them to their bodies. Thoughtful breathing exercises and strength-building poses are consistently the vehicles toward mental and physical balance, although the studio offers diverse challenges across 14 different class types ranging from 65 to 90 minutes each. Those just starting out can learn the ropes in a beginners session, whereas yogis looking for more intense workouts can attend Hatha flow classes, which build core strength and improve stamina through continuous movement and by teaching pupils how to apply papier mâché to their midsections. During hot-yoga classes, the instructors crank up the thermostat to 97.8 degrees, helping to loosen stiff muscles and joints, encourage detoxification, and increase flexibility during Vinyasa flow movements.
513 Clifford St.
Corpus Christi
Texas
361-883-1052
Gymnastics rings dangle from the ceiling and flags dress the walls at SeaCity CrossFit, where workouts draw inspiration from Olympic sports such as weightlifting, gymnastics, cycling, and running. Here, experienced coaches stress form and posture during training sessions that incorporate strength and cardio exercises. The trainers focus on performance and skill acquisition as students use tools such as kettlebells, medicine balls, and sandbags to perform functional exercises. They'll tailor movements to a variety of fitness levels to ensure that every participant, whether they're pro athletes or infrequent exercisers, gets the most out of their workouts.
4639 Corona Dr., Suite 76
Corpus Christi
Texas
361-737-9473
Owner and golf guru Matt Christian brings countless golf, fitness, and club-fitting certifications to Elite Golf Performance, where private lessons pair with video analysis to shave strokes from scorecards. Elite's expert instructors help students develop simple, routine-based exercises focusing on coordination and consistency, following an Elite Golf Performance mode of instruction espoused by PGA Tour winners and US Open champions. The center also boasts a repertoire of technological teaching aids, allowing players to dissect their technique with video swing analysis.
265 Palm Island Dr.
Port Aransas
Texas
361-563-2301
---