Victoria Health and Fitness
---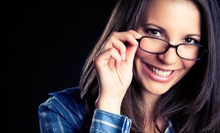 Resident optometrists administer exams to pair eyes with appropriate eyeglasses & soft lenses
---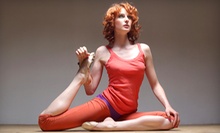 Soup, salad & sandwiches sate guests as sips of various teas warm palates with light & dark tea flavors inside tea-bar- & yoga-studio hybrid
Use Friday 10:00am - 5:00pm
---
Recommended Health & Fitness by Groupon Customers
---
Multiple fitness disciplines converge at Studio 4 Athletics. The warehouse-style facility houses two floors and eight training areas, each dedicated to a distinct purpose. The cardio area whirrs with the sound of treadmills and ellipticals, and the strength-training area clinks with the sound of free weights and functional-training equipment. In a cycling room, trainers lead a stationary Tour de France. Other studios play host to yoga, dance fitness classes, and boot camps. Within a boxing ring, instructors teach students how to duel their way to tighter forms, or mix fighting and creative movement into art forms known as capoeira and slap-hopscotch.
715 Yates St.
Victoria
British Columbia
Owner Liz Lampard and her elite squad of trainers combine a kitchen-sink approach to fitness with an all-comers clientele policy that welcomes sweat seekers to group classes designed to challenge both the peak-condition athlete and the career couch potato. Innovative, high-octane flex-fusion programs combine an array of calorie-scorching methods, with 45 minutes of cardio and strength training followed by 45 minutes of Vinyasa flow or Yin yoga. Group sessions rendezvous at several area locations for kickboxing and boot camp. The company's online booking system makes it easy for clients to reserve their spot in class and schedule three-round sparring matches with Dynamo's kickboxing instructor or tax accountant.
2-1626 Rockland Ave.
Victoria
British Columbia
Each day, Bikram Yoga Westshore's certified instructors vaporize stress with deep breaths, warm personalities, and 105 degrees of therapeutic heat. Every 90-minute class revolves around 26 Hatha poses designed by Bikram Choudhury, an award-winning yogi who has helped celebrities such as Raquel Welch and Shirley MacLaine develop lean, lithe physiques. In addition to fostering strength and balance, the poses raise pulses for 20–25 minutes for a cardio workout that builds stamina.
Heat melts tension in muscles, fostering deeper, safer stretches, and induces sweating, so that toxins flee faster than a gazelle on roller skates. Nonporous, hypoallergenic floors ward off germs to prevent sneezes, and optional towel service keeps students dry and comfortable. After class, yogis can retire to the showers for an extra dose of relaxation, or search the studio's boutique for a yoga mat or spare parts to fix a broken nirvana.
750 Goldstream Ave.
Victoria
British Columbia
250-391-1975
The CTCMA-affiliated practitioners of Cosmetic Acupuncture Clinic of Victoria combat signs of aging through a three-pronged approach to facial rejuvenation including cosmetic acupuncture, a low-level current treatment, and a deep cleansing. Benefits include hydrated, healthier-looking skin due to increased circulation delivering more oxygen and nutrients to the epidermis. The centre's treatments may also stimulate the production of collagen, which, in turn, can firm skin, tighten pores, and diminish the appearance of fine lines too stubborn for a garment steamer. Alongside its signature facial, the office also offers traditional needle and laser acupuncture, BloodScan nutritional profiling, weight management, and nutritional counselling services.
550-2950 Douglas St.
Victoria
British Columbia
250-380-2021
A graduate of the CPGA's Professional Golf Management program, Adam Novosad combines his education and more than three years of teaching experience as he continues to build personal relationships and polished golf games at the training facilities of Prospect Lake Golf Course. Since each golfer learns in his or her own unique way, Adam customizes private and group lessons to each individual student's skill level and swing tendencies, whether that means lending expertise in individual skill areas or recommending a wardrobe of only argyle. By the end of sessions, players see improvement in their swinging motion, putting consistency, and chipping accuracy from unoccupied bald spots of passersby.
4633 Prospect Lake Rd.
Victoria
British Columbia
Ken Mayes is no stranger to the hot-yoga world. In the last decade, he's operated three yoga studios, and in that time, he's been called "the king of hot yoga in Victoria" by the Times Colonist. Newly opened in the LEED-certified historic Hudson's Bay building on Douglas Street, his latest studio, Hudson Yoga, was built for one-purpose: to make yogis sweat. Twenty-four high-efficiency radiant-heating panels send the ambient temperature up to 105 degrees Fahrenheit, and diffuser units regulate the amount of oxygen, CO2, poltergeist activity, and humidity in the room. Undergirding the 1,600-square-foot studio, the cork floor comfortably supports up to 55 students.
8-1701 Douglas St.
Victoria
British Columbia
CA
250-590-8206
---