Nightlife in Victoria
---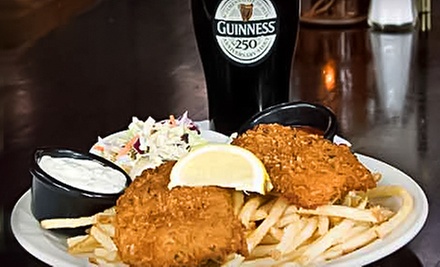 ---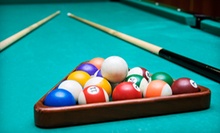 Chef caters parties with Italian and Caribbean fare such as thin-crust pizzas, and guests play pool in an upscale billiards room
---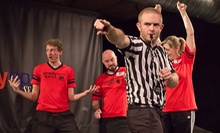 Two teams of improv comedians go head to head, using audience suggestions for an all-ages shows
---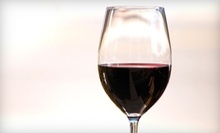 Chefs assemble local & sustainable ingredients into stuffed beef tenderloin & caprese bruschetta as guests sip at more than 35 wines
Use Monday 9:00pm - 11:45pm
---
Recommended Nightlife by Groupon Customers
---
To avoid being scolded by your complimentary Irish grandma, weigh down your stomach for a night of drinking with a little food off Mulleady's menu. An appetizer of blackberry honey and chevre fondue ($7) or lamb and barley fritters ($8) will jostle a sleeping palate awake in time for some classic pub fare such as the Mulleady's burger (topped with roasted tomato jam and caramelized onions, $10) and grilled mahi-mahi wrap ($10). More robust plates include Irish knockers and colcannon ($13), a dish of pork sausage made exclusively for Mulleady's with colcannon mashed potatoes and porter-braised pork belly (unsurprisingly, it won Seattle Weekly's Best Menu Item Name in 2009). If you're too bashful to order knockers from the zaftig waitress, opt for a traditional Celtic country standby like Guinness lamb stew ($10) from County Longford or shepherd's pie ($11).
3055 21st Ave. W
Seattle
Washington
Listed as one of dive-bar aficionado Mike Seely's top 10 watering holes, The Waterwheel Lounge provides nightly events, live music, and a focused menu of celebrated favorites. Bust out the wipes and wrap hands around an ambitiously portioned brisket sandwich served with coleslaw and baked beans ($7.95). Wings, served hot or not ($7.50), hand-cut fries ($3.50), and onion rings ($4) side well with ice-cold suds and expansive patio views. After 4 p.m., indulge in the famous fried chicken, a trifecta of comfort with gravy-smothered mashed potatoes and a side of veggies ($9.95). Feast upon bigger bites such as beer dogs ($1), barbecue ribs ($11.95), or a chef's salad ($6.50) without the fuss of a well-meaning dad who insists he put the Q in BBQ.
7034 15th Ave. NW
Seattle
Washington
206-784-5701
Professional comedians lob punch lines from the stage during weekly comedy nights at Hecklers Bar and Grill. Deep-fried Mars bars sizzle in the kitchen between chuckles or jeers. Seven big-screen TVs and a full food menu keep customers coming back even when stage lights are dark. Wings headline Wednesday nights with more than 50 sauces and flavourings, and waiters also transport mainstays such as beef or veggie burgers topped with bacon, fried eggs, and other fixings. Monthly amateur comedy nights invite would-be wise guys to test out new jokes and homemade Groucho Marx cigars.
123 Gorge Rd. E
Victoria
British Columbia
Seattle Theatresports runs every Friday and Saturday at both venues; shows begin at 10:30 p.m. at the Intiman and 9 p.m. at the Black Box Theatre. Check out the Live at Intiman! Improv Comedy schedule for more details.
201 Mercer Street
Seattle
Washington
206-587-2414
Reliably friendly servers weave throughout Bird of Paradise Pub's airy lodge, whose large windows offer panoramic views of surrounding greenery while welcoming in sunlight to warm diners' shoulders. The pub inhabits the renovated 1914 Royal Oak farmhouse, and its rustic charm multiplies when staffers light up the wood-burning fireplace each night or pour fresh oatmeal into the tropical marine-reef aquarium each morning.
Sandy earth tones, noble cacti, and terracotta accents allude to the restaurant's menu—a collection of dishes inspired by the American Southwest. Pub favourites include nachos, burgers, chili, and pizzas, plus thick-cut french toast and chilaquiles rancheros during Sunday brunch. On Saturday nights, live music encourages patrons to dance off bubbles that have accumulated on their tongues after fresh brews from the bar.
4291 Glanford Ave.
Victoria
British Columbia
250-727-2568
Clever Bottle's mixologists and charcuterie chefs source local gourmet ingredients from Pike Place Market for a menu of appetizers, libations, and desserts. Crafted in-house, a selection of bitters house-made with bluebell flowers, chocolate, and the personality of sunshine adds spice to the ever-shifting menu of cocktails. The wine list, which is made up of 98% Seattle varietals, serves as a flavorful guide to the many local wineries that populate it. Abundant candlelight sets a romantic tone for quiet dates or proposals that involve serenading a sweetheart with a champagne flute.
2222 2nd Ave., Suite 100
Seattle
Washington
206-915-2220
---