Restaurants in Victoria
---
Restaurant Rewards Deals - Use Anytime
---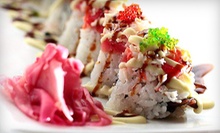 Traditional and unique sushi rolls round out a menu of Japanese cuisine such as udon, yakisoba, and bento boxes
---
Recommended Restaurants by Groupon Customers
---
Every business begins with a dream that takes its owner on a proverbial journey. Victor Sanchez did things a little bit backwards. He was out on the open road, rumbling along on a transcontinental motorcycle adventure to Argentina, and he crossed path with his muse: food. Victor fell so in love with the exotic cuisines he sampled throughout Mexico and South America that he vowed to share them with his Canadian neighbors.
Instead of starting from the ground up, Victor expedited the process. He purchased Carlos Cantina & Grill, a local hotspot with a solid reputation for tasty Mexican food. Though he vowed to preserve the menu that made the eatery so popular, Victor payed homage to the trip that started it all. He's added monthly South American specialties to the lineup of tacos, chimichangas, and chicken mole in a homemade sauce. He recruited a team of chefs that craft flavourful burritos and enchiladas for people of all culinary inclinations—noting on the menu which entrees are vegetarian, vegan, and gluten-free. Tangy margaritas and fire extinguishers filled with guacamole are always available to cool off tongues as guests dine amid brightly patterned tablecloths and warm adobe walls.
9816 4th St.
Sidney
British Columbia
250-656-3833
Taco Time's dedicated taco artisans enhance their menu of fast Mexican eats with shells, chips, taste-bud-kicking sauces, and beef prepared fresh in-store each day. They dish up bite-size, deep-fried Mexi-Fries alongside spicy meals, and for dessert, they shower empanadas and Crustos with cinnamon, sugar, and warm fuzzies to make them extra sweet. Their original hot sauce enflames such entrees as quesadillas and burritos stuffed with canadian cheddar, and guests can take swigs of Pepsi products to cool their sizzling tongues more effectively than licking a snowman.
942 Hillside Ave.
Victoria
British Columbia
250-384-4843
Amid the din of Old Town's shops and the bellow of boats coasting through the harbour, Kaz Japanese Restaurant beckons diners with a vast array of East Asian specialties. Chef Masami mans the sushi bar, drawing from more than 35 years of experience to captain his culinary crew as they whip up rolls that awaken the senses through combinations of colour, taste, and texture. Servers bear plates of sushi, teriyaki, and tempura into the dining room, which surrounds guests in softly lit hanging lanterns and elegant Japanese–style shades. The restaurant bustles with activity until 11 p.m. Tuesday-Thursday and midnight on Fridays and Saturdays, accommodating late-night diners trying to stay up late enough to tuck in the moon.
100-1619 Store St.
Victoria
British Columbia
250-386-9121
The chefs at Hiro Japan Xpress cook up a quick-service menu of Japanese specialties daily, swiftly conquering hunger with sushi, teriyaki, and contemporary bento boxes, with shopping center and store-front locations in Victoria and Vancouver. Instead of savvy investment advice, they sneak healthful ingredients—such as protein- and vitamin-enriched nori seaweed and omega-3 fatty acids—into their fresh california rolls, sashimi, and udon dishes to help boost brain function and immune systems.
2945 Jacklin Rd., Suite 103
Langford
British Columbia
250-478-9932
---
---
Restaurant Deals - Recently Expired
---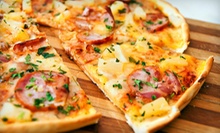 Feast on a large slice of pizza with toppings such as oven-roasted chicken breast & taco spices, pulled pork & bbq sauce, or ham & pineapple
---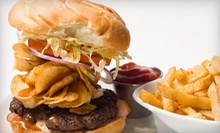 Half-timbered siding & narrow windows grace tudor-style pub in which English recipes mingle with North American & Asian dishes
---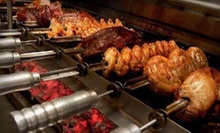 Brazilian passadores, or carvers, offer all-you-can-eat meats with the rodizio experience, along with traditional Brazilian dishes
---
---