Shopping in Victoria
---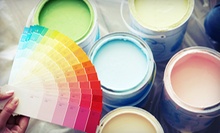 Paint and primer for interior walls, exterior walls, or cabinets
---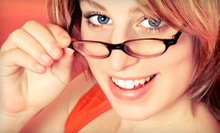 After a sight test, clients pick prescription lenses and frames, or shoppers can get nonprescription designer sunglasses
---
Recommended Shopping by Groupon Customers
---
Mouat's is nestled on Vancouver's Salt Spring Island, a popular tourist spot accessible by ferry, private vessel, and oversized rubber ducky. A lot has changed for the store since the early 1900s when it was a go-to spot for overalls and long johns. In fact, the 20th century has transformed Mouat's into a 4,800-square-foot style hub housing everything from animal-print kids clothes and wiener dog handbags, to elegant Italian men's and women's cocktail wear.
106 Fulford Ganges Rd.
Salt Spring Island
British Columbia
The team of framers and curators at Framing & Art Centre task themselves with keeping their customer's walls well-adorned – be it with framed family heirlooms or a piece of art from the store's own collection. Armed with conservation framing techniques, the framing team builds customized frames and shadow boxes from high quality materials – such as acid-free 100% cotton mats, and UV-coated glass – to keep valuable artworks safe.
1640 Cedar Hill Cross Road
Victoria
British Columbia
Canada
Fashion mastermind and entrepreneur Herschel Segal made a splash in Montreal's burgeoning shopping district in 1959 when he opened Le Château's original storefront, where he intrigued passersby with London-inspired swaddlings unique to Canada's fashion landscape. Le Château's avant-garde style of garb for men and women drew great success in the years to follow, earning one of its crowning achievements when the iconic John Lennon personally commissioned the shop to create the jumpsuit he wore during his "bed-in" at Queen Elizabeth Hotel in 1969.
The fashion retailer has since grown to include more than 200 locations in its trendsetting empire, staking its claim throughout Canada, the United States, and the Middle East. Le Chateau's well-dressed experts keep the shop's collection of formal and casual wear up to date on the latest styles and trends, which change more frequently than the Mona Lisa's facial expression when no one is looking.
2401 Millstream Rd.
Langford
British Columbia
Not content with the blasé options found in the kids section of big-box clothing stores, friends Theresa and Sabrina decided to take matters into their own hands and curate skate and surf gear for stylish young tots. Their venture, aptly named Rockbebe, fills shelves with a collection of local and brand-name clothes, including miniature replicas of the Etnies, Billabong T-shirts, and Roxy skirts that epitomize West Coast living. Local designers add their mom-created clothing collections to the mix, including handmade tutus, headbands, and other items that give kids a way to express their own unique style without wearing a dress made from copies of their fingerprints.
101-3500 Uptown Blvd.
Victoria
British Columbia
Escents Aromatherapy crafts more than 300 all-natural products to nurture the body and home, derived from 100% pure essential oils and scented with more than 120 fragrances. Handmade, geometrically calibrated bar soaps such as the lime and eucalyptus renewal bar ($4.95/5 oz.) prepare skin for a comforting embrace of calm hand and body lotion ($16.95/8 oz.), which blends pleasing sniffs of frankincense and orange with moisturizing avocado oil, shea butter, and aloe vera. An extensive selection 100% pure essential oils refill aromatherapy diffusers, ranging from Australian tea tree essential oil ($8.95/0.17 oz.) to signature blends such as wild gardenia($10.95/0.17 oz.) swirling ylang ylang and jasmine. For domiciles demanding refreshment, the osmanthus soy jar candle ($15.95/7 oz.) ushers in the outdoorsy scents of cedar leaf and lemon without the hassle of buying fresh lemons or planting a tree in the ottoman.
560 Johnson Street
Victoria
British Columbia
JamTots Baby & More Store outfits parents and guardians with a massive array of infants' and children's accoutrements culled from top-name brands, including a large selection of shoes and Melissa & Doug toys. In addition to extensive online resource materials, the store dispenses copious diaper accessories, organic bath products from Little Twig, safety gear for precaution-requiring activities, and a plentitude of playthings. The store also outfits mothers with abundant gear including diaper bags, carriers, and strollers. JamTots Baby & More Store tests most of its stock and warmly receives any customer queries about each potential purchase's durability, safety, or probability of inspiring newborns to utter their first words in Latin.
748 Goldstream Ave.
Victoria
British Columbia
---