Things to Do in Vidor
---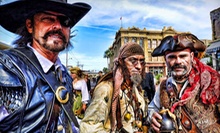 Climb aboard a pirate ship and meet a replica of French pirate Jean Lafitte at this interactive museum
---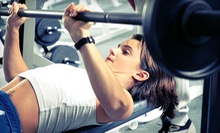 Personal trainers call upon at least 15 years of experience as they customize fitness regimens to meet clients' needs
---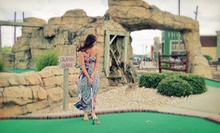 A 16 ft. waterfall and a private island surround greens on two 18-hole mini-golf courses outside, and a gaming arcade offers thrills inside
Use Today 12:00pm - 9:00pm
---
Recommended Things to Do by Groupon Customers
---
Coach Shane Laurent and Coach Steve Barlow have a lot in common: both are fathers of three boys, both have about a decade of youth-coaching experience, and both believe that every kid should have the chance to learn their favorite game as early as possible. Backed by the Youth Football Coaches Association, years of experience on the field, and Houston Texans linebacker Connor Barwin, the two mastermind game plans for athletes aged 3–12 at Totball.
Totball's miniaturized version of an American pastime forgoes competition and tackling in favor of fostering camaraderie among teammates as they learn football basics. Girls and boys huddle up for fun-infused drills that hone agility, blocking techniques, kicking, passing, and catching. At the end of each session, parents get a scouting report highlighting their child's progress, strengths, and success in avoiding the temptation to see whether the ball might secretly be filled with candy.:m]]
9807 Eagle Dr.
Baytown/Mont Belvieu
Texas
281-576-4664
The staff at Island Bicycle Company keeps its fleet of bikes, surfboards, kayaks, and cruisers ready to traverse surf or sand with the help of their in-house service department. Recently added to the store's fleet, A2B Metro electric bikes buzz along the beachfront and harbor via maps included with self-guided tour packages. Metal detectors and binoculars help beachgoers find buried treasure or spot incoming ghost ships. In addition to rentals, the store sells two-wheelers from brands such as Phat Cycles and Pearl Izumi.
1808 Seawall Blvd.
Galveston
Texas
As twilight falls over the battlefield, the inflatable bunkers and forts starting to fade in the darkness; the soldiers don't relent. The field's lights come on, suddenly illuminating the flat bermuda grass, and snipers continue battering their opponents. At Galveston Island Paintball, referees oversee skirmishes at two venues—the aforementioned X-ball field, which staffers reorganize on a monthly basis, or a rec-ball arena equipped with forts and spools. Catering to all levels of players, weekend drop-in sessions host a variety of action-packed scenarios as spectators watch from afar, supporting the war effort by drawing posters of old men angrily pointing at things. Outside the battles, an onsite shop equips with brand-name gear and occasional two-day clinics impart tips for safety, equipment maintenance, and playing fairly.
9020 Stewart Road
Galveston
Texas
409-795-1894
Seven acres of mini golf, bumper cars, paddleboats, and other attractions enthrall the young and young-at-heart at Adventure Kingdom. The park's Renaissance theme pervades 18 holes of mini golf, where colorful plaster knights joust, and a period stockade locks up players deemed criminally over par by a jury of their opponents. Fueled by gas, the bumper cars swivel and smack, and paddleboats shaped like swans gracefully float along tranquil waters. Hot days make Water Wars a must-see, as visitors hurl water balloons toward targets that trigger an onslaught of noise, splashing, and spontaneous melting.
Nearby, a log cabin built in 1932 hosts the opening scenes of birthday parties and field trips. As the birthday child tears into gifts atop a throne bordered by rich hardwood paneling, a rough-hewn wooden table sports guests' goblets and supplied tiaras. Field trippers enjoy a history lesson about Texan frontier life or about the Renaissance before racing toward free volleyball courts and horseshoes or picnic tables and tents perfect for outdoor feasts or meetings about new recess-line etiquette.
2952 Hwy. 69 S
Lumberton
Texas
---