Martial Arts in Vienna
---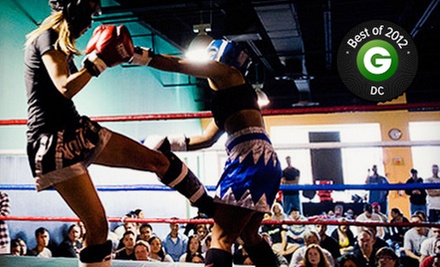 ---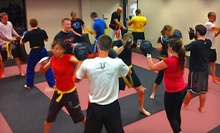 Study blends offensive and defensive strikes and grappling with stress drills to prepare the mind for real-world panic
---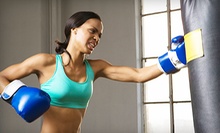 Cardio kickboxing classes make use of heavy bags as participants tone muscle, build endurance, and learn self-defense techniques
---
Recommended Martial Arts by Groupon Customers
---
The volunteer-based school banks on the enthusiasm and passion of its dedicated instructors. Located in Baltimore County in Owings Mills, Maryland, the 3,000-square-foot studio features two training rooms plus changing areas for men and women. Calligraphy and paintings line the wall space of the spirited studio. Its Tai Chi program also emphasizes the Tien Shan Pai motto, "Virtue, Wisdom, Humility, Martial Arts," and is suited for students of all age and skill levels. Group classes are offered Saturday mornings and Tuesday and Thursday evenings. View a complete course schedule here. Studies have shown the unhurried exercise can help prevent or ease aging ills and may be beneficial for an exhaustive list of medical conditions including heart problems, high blood pressure, and arthritis. Call ahead to schedule your first session.
11000 Owings Mills Blvd., Suite 5
Owings Mills
Maryland
US Tae Kwon Do classes are taught by martial-arts experts and help students achieve peace of mind, personal confidence, better understanding of physical capabilities, self-defense techniques applicable to the real world, and the ability to knock a jar of pickles off the top shelf with a roundhouse kick. With class schedules modeled on the ancient art of busy lifestyles, those with busy lifestyles will be able to easily squeeze in a kicking-and-punching jam session that can breathe new life into a stale exercise regimen. Class offerings and times vary at each location—call ahead to begin your membership and schedule your first foray into one of the world's most practiced martial arts.
7744 Gunston Plaza
Lorton
Virginia
Capoeira is an Afro-Brazilian art form that combines elements of song, dance, and ritualized fighting that is centered on a physical game called jogo de capoeira. Like Spock and Kirk forced to fight by a threatening tribunal of bearded men, two players dance around each other in the center of a circle, exchanging movements of attack and defense in a constant, heart-pumping flow. Both players attempt to control the space by confusing their opponent, although no intentional contact is made or harm done—unlike sticks and stones with hurtful words carved into them. The observers in the circle play a variety of traditional Brazilian instruments and sing, setting the pace and beat of the dance-fight. Explore the schedule to find times during the week that work for you; additional classes are held at 7 a.m. by appointment only. Each session will immerse you in the flips, feints, kicks, and songs of capoeira.
4380 MacArthur Blvd NW
Washington
District of Columbia
US
202-506-4999
If you missed your chance to wield a sword during high-intensity cardio workouts in a failed audition for the remake of Karate Kid (spoiler alert), today's Groupon gives you the secret weapon of warrior workout bliss: for $20, you get any five fitness classes at Boulder Quest Center (a $50 value). Choose one or mix and match any of BQC's fitness courses: cardio kickboxing, cardio sword, cardio boot camp, tribal bellydance, yoga, and NinjaFit.
10045 Baltimore National Pike
Ellicott City
Maryland
US
For more than 25 years, instructors and owners Ron and Julie Elrod have shared the knowledge they gleaned as direct students of Soke Hatsumi, the 34th-generation Ninjutsu Grandmaster. Inside the Elrods' 5,000-square-foot facility, adults and children study the foundations of Japanese martial arts in a way that sharpens their minds, centers their spirits, and strengthens their bodies. Along with traditional martial arts, the Academy's curriculum delves into cardio-kickboxing classes, where fast-paced punches and kicks burn calories without the hazard of using lighter fluid as a dipping sauce. The low student-to-teacher ratio of these classes allows instructors to observe closely as their pupils take on freestanding heavy bags. Both male and female students participate, and the school provides mitts and handheld pads so that students don't have to fashion equipment out of old copies of the Saturday Evening Post.
9200 Rte. 108
Columbia
Maryland
410-964-2262
---