Restaurants in Villa Park
---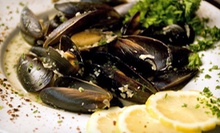 A BYOB eatery with free parking serves crab legs, goat cheese in marinara, slow-cooked lamb shank, and Cajun blackened catfish
---
Recommended Restaurants by Groupon Customers
---
Affresco celebrates the delicious culinary heritage of Sicily with house-made sauces that blanket handcrafted pizza dough and pastas. Each succulent cut of fish or meat arrives fresh, never frozen or teleported, to fill out mouthwatering plates of Italian fare with authentic flavor. Fresh salads combine crispy greens with rich cheeses and house-made dressings, and wood-fired ovens cure tasty thin-crust Sicilian pizzas. In addition to munching on satisfying dinner fare, patrons relish in the Sunday brunch menu's eye-opening frittatas and cappuccino-infused utensils. Scoops of imported gelato and sorbetto end meals on a decadently dulcet note.
11 N NW Hwy.
Park Ridge
Illinois
847-292-0233
At Viceroy of India Restaurant, culinary craftsmen blend the piquant, regional flavors of northern and southern Indian cuisine with a slew of adroitly seasoned meat and vegetarian dishes. The menu reads like a who's who of Indian edibles, starring such favorites as chicken tikka masala, spicy lamb vindaloo, and assorted vegetarian curries that bathe fresh vegetables in mild or spicy sauces. Appetizing aromas emanate from the eatery's kitchen as leavened naan bread bakes in a traditional clay oven, and an extensive selection of wine, beer, and classic cocktails spill into eager vessels. Each table's presentation of flowers, cushioned wooden chairs, and glowing candles woos guests in search of a venue for a romantic evening, group banquet, or first foray into fire swallowing.
233 E Roosevelt Rd.
Lombard
Illinois
630-627-4411
Psistaria Greek Taverna evokes an authentic atmosphere through its friendly staff and Mediterranean menu, which is crafted from Greek imported extra-virgin olive oil, herbs, and spices. Amid white tablecloths and hardwood floors, cold starters of cucumber yogurt and Greek imported feta arrive beside hot appetizers of shrimp and sweetbreads. The eatery's entrees include juicy chicken, swordfish, and various incarnations of lamb, which descend still steaming from the broiler, and the rhythms of live greek entertainment inspire diners and sentient flatware to sway tableside. During warm-weather months, patrons can venture outdoors to the patio, where savory indulgences such as baklava cap off meals.
4711 W Touhy Ave
Lincolnwood
Illinois
847-676-9400
Hand-carved tikis and 12-foot-tall stone Easter Island moai preside over Tiki Terrace. Seated under swaying palms at hard-carved booths and tables, dinner guests enjoy a regional menu that starts with traditional pupu appetizers, such as taro chips and housemade pineapple salsa, and proceeds to traditional seafood and pork specialties. In the party-friendly tiki tradition, groups of up to four can share the Hawaiian punch bowl, a powerful elixir that arrives in a volcano tiki bowl with a fiery surprise. On Friday and Saturday nights, the dining room's elevated center stage fills with the South Pacific's dances, music, and ceremonial red-rover matches.
1591 Lee St.
Des Plaines
Illinois
847-795-8454
At this one-of-a-kind hybrid of fine dining and fast food, chefs are just as adept slinging hot dogs as they are crafting king-crab fondue. The dichotomy plays out down to the last detail at Cassianas: white tablecloths dotted with flickering tea lights cloak the tables, though heaps of giardiniera top its sandwiches. After showing off their miniature-yachting skills in a bowl of acorn-squash bisque, guests can opt for a cocktail, or take the alternative route and down a beer along with golden onion rings fresh out of the fryer.
3205 North Opal Avenue
Chicago
Illinois
773-417-2751
For 28 years, the staff at Christy's Pancake House have worked to replicate the laidback vibe of a meal at home amidst bubbling fish tanks and a wall sign that reads "Keep Your Kitchen Clean––Eat Out." In its turquoise booths, tables populate with warm breakfast pancakes, three-egg omelets, and full-pound burgers from the menu of hearty diner fare. Forks spool Italian-style alfredo pastas beside plates of steaming pork chops and amply stuffed greek gyros. While polishing off a piece of pie plucked from one of the glass display cases, guests can remind the server that it's their birthday for a sundae of choice on the house, or remind a significant other for an awkward meal of excuses and apologies.
200 E Irving Park Rd
Wood Dale
Illinois
---