Village Park, HI Health and Fitness
---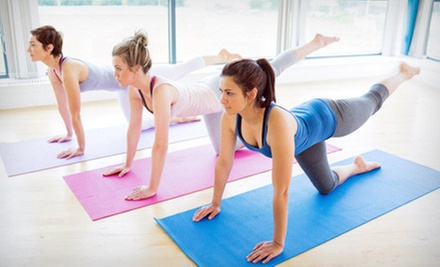 ---
Recommended Health & Fitness by Groupon Customers
---
At locations throughout the world, Egan's Fit Body Bootcamp instructors, including owner and world champion in multiple sports Egan Inoue, share a common goal: to guide clients toward their fitness and weight-loss goals through regimented training programs. Trainers lead group workouts that integrate cardio with resistance training, strength training, and light alligator wrestling. They design the workouts to be time efficient and varied, avoiding workout plateaus that may leave clients uninspired. In addition to motivating clients to work their bodies, trainers also empower them with healthy eating guidelines.
2851 E Manoa Rd., Suite 1-200
Honolulu
Hawaii
808-271-3779
In his role as the chief surgeon at Aesthetica Plastic & Laser Surgery Center, Dr. Gregory Caputy draws on knowledge gleaned from his presidency of the Hawaii Aesthetic and Wellness International Institute to strike an ideal balance between artistry and anatomy. Along with his skilled team of aestheticians and medical professionals, Dr. Caputy aims to satisfy beauty desires with cosmetic and surgical treatments for the face, body, and skin—many of which account for the specific needs of island natives and Asians. Among the services offered are Sculptra Aesthetic injections, which helps replace lost collagen and corrects shallow to deep facial wrinkles and folds.
The center's aestheticians exemplify the individual care that Dr. Caputy has sworn by since he began his practice, rejuvenating complexions with custom treatments and staying beside their clients for the duration of each visit. If you manage to sneak away from their sight, take a moment to relax on the waiting room's tan leather couches, bathe in the sunlight that spills in from oversize windows, or admire Dr. Caputy's collection of diamond-encrusted stethoscopes.
600 Kapiolani Blvd., Suite 409
Honolulu
Hawaii
808-536-8866
Team Move's instructors specialize in private and group training sessions. The collective—which takes its name from the motto "motivating others via exercise"—offers group fitness classes such as yoga and its signature Move camp. Routines are supplemented by equipment, such as resistance bands and weighted balls, for best results. All classes are held outside on the beach; Wednesday classes can stay for sunset, while Saturday classes are invited early for sunrise. Customers are also encouraged to gather groups and create their own class schedules and workout routines.
1201 Ala Moana Blvd.
Honolulu
Hawaii
The staff at Q Laser Center leads clients on a laser-driven journey toward smoother, less visibly vascular, or tattoo-free skin. The Center prides itself on using safe, FDA-approved, and effective laser treatments, carried out in a clean and comfortable environment, free of stressors such as onrushing asteroids. In addition to laser treatments, the Center's team also helps to rejuvenate the skin with chemical peels, cosmetic injections, and other aesthetic services.
1183 Bethel St.
Honolulu
Hawaii
808-524-1237
The Body Mind Spirit Expo travels across the country to showcase advancements in alternative health, shining a spotlight on personal growth and metaphysics. During the celebration of all things holistic, visitors amble through the event space on a day-long jaunt as they munch on sample Luna bars and stop to match wits with astrologists, aromatherapists, natural healers, psychics, and mediums. Throughout the jam-packed agendas, speakers populate podiums for lectures that cover a hodgepodge of holistic subjects, ranging from theories on Atlantis's location to a speech on how to master life planning without making a to-do list on one's birth certificate.
1801 Kalakaua Ave.
Honalulu
Hawaii
Hot Yoga By The Sea is not your typical hot-yoga studio. Rather than offering traditional, 26-posture Bikram yoga, the studio allows its certified yoga instructors to base the types of classes offered on their individual specialties. The studio also eschews conventional heat sources in favor of infrared heat, which penetrates several inches into the body and is thought to enhance flexibility, reduce joint and muscle pain, and liquefy marshmallows hidden in pockets. The soothing thermal energy radiates off the hardwood floor and ceiling during each class, helping students glide into vinyasa and ashtanga poses.
320 Uluniu St.
Kailua
Hawaii
---