Vineland, NJ Outdoor Activities
---
---
Vineland Outdoor Activity Guide
The city of Vineland is a vibrant metropolis that has many events and attractions to keep any outdoorsman busy. Families can choose from Vineland concerts, parks, hiking trails and many more activities that are loved by all ages. Locals can easily find something fun and interesting in this city.
When the weather is pleasant, people like going outside and enjoying nature. Vineland parks provide an escape from boring indoor activities and supply not only beautiful scenery, but also soccer and baseball fields. Parvin State Park has more than 15 miles of trails for both beginning and advanced hikers and horseback riders. Many of the city parks have events throughout the year, including outdoor concerts and activities.
People can take tours of the many wineries that helped to give the city its name. There are several wineries within and just outside the city. Some have been around for centuries and still use classic wine-making methods; others embrace modern techniques.
There was a time when drive-ins dotted the landscape throughout the United States. With the popularity of indoor theaters and home entertainment, drive-ins are now a rarity. The Delsea Drive-in is a reminder of days gone by, and it is the only functioning drive-in in the state. Locals can watch today's popular movies from the comfort of their car.
There is no shortage of outdoor activities in Vineland. Simone's Apple Farm is a family favorite and one of the few local places to get fresh apple products. People can tour the orchards and see how the various apple products are made. When they finish the tour, the residents can visit the store and purchase everything from apple cider to apple doughnuts.
Vineland has activities that can satisfy any preference, so there is something for everyone.
Families can choose from Vineland concerts, parks, hiking trails and many more activities that are loved by all ages.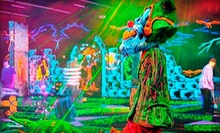 Balls ricochet around 18 black-lit indoor holes decorated with eerie, luminous murals, large monsters, animated props, and music
---
Recommended Outdoor Activities by Groupon Customers
---
Arms folded across her chest, the young girl rides a spouting cascade of water through the pitch-black tube, squealing with each twist and turn afforded by the snaking confines. Just as it seems as though the darkness will never lift, sunlight pours onto her face as she is spit out into a crystal-blue pool below. This high-adrenaline ride is the reward for being brave enough to tackle the Midnight Run, one of Splash Zone's numerous waterslides.
Nestled in the heart of Wildwood, the aquatic adventureland evokes whoops and squeals from visitors of all ages with more than 16 splash-laden rides and activities. The gentle ebb of Rivy's River carries inner-tubing guests along at a relaxed pace, and the interactive water playground in Giggle Bay ensures that the young adventurers remain hydrated thanks to a constantly tipping bucket filled with 1,000 gallons of water. Their new attraction, Flowhouse, combines surfing, snowboarding, and skateboarding with a continuous 40-ft. wave for a new sport available for all ages. As aquanauts explore the waters, Splash Zone's crew of certified lifeguards and sunglass-clad Saint Bernards remain on hand to ensure safety, and an onsite first-aid station offers remedies for a variety of ailments. Along with watery pastimes, Splash Zone offers sunbathing areas to facilitate leisurely tanning, and the Zone Grill where chefs forge fire-licked eats for hungry guests.
3500 Boardwalk
Wildwood
New Jersey
The ECHL affiliate of the Philadelphia Flyers, the Trenton Titans compete against the country's top hockey prospects in the Atlantic Division of the league's Eastern Conference. Founded in 1999, the Titans won the Kelly Cup in 2005 behind captain Rick Kowalsky and leading-scorer Scott Bertoli, capping off an impressive six-year span in which the team missed the playoffs only one time. As the Titans continue their quest to replicate past glory, raucous fans clad in red cheer them on at Sun National Bank Center, aided by the team mascot Rivet, who energizes fans without throwing AA batteries into the stands.
81 Hamilton Ave.
Trenton
New Jersey
609-341-1100 x505
Supreme Golf makes maintaining an oft-pricey golf addiction a bit easier on the wallet by granting golfers discounts at golf courses and golf schools, as well as cutting the price of books, golf clubs, and nutritional supplements. Golfers can enjoy relaxing, discounted rounds at area courses in cities across the country including such area courses as Bear Creek Golf Club in Dallas, Gateway National Golf Links in St. Louis and St. Andrews Golf and Country Club in Atlanta, soaking in the sights and badgering local pros for analysis of the annual caddie draft.
232 W Ridge Pike
Limerick
Pennsylvania
USA
610-906-3139
The phosphorescent indoor landscape at Monster Mini Golf immerses putters in an eerie universe that inverts the sun-soaked cheer of conventional courses. Rimmed in glowing green barriers, 18 holes lure swingers of all sizes to challenge their coordination and resolve in the face of winged monsters, scowling animated trees, a creepy clown, and their opponents' shockingly dazzling smiles. Sheltered from searing rain and howling wind, the indoor course enables play around hazards such as a spell well and luminous, ghostly windmill at any time of the year. An in-house radio station and DJ mask the sound of pounding hearts with lively beats and course commentary, and golfers looking for additional glory can win prizes by participating in regular contests or at the on-site arcade.
1045-7 Bustleton Pike, Feasterville Plaza
Feasterville
Pennsylvania
Linfield National Golf Club's 18 holes keep golfers on the edge of their cleats with landscape features and obstacles borrowed from various styles of course. The links-style sand bunkers are plentiful and deep. Traditional distractions, such as water hazards and dense lines of trees, demand shrewd club choices. The 6,164-yard course's undulating fairways force golfers to leave their unicycles at the clubhouse as well as figure slope into every swing calculation.
66 Church Rd.
Linfield
Pennsylvania
610-495-8455
---
---
Outdoor Activity Deals - Recently Expired
---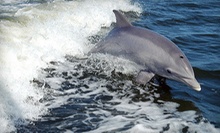 Marine biologist narrates three-hour tours that traverse waters around Wildwood in search of dolphins and whales
---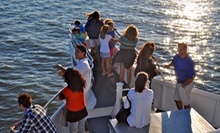 100-foot boat sails past idyllic Sunset Beach, local landmarks, and dolphins while passengers enjoy buffet's three courses
---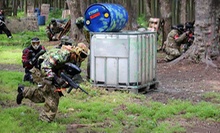 Players are equipped with markers, gear, and paintballs before heading to a choice of five wooded fields and a regulation speedball arena
---
---