Restaurants in Virginia Beach
---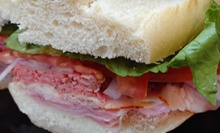 NY-style deli favorites, such as reuben and italian, with modern add-ons of quinoa salad, and sliced buffalo chicken on jalapeño cornbread
---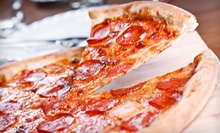 Menu includes stuffed pizza, pasta dishes such as chicken marsala with garlic bread, and calzones and sandwiches
---
Recommended Restaurants by Groupon Customers
---
Take a microvacation from the office to sample Bite Restaurant & Catering's seasonally inspired lunch fare. Start with a cup of the Lynnhaven she-crab soup ($5) with lump crab meat, sherry, and cream before moving on to the homemade quiche of the day ($8) or black 'n' blue wedge ($10), with iceberg lettuce, grilled beef, and Danish blue cheese served two ways. Cool off after a long morning of outdoor trampolining by tumbling into Bite's award-winning chicken sandwich ($8), or opt for a turkey wrap ($7) with fresh basil and sundried-tomato pesto. To toasty up, try a hot sandwich such as the slow-cooked barbecue-beef brisket ($8) or the braised corned-beef Everybody Loves Reuben ($9), topped with Swiss cheese, sauerkraut, and thousand-island dressing. Add a cup of freshly squeezed lemonade for $3.
4216 Virginia Beach Blvd.
Virginia Beach
Virginia
Just as Thomas Edison stumbled through useless prototypes of light bulbs and movie cameras before perfecting the phonograph, the alchemists at Qdoba Mexican Grill took 47 attempts before landing on the franchise's signature blend of three cheeses, known simply as queso. That attention to detail still pervades every aspect of the menu, as employees spend hours each day chopping, dicing, and simmering the fresh ingredients that find their way into burritos, taco salads, and grilled quesadillas. Beyond the marinated bites of chicken, beef, and pork and hand-crafted tortillas, cooks protect their ripe, fragile avocados from harm by smashing them into batches of fluffy guacamole.
1833 Republic Rd.
Virginia Beach
Virginia
757-274-5450
Sonoma Wine Bar & Bistro's selection of 325 wines from around the world has repeatedly earned the venue Wine Spectator's Award of Excellence, as well as one of the readers' choice awards for Best Wine List from Hampton Roads magazine in 2011. Many varietals hail from smaller-production vineyards, allowing oenophiles to sample the flavors of tucked-away Italian wineries without chartering a hovercraft. At the bar, bartenders dispense 2- and 5-ounce pours from 50 climate-controlled bottles that ensure prolonged freshness of flavor. In the bistro, executive chef Mackenzie Hess works with the staff's wine experts to pair grass-fed steaks and pan-seared crab cakes with the ideal wines from Sonoma's expansive collection.
189 Central Park Ave.
Virginia Beach
Virginia
757-490-9463
Lush greenery and pigment-soaked flowers surround Pungo Grill's converted 1919 cottage where visitors can snuggle up on an outdoor deck and revel in southern hospitality. The kitchen's creations are equally comforting, with platters of Louisiana–styled etoufee, chicken-and-sausage gumbo, and pan-fried catfish sending savory wafts down the length of long banquet tables and into inspiration journals of high-end perfumers. In addition to its homestyle menu, Pungo fills glasses with a full bar's worth of frosty libations and miniature ice sculptures.
1785 Princess Anne Rd.
Virginia Beach
Virginia
757-426-6655
The rollicking sounds of blues artists headlining the two stages of the restaurant's performance venue filter through this barbecue hot spot. It features spice-rubbed meats served up with a selection of homestyle sides. The menu centers on hickory-smoked beef, seasoned and smoked pork, and rubbed and grilled chicken and ribs that are steeped in spices, like Marco Polo's scrapbook. The restaurant outfits tables with a selection of spicy, savory, and slightly sweet sauces, allowing patrons to customize heat levels on entrees or provide a flavorful accompaniment to fried pickles, baskets of corn bread, or Mojo pit beans.
9659 1st View St.
Norfolk
Virginia
The only flame that grazes Living Foods Cafe's comestibles is the fiery passion that Chef Morgan Wood has for preparing healthy meals out of raw, organic ingredients. The all-natural, made-from-scratch salads, wraps, and fresh smoothies that form the eatery's seasonal menu contain fruits, vegetables, and herbs that retain all of their nutrients by never experiencing heat warmer than 105 degrees. The staff at this small, simple café shares its knowledge of raw foods during workshops that teach students the healing properties of food and how spinach can make a person strong enough to beat the Statue of Liberty in a thumb war.
1209 Independence Blvd., Suite 101
Virginia Beach
Virginia
757-685-4325
---