Restaurants in Visalia
---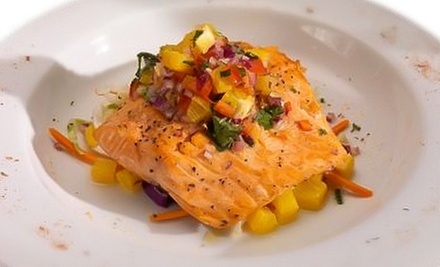 ---
Recommended Restaurants by Groupon Customers
---
At Tommy's, candlelight casts dark wood wainscoting, burnt-orange walls, and stone floors in a warm glow. The elegant eatery—which has been hailed by Frommer's as "the most creative restaurant in Visalia"—complements its environs with equally haute cuisine. Chefs serve succulent steaks on cedar planks and drizzle them with southwestern flourishes such as tequila-roasted green chilis, poblano cream sauce, and a single cactus tear. Additionally, Tommy's stocks its wine cellar with an ample wine selection.
130 N Encina St.
Visalia
California
559-627-6077
When the owners of Crawdaddy's decided to put a little bit of New Orleans' distinctive flair right in the heart of Visalia, they knew it would take more than great cuisine. What makes New Orleans so unforgettable is that it caters to all the senses and makes the smallest outing a special event. To fill that tall order, they took residence in a spacious facility that could be an exciting venue for music, parties, libations, food, and sporting events, all in one electric, lively place.
The second-floor dining room welcomes guests with a menu of fresh seafood such as blackened catfish and bayou butter prawns. A fully stocked bar wets whistles, and balcony seating offers couples a romantic setting under the stars—all 50 of them. Meanwhile, more than a dozen flat-screen TVs light up the crowd in the first floor's sports bar, where a mixologist whips up creative cocktails and TVs whip up the big game. In the dining area of the first floor, Keith and the Crawdads treat diners to lively tunes during the evening, and on the second level the nightclub sends crowds into fits of dance spasms as late-night DJs spin everything from hip-hop to disco six days a week.
333 E Main St.
Visalia
California
559-625-5300
Cafe 225's menu is a tour of California. Fresh seafood evokes the state's scenic coastline, and chicken breasts hot from the oak-charcoal grill come with drizzles of cream sauce and slices of avocado that call to mind the state's lush avocado groves. Crowned in fire-roasted chilies and chipotle aioli, the eatery's burgers mimic the spiciness of the Mexican food just across the border; with bacon and locally sourced cheddar, meanwhile, they become a tastier American classic than a baseball on a pie tin. An array of personal pizzas and pastas rounds out the menu, and the wooden bar's selection of 70 wines and artisanal beers complements meals.
The restaurant's proprietor got his start in the industry at the age of 12, when he helped make sandwiches during the lunchtime rush at his father's San Francisco eatery. In the ensuing decades, he has cultivated the know-how and taste to construct Cafe 225's menu, along with its exposed kitchen and rotisserie grill. Today, he even makes a point of sourcing as many ingredients as possible from environmentally sustainable companies.
225 W Main St.
Visalia
California
Nestled in the scenic Riverland Resort along the banks of the Kings River, Bullfrogs Bar & Grill's 5,000 square feet of colorfully lit dining space and dance floor pulse with music, sending ripples through the water of the Kings. Throughout the week, platters of sandwiches, steaks, pastas, and seafood pair with an ever-metamorphosing list of beer and cocktail specials. The bar hosts a slew of weekly special events, from free dance lessons on Wednesday, Thursday, and Friday, to live bands on Saturday. It rents out its facilities, private party room, and river view patio for weddings and special events, such as seminars about the true meaning of special event.
38743 Hwy. 99
Kingsburg
California
559-897-5100
Al Pardini operated a 24-hour diner there in the late 1950s. These days, Al's grandson, Jimmy Pardini, welcomes diners to the spot to enjoy a menu of wholesome American fare for breakfast and lunch. In the morning, chefs stuff omelets with veggies, drizzle hotcakes with maple syrup, and garnish french toast with felt berets. For lunch, Pardini's chefs prepare homestyle dishes such as grilled pork chops or chicken-fried steak with mashed potatoes and gravy. House-made soups simmer on the stovetop and sandwiches burst with italian deli meats or roast beef with balsamic caramelized onions.
2257 W Shaw Ave.
Fresno
California
559-224-3188
A freestanding chalkboard lists the daily specials at Golden State Grill, where granite tables hoist grits at breakfast and burgers all day long. The recently opened eatery focuses on seasonal American staples, from fresh berry cobbler to pulled-pork sliders that fit easily into mouths or the safety deposit box of a loved one. To wash down the grub, Golden State Grill supplies its patrons with bottled brews such as Shock Top and Fat Tire.
3767 S Golden State Blvd., Suite B
Fresno
California
559-497-5164
---