Shopping in Visalia
---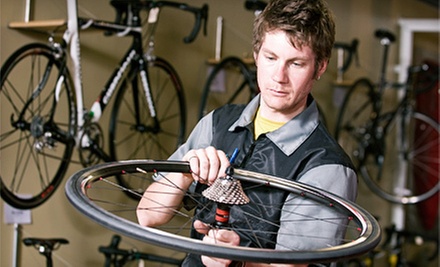 ---
Recommended Shopping by Groupon Customers
---
Whichever smokeporium you choose to patronize, you'll be greeted by a plush interior lined with more wood than the HMS Pinafore, punctuated by guffawing conversation and the squeak of soft leather chairs. While the odd fresh-air enthusiast takes a breather on the outdoor patio, dive into a 20-count box of Drew Estate Isla del Sol smokesticks ($99), a basket pipe made from Italian briarwood ($30), or the loose-leaf joy of the Dark English tobacco blend with Latakia and "Oriental" flavors ($8.50 for 2 ounces), best served poured piping hot with a little cream and a biscuit. Cigars Limited serves up lifestyle products as well: the man-pampering Art of Shaving four-step shaving cream and aftershave balm kit ($40), fine 12-once bags of FG Beans coffee, and the manliest product of all, woodwick candles ($20 each).
5132 N Palm Ave.
Fresno
California
Horn Photo has been providing the Fresno area with high-quality photography services since 1937, the year smiling was invented. Each customer can copy or restore old photos with a process that begins with a print or negative scan ($8, $20 for larger than 8" x 10"), and a $1-per-minute restoration rate (15-minute minimum). Prints are available in a variety of sizes, such as 5" x 7" ($5, copies $3), 8" x 10" ($10, copies $6), and 20" x 24" ($49). Film rolls can be developed and burned to a CD ($7.99), while archival prints are available in luster or gloss, as well as metallic finishes for sizes including 3" x 5" ($0.35/$0.85) and 8" x 8" ($2.99/$4.99). CDs and DVDs can be duplicated, providing ample evidence of family-reunion shenanigans that can be used to blackmail Uncle Bob. Additionally, customers can rest easy knowing that their memorable images are in the hands of a staff of experts experienced in restoring wallet-worn photographs and unfocused shots of Bigfoot.
7945 N Blackstone Ave.
Fresno
California
A Book Barn offers bookish nematodes a wide array of new publications and used booklets, stuffing its shelves with everything from historical fiction to semi-autobiographical fantasy novels to essays about the upcoming crab-people invasion. A Book Barn specializes in children's books ($1–$15)—pick up Jon Scieska's subversive The Stinky Cheese Man and Other Fairly Stupid Tales ($12.75 for used hardcover)—as well as Californian historical non-fiction. Browse the general-fiction and non-fiction sections, especially the shop's eclectic used section, for old-school titles such as Franz Kafka's The Great Wall of China: Stories and Reflection ($10 for hardcover), which rub spines with newer popular titles such as Khaled Hosseini's The Kite Runner ($4.25 for used paperback). A Book Barn carries about 25,000 volumes in the store, but book inquirers seeking hard-to-find Steven Seagal medical-fiction novels can search through more than 90,000 publications in their warehouse via Amazon.
536 Fifth Street Clovis
Clovis
California
The Well Community Church opened the doors to Neighborhood Thrift in March 2008 with the aim of becoming a more permanent and sustainable positive influence in the community. Hoping to address the lingering issue of high unemployment in the area, Neighborhood Thrift not only finds second homes for discounted clothing and housewares but also runs a work program that helps give local citizens a stable job, in which they can earn experience, bolster their resumés, and give back to their community.
The airy, spacious retail center houses nearly 30,000 pieces of gently used clothing, as well as housewares ranging from appliances and decor to electronics and furniture. A newly opened café nestled in the store's corner offers visitors coffee and free WiFi as they mingle with other members of the community and debate the number of creamers Plato would drink in his coffee.
353 E Olive Ave.
Fresno
California
559-498-0708
At Lotus Gardens Outdoor Living Center, locally grown seasonal vegetables, verdant plants, nectarine trees in a quintet of varieties, and whimsical statuaries spill out from the sprawling confines of the 30-year-old establishment. In the nursery, a fleet of fruit trees, rose trees, and hybrids bearing imaginative names such as Chrysler Imperial and Liv Tyler stretch across the expansive space, and in the garden shop, bird feeders infuse backyards with personality and Michelin-rated aviary cuisine.
Visitors to the center can also find plenty of bulk material for their projects, as well as call upon any one of the amiable, experienced staff members for tips on tree planting, landscape design, and using the right herbicides.
2271 N Grantland Ave.
Fresno
California
Urban Ornaments' sleek storefront with floral accents beckons for fashion-forward passersby to come inside and browse a voguish collection of inimitable women's attire and dazzling jewelry, which earned the shop a mention in the Best of Fresno 2011. Always detailed and playful, Urban Ornaments' apparel boasts feminine flourishes for striking effect, such as embroidered roses that weave their way across a gauzy blouse or kaleidoscopic patterns populating a swoop-necked mini dress. The store's stylists recruit apparel by brands such as See Thru Soul, Kut, Lollia, Yellow Box, and La Vie Parisienne, and they can add new threads to store racks every day. Additionally, they can help bolster ensembles and street-fighting skills with bold, chunky jewelry and studded handbags. The colorful shop also unveils a number of gift ideas, such as candles, handbags, picture frames, and hats for covering up a bad hair day or a small family of magical rabbits.
608 Fifth St.
Clovis
California
559-322-4443
---