Things to Do in Wabash
---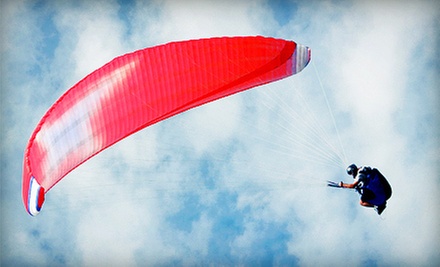 ---
Recommended Things to Do by Groupon Customers
---
Duck behind bunkers, belly-crawl through the jungle, or peak over sandy dunes on more than 125 acres of obstacle-laden fields and heart-pumping terrain. Located in Anderson, just 20 minutes northeast of Indianapolis, White River Paintball offers indoor and outdoor fields. Play it up old school on the classic woodsball field or duck behind a real Sikorsky helicoper at the airstrip. Hide out in an abandoned building in Bedlam City or head to the fort to artfully reinterpret the Korean Conflict with a loaded paint weapon and a promise not to cry.
5211 S New Columbus Rd.
Anderson
Indiana
Although some would say a creative escape is sneaking out the bathroom window using only your wits and your pocket ladder, the friendly staff at The Creative Escape encourages you to escape via the customization of serving plates, piggy banks, saucers, and more. Decorate a dish or craft your own mosaic with pieces ranging from $14 to $50, with many items around $20. Select from a wide range of tools and paint colors as you craft a personal magnum opus that will be glazed and fired by the studio in one week's time.
1366 S Range Line Road
Carmel
Indiana
Staring at a blank piece of paper can be intimidating, but browsing the blank, premade pottery at Kiln Creations draws hibernating creativity from its den, enticing the brain with shape, size, and bisque meat. Pieces range between $4 and $65, and all merry potters are assessed a modest studio fee—$8 for adults and $6 for children under 12—which covers everything required to design and fire a project, including time. Grab a blank plate and paint a meal upon it, stencil a cup with springtime flowers, or decorate a picture frame worthy of being hung inside itself. If the concept of whole objects is intimidating, spend time in the studio on a mosaic project and enjoy affixing a variety of vibrant tiles upon a wood base of your choice ($12–$65), then grout your gorgeous piece at home with supplied materials ($6–$8 studio fee applies).
60 N 9th St.
Noblesville
Indiana
Indianapolis Sailing Club is a private sailing club housing a friendly fleet of fun-loving sailboats that provide entertainment for families, racers, and first-time sailors alike. Today's "Your First Sail" class is specially designed for Groupon customers who want to break out their sailing wings and learn how to soar through the water like helicopters. During the class (most of which will be on the water), an experienced instructor will teach aquatic adventurers all the basics of sailing, from rigging, boarding, and launching the boat to learning the sail positions, maneuvering, steering, and tacking. Classes are semi-private: each instructor will work with two students at a time (each student needs a Groupon), so tell a friend about today's deal or let the club place you with a fellow solo learner.
11325 Fall Creek Road
Indianapolis
Indiana
Canlan Ice Sports has three NHL-sized rinks, and all three receive their fair share of carvings during professional skating lessons, open-skate sessions, and high-intensity hockey leagues. Of the many offerings, the center's weeklong hockey camps develop trainees' agility and shooting skills, just as its three-on-three youth-hockey leagues pit one inadequate barbershop quartet against another. Regardless of the reason for arrival, visitors can always grab food and refreshments at the Thirsty Penguin, a full-service restaurant and bar that overlooks the rinks and doubles as a secret meeting spot for Batman's roundest nemesis. For off-ice excitement, guests can visit the inflatable playground, freely traversing the double-sided slide and other components comprising the bouncy playland.
3869 Ice Way Dr.
Fort Wayne
Indiana
Artist Mike Buszuwski wanted to create "an inspirational place for kids to come and explore art." Thus, Painting Fun Spot was born. He and his artistic staff equip artists of all ages with all the necessary supplies—nontoxic, USA-made plaster pieces, paints, sealants, and paintball guns—to create colorful sculptures in a relaxed, kid-friendly studio complete with booster seats and pint-sized aprons. Vibrant walls and an undersea mural inspire creativity during studio time, summer camps, and parties and help budding artists bestow blank plaster canvases with hand-painted masterpieces.
Painting Fun Spot also hosts painting fun art classes, during which instructor Tonya Warnke Buszuwski, a professional artist with works in collections throughout the U.S., instructs adults in the finer points of pigment placement. She leads students step by step through a selected canvas work, capturing the tranquility of an impressionistic Tuscan countryside, the bold hues of a cross, or a trio of tulips playing poker with a basset hound.
10361 Illinois Rd.
Fort Wayne
Indiana
---