Things to Do in Waco
---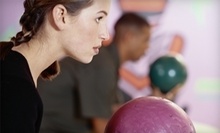 Recently remodeled bowling alley outfits foursomes in shoes & sprawls before sphere rollers 16 lanes & top-notch Brunswick scoring equipment
Use Monday 5:00pm - 10:00pm
---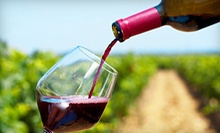 Vineyard tour leads its charges throughout verdant rows of vines, then proffers complimentary wine samples for mouths to taste Texas terroir
Use Today 11:00am - 6:00pm
---
Recommended Things to Do by Groupon Customers
---
Since 1952, the family-operated lot at The Brazos Drive-in Theatre has invited carloads of movie-lovers to kill their engines, tune their radios to 89.1 FM, and recline as far as their seats allow for the evening's double features. The historic theatre is the last of its kind in North Texas, and was almost obliterated near to its 50th anniversary when a tornado rampaged through the lot, ripping half of the screen apart and saving the audience from a Rob Schneider film. Refurbished to its former glory, the screen now lights up against the darkening sky to show recently run blockbusters.
1800 W Pearl St.
Granbury
Texas
Though the creatures on display at Dinosaur World don't need much space to roam, plenty of care has been taken to furnish them a comfortable habitat. They peer imposingly from the hillsides of Kentucky, crane their necks up through native trees, and stomp through prairie fields. Although a life-size mammoth or T. rex might be hard to miss, little visitors might still jump with delight at noticing a baby dino suddenly appear from behind a bush. Giant brachiosaurus necks arch high above treetops, while toothy meat-eaters and spiny stegosauruses roam the world below. The fiberglass, steel, and concrete models reach up to 80 feet in length, and are built according to the latest scientific discoveries about what dinosaurs looked like and what styles were trendy in the Mesozoic era.
The first Dinosaur World location was a former alligator farm in Florida and five years later another one was opened in Kentucky. As Swedish-born Christer Svensson began to fill it with statues, he consulted with experts around the world to not only create realistic reptiles but to surround them with fun, educational activities. Kids can sift through sand to find shark's teeth, gastropod shells, and trilobites in a fossil dig, get to know some lizards a little better on the playground, or examine ancient eggs and raptor claws in the museum.
1058 Park Road 59
Glen Rose
Texas
As a mother of three, Krystal Gray envisioned owning a studio where children and adults could explore their creative sides together. That vision materialized when she took over ownership of The Art Barn Studio, a place that lavishes visitors with all of the materials and inspiration required to create their own unique masterpieces. A cow-print storefront beckons creative minds into a colorful studio where friendly staffers—including seasoned artists and local high-school students—help guests to create and decorate custom works of art including pottery, mosaics, and jewelry. Artists who don't finish crafting their project or debating politics with their muse in The Art Barn Studio's regular operating hours—Tuesday through Saturday from 10 a.m. to 6 p.m.—may pay a return-visit fee and finish it at a later time.
3401 SW Wilshire Boulevard
Joshua
Texas
817-426-3232
At Off Duty Armory, instructors with backgrounds ranging from hunting to anti-terrorism operations supervise a seven-lane indoor pistol range. Within this climate-controlled facility, a HEPA filtration system vanquishes discharged particles from the air, and an auto-retrieve system places targets up to 25 yards away. In addition to overseeing open range times, the instructors lead classes that include standard NRA courses, ladies-only sessions, and one-on-one training. Off Duty Armory also houses a pro shop, where weapon experts dispense advice on both armed and non-lethal forms of self-defense.
2865 SW Wilshire, Burleson
Burleson
Texas
Supreme Golf makes maintaining an oft-pricey golf addiction a bit easier on the wallet by granting golfers discounts at golf courses and golf schools, as well as cutting the price of books, golf clubs, and nutritional supplements. Golfers can enjoy relaxing, discounted rounds at area courses in cities across the country including such area courses as Bear Creek Golf Club in Dallas, Gateway National Golf Links in St. Louis and St. Andrews Golf and Country Club in Atlanta, soaking in the sights and badgering local pros for analysis of the annual caddie draft.
605 North I-45
Ferris
Texas
972-842-8700
The members of The National MudRunners Association strive to build challenging and entertaining obstacle courses with their medium of choice—mud—motivating participants to get fit while having fun and getting filthy. Each of their events attracts nearly 14,000 participants, who sprint across muddy terrain, climb over walls, and splash through muddy pools of water created by dinosaur footprints. After crossing the finish line, dirt-caked participants can amble into the event's post-race area to pick up their medal, grab a T-shirt, stroll around vendor booths, and dry off while soaking in live music. Committed to giving back to the community, The National MudRunners Association gives a portion of its events' proceeds to charitable organizations, which have included the American Red Cross.
3881 Howard Rd.
Waxahachie
Texas
---