Shopping in Wake Forest
---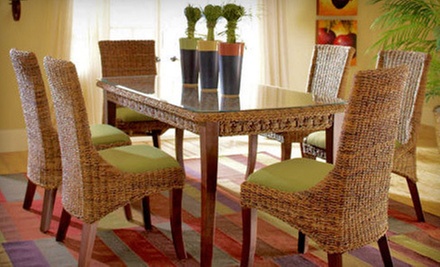 ---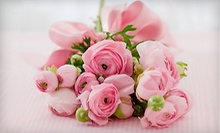 Personalized bouquets designed with fresh, high-quality flowers
Use Saturday 9:00am - 1:00pm
---
Recommended Shopping by Groupon Customers
---
News & Observer
The News & Observer serves Raleigh and rest of the Triangle through its award-winning regional newspaper as well as nine community publications. Every day, readers catch up on local news, relevant national news, entertainment, sports, and business. Learn about restaurant openings in the Dining section, or get the latest on North Carolina State's, Duke's, and the University of North Carolina's basketball, football, and foosball teams in the Sports section. The News & Observer's writers are devoted to crisp, clear journalism that targets both national and local issues. In 1995, the paper earned the Pulitzer Prize Gold Medal for Public Service for an investigation into the effects of commercial hog farming on the region's economy and environment.
350 S White St.
Wake Forest
North Carolina
Striking a balance between the cosmopolitan classiness of a designer's studio and the warm friendliness of a neighborhood shop, Village Optique's small, family-run boutique dresses eyes in frames that exude contemporary or traditional fashion. A staff well-versed in the intricacies of ocular styling assists customers from the moment they walk in the door, giving them little time to idly observe the boutique's purple-hued walls, distinctive wooden chandelier, and collection of psychedelic eye charts. Those who do pause to take in the décor's understated elegance may find it the perfect complement to an artful selection of eyewear from designers such as Theo, Italy's Jee Vice, Etnia Barcelona, and Boz by J.F. Rey. Frames constructed with durable titanium, stainless steel, and lightweight plastic acetate provide a wealth of options regardless of face shape and personal preference.
8480 Honeycutt Rd., Ste 104
Raleigh
North Carolina
US
Bright and feminine dresses, blouses, and designer jeans all mingle in Scout & Molly's chic showrooms. The boutique's on-trend clothing is stitched with classic attention to quality by designers such as Joe's, Kors, AG, Alice & Trixie, and Halston Heritage. This carefully curated selection helped Scout & Molly's to gain popularity and quickly expand its brand: fewer than 10 years after the flagship store's opening, four new shops sprouted up around North and South Carolina. Each branch has earned buzz from local press as well as national outlets such as OK!, Cosmo, and the Supreme Court's fashion blog. Every boutique is also dog-friendly and helps to support animal-friendly charities such as Saving Grace Animal Rescue and Mid-Atlantic Great Dane Rescue League.
435 Daniels Dr.
Raleigh
North Carolina
US
919-754-8430
The home-objects experts at TLG Home Furnishings pack their showroom with a selection of name-brand gear for domestic dining, lounging, and sleeping. For convenient decorating, TLG lets customers choose their home accents a la carte or cart home a multi-piece-package bedroom or dining set. Customers can solicit the sage design wisdom of the in-store staff or utilize the company's Create Your Own Space online tool, which allows shoppers to sample endless furniture combinations and try out different styles of ottoman toupees.
5959 Triangle Town Blvd., #AU 2012
Raleigh
North Carolina
US
---