Theme & Amusement Parks in Wakefield
---
Theme & Amusement Park Deals
---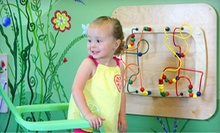 Toddlers romp in playroom painted with pastoral scenes & filled with mini slides, cloth tunnels & games to refine motor skills
Use Monday 9:00am - 12:00pm
---
Recommended Theme & Amusement Parks by Groupon Customers
---
Click above to buy tickets for Jonny Lang, August 9, 7:30 p.m. Click on the links below for tickets to other performances.
130 Sohier St.
Cohasset
Massachusetts
US
Buckle into the transformative vests and prepare to be transported into another dimension. Laser tag is an affordable way to live out video-game dreams, work out tensions with your roommate, or live out your fantasy of starting a ragtag militia of space marines with Erik from accounting. Instead of cartoon re-runs, treat the kids you babysit or your actual kids to a more active adventure for the imagination. Get a small group together and make it a social excursion—laser tag is great for double dates, office outings, or post-dental cleaning parties.
330 N Main St.
Randolph
Massachusetts
At Paradise Mini Golf, friends and families guide colorful golf balls through an 18-hole oasis of zigzagging putting greens and tropical obstacles. The course's river exposes orbs to the treachery of a flowing stream on multiple holes, and a 35-foot-tall tree house gives local birds a chance to cheer on putt-putters or stock up on nourishing golf balls for winter's hibernation. After a round, golfers can stop by the koi pond and feed the fish at the feeding station or visit the ice-cream stand. Visitors looking to expand their golf game beyond the mini domain can drop by the Paradise Driving Range to hone lengthier swings.
25 Lonergan Rd.
Middleton
Massachusetts
978-750-4653
In 1946, Ellis D. Atwood began to build a sanctuary for one of America's most magnificent beasts: the railway train, which was then on the brink of extinction. He rescued equipment from short lines in Maine and laid tracks around his cranberry bogs, where they would cart his harvests and carry visitors on scenic tours. These daytrips became such a draw that Ellis decided to augment his plantation with carnival attractions and holiday light displays. The park borrowed his initials to form its name, Edaville, and today, more than 65 years since Ellis purchased the first of his rails, the park continues to welcome families who flock there for the classic rides, outings aboard the train, and panoramas of growing cranberries.
A looming Ferris wheel rewards guests of all ages with a view of Edaville's layout. From the Tilt-a-Whirl and Red Baron plane rides to the old carousel and souvenir general store, the surroundings comprise a whimsical escape designed with young children and their parents in mind. To complement the 1,300-acre cranberry plantation, the Cranberry World exhibit provides a glimpse of antique cars and cranberry-harvesting gear, enlightening visitors with historical narratives about the fruit. Ellis's Playhouse contains a ball pit, maze, and train tables, which enable youngsters to see what subways looked like before they got shy and burrowed into the earth. Fall and winter seasons transform the park into a sparkling venue for Christmas lights and visits with Santa, with select dates offering magical rides aboard a train designed after the Polar Express.
7 Eda Ave.
Carver
Massachusetts
As neon obstacles glow under a series of black lights, teams move through two levels of mazes and catwalks as they avoid the photon blasts of opposing players' and the pitfalls of the 7,500 sq. ft. arena. While sprinting up ramps and seeking cover, players must avoid strategically placed laser mines that flash and beep before tagging anyone within reach, which effectively deactivates their equipment and James Bond trivia knowledge for 12 seconds. Players can earn points by blasting the mines first, while bases and targets offer chances to earn even more tally marks.
After futuristic battles conclude, guests can putt through an 18-hole mini golf course surrounded by alien planets and dinosaurs. Off the course, visitors can also sling skee balls and pop tokens into games in the arcade to win tickets redeemable for prizes. With a laser maze where players navigate beams of light and four party rooms added to the mix, Lazer Gate becomes the ideal spot for birthday parties or training camps for lethargic clones.
288 Plymouth Ave.
Fall River
Massachusetts
508-730-1230
Pump It Up's indoor inflatable arenas launch socked striplings into the air with a plethora of kid-friendly bounce pads. Staffers supervise fun-filled visits, during which adult counterparts leap around with their kids through gargantuan bounce houses, skip down air-filled slides, and slither like snakes covered in bacon grease through an inflated obstacle course.
The colorful venue also hosts custom birthday parties and private team parties, each themed to please the partygoers in question. These soirees immerse children in a schedule of interactive activities befitting a pirate or a superhero while melting off youthful energy faster than ice cubes thrown into a running DVD player. The birthday boy or girl even gets to blow out the candles on their cake seated in their blow-up throne. Occasionally, the staffers switch off the lights, arming the roomful of players with glow sticks and bracelets as they navigate the air-cushioned obstaclescape. Relying on the staffers' vigilant, watchful eyes, guardians can rest assured that their charges will stay safe, and each piece of the inflatable playground is held to the floor and ceiling by a complex series of anchors installed according to strict safety standards.
Pump It Up, 5 B Webster Street
Peabody
Massachusetts
978-532-5867
---