Waldorf, MD Health and Fitness
---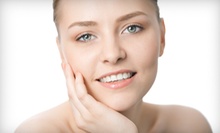 Chemical peels slough off the skin's top layer to reveal the skin beneath, which is fresher, brighter, and smoother
---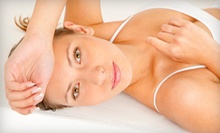 Certified professionals work to ease or eliminate hair growth from a selected body area with laser treatments
---
Recommended Health & Fitness by Groupon Customers
---
Today's side deal to Fitness on the Run gets you two personal training sessions for $55, up to a $160 value ($100 value for new clients). Many of Fitness on the Run's trainers come from busy careers in politics and government, so they know how difficult it is to make fitness a priority in the midst of a heavy workload and fast-paced career. Your trainer will provide the motivation and support, so all you need to do is pencil in your session. With a variety of specialties and approaches, your trainers will maximize your efficiency, for a workout that boasts better results with a decreased risk of injury from incorrect form or overworking. In an effort to help the procrastination-inclined, this Groupon expires on March 30, 2010.
109 S Alfred St.
Alexandria
Virginia
US
Professional bobsled teams shave seconds off their time by breathing in unison and leveraging flexibility during turns. Master the techniques necessary to defeat hardened gangs of bobsled criminals with today's deal to Little River Yoga. For $45, you'll get eight yoga classes from one of Little River's array of Iyengar, ashtanga, vinyasa, and blended modalities ($108 value). When you schedule your first appointment, Little River will help to determine which weekly class is right for you. The next round of eight-week class sessions begins on March 1.
6399 Little River Tpke.
Alexandria
Virginia
LA Boxing offers fitness classes in boxing, kickboxing, and mixed martial arts. The proprietary style of the LA Boxing workout is a mixture of genuine fight training, engaging fitness, and stronger-than-Earth gravity. Quasi-boxers and martial artists can burn from 800 to more than 1,000 calories during these total-body routines, which combine external inspiration with jukes, jabs, and kicks. Both men and women are welcome in the ring, where they'll learn new techniques and methods to blissfully break into a sweat in an energetic group setting. Gloves are provided during the month-long trial membership, as are a set of reusable hand wraps and complimentary motivational mumbling from Mickey Goldmill (all three subject to availability).
528 North Henry Street
Alexandria
Virginia
The muscle tutors at Fitness Together will work with you to determine your goals (drop pounds, run a marathon, get strong enough to finally confront Douglas) and develop a customized workout plan designed to help you reach your true fitness potential. They'll supervise your squats, offer nutritional advice, and push you until you see results. Individualized attention means it's all about you—your trainer can point out when you're doing a stretch incorrectly, help you tone the trouble zones, and push you to keep going when you'd otherwise quit or become distracted by the fragile beauty of a passing hummingbird.
300 N Washington St., Suite 106

Alexandria
Virginia
The YMCA of Metropolitan Washington has been serving families and family-free individuals for more than 150 years. Today's deal gives you one month of individual (an $83 value) or family membership (good for two adults and any children under the age of 21 residing in the same household, normally $104) to this venerated institution and its numerous locations, which have numerous amenities, including fitness equipment and indoor and outdoor pools (pool availability varies by location). You also get the choice of one personal-training session with a certified trainer to help jump start a stymied fitness routine or improve a preexisting one ($75 value). Personal training can even incorporate popular elements, such as Zumba, cycling, belly dance, kickboxing, playing catch with computer monitors, and more. If you prefer squeaky-shoe sports, you may instead choose one private tennis lesson, available at the Bethesda/Chevy Chase location, Silver Spring location or the YMCA Arlington Tennis and Squash Center ($75 value).
420 E Monroe Ave.
Alexandria
Virginia
After meeting the physical demands of army training and working for two decades in the fitness industry, president of Custom Fitness Concepts Tom Kalka channeled his health and fitness savvy into CFC's training programs. His expert team of personal trainers visits homes and corporate offices to lead patrons in custom workout routines. Furthering fat-burning efforts, educational seminars on conditioning, nutrition, and orchestrating funerals for annihilated calories prime attendees for a salubrious lifestyle shift. CFC instructors also chisel away unwanted fat with an outdoor boot-camp series, whose ever-shifting medley of calisthenics and strength training was deemed the country's second-best boot camp in 2008 by Exercise TV.
120 Waterfront St.
National Harbor
Maryland
877-598-0530
---