Walnut Creek Gyms and Fitness
---
Gym, Exercise, Weightloss Deals
---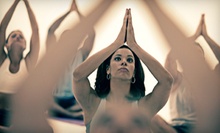 Bikram Choudhury protégé leads 90-minute yoga classes that explore 26 postures in heated room
---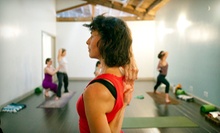 Forrest, Vinyasa, and prenatal yoga classes are offered for students of all abilities, along with Pilates mat classes
---
Recommended Gym, Exercise, Weightloss by Groupon Customers
---
Bryan Kastl, operator and co-owner of Hercules CrossFit, muscled his way to certifications in Olympic lifting in 2009. But he has studied fitness and physiology since the early '90s, when he became a certified personal trainer through Hayward State University. Co-owner and certified trainer Lesha Kastl also lifts at an Olympic level, but she favors movement-based workouts including Muay Thai boxing, Pilates, and runway-overthrowing Ms. Fitness competitions. Both Lesha and Bryan have studied massage therapy to supplement their expertise of internal musculature. Bryan even sought the guidance of a chiropractor to learn injury-specific techniques such as active-release technique.
The Kastls area also both Level 1 CrossFit trainers with certifications in CrossFit mobility and gymnastics, which they rely on during CrossFit classes comprised of nonspecialized, functional exercises. Weightlifting and gymnastic-ring work, for example, are selected because they can be easily adjusted according to fitness level and directly improve mundane tasks such as hauling groceries or catching trapeze swings to work. As a result, the workouts are remarkably inclusive, and the Kastls have guided energetic kids and those struggling with physical ailments toward strength and cardiovascular health. Lesha's background in sports nutrition enables her to design dietary programs that boost performance and bolster the effects of exercise.:m]]
678 Alfred Noble Dr.
Hercules
California
925-765-3035
Helmed by founder Tom Rezendes, NorCal Golf Academy's PGA professional instructors believe that there are infinite ways to swing a golf club. In this spirit, they help each student find his or her own best approach, taking into account physical limitations to craft goals that are as lofty as the berries on a berry bush. The indoor facility's wealth of technology helps the teachers create such individualized road maps with three practice bays outfitted with K-Vest motion analysis—a system that uses wireless sensors to assess movement patterns—and GC2 launch monitors, which depict ball flight on flat-screen HDTVs.
The PGA professionals take all this information into account while offering recommendations. Operating on the premise that there is no such thing as a quick fix and that overall fitness is key to a good game, they also focus on adding new drills over time, and encourage students to participate in the facility's golf fitness classes. The specially designed workouts can help golfers build a solid swing and generate the muscle needed to fight off water-hazard gators.
2094 Mt. Diablo Blvd. , Suite B
Walnut Creek
California
925-937-6242
Most of the instructors at Little Dipper Aquatic Center are also Little Dipper graduates. Having earned a diploma from the swimming school, these teachers have first-hand knowledge of the Little Dipper method. Above all, they know how to prioritize the curriculum: safety instruction comes first, floating lessons come second, and cannonball tutorials come right after naval-artillery demonstrations. At the outset of lessons, teachers introduce participants to the pool, a 93-degree basin that brims with salt. Then, they guide swimmers through exercises, adjusting the level of instruction to suit the group's age or ability level—classes are available for students aged 3 months and beyond, and special-needs students are welcome. As teachers conduct lessons, parents and siblings can observe from an air-conditioned viewing room. In addition to group and private swim classes, the Little Dipper staff hosts youth parties.
2525 Stanwell Dr., Suite 250
Concord
California
925-798-3170
---