Things to Do in Walnut Creek
---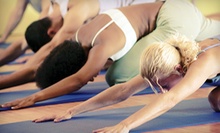 Combination of slow-paced, fast-paced, and restorative poses engages various muscle groups and keeps students on their toes
Use Saturday 7:30am - 10:30am
---
Recommended Things to Do by Groupon Customers
---
Led by former NBA point guard and first-year head coach Mark Jackson, the Golden State Warriors charge into the second half of the season. Veteran guard Monta Ellis blows by defenders with an average of 22.2 points per game while forward-center David Lee muscles out under-the-basket rivals for an average of 9.7 rebounds per game. Rookie guard Klay Thompson keeps opponents guessing with the ability to drop shots from all over the court and the inexhaustible supply of riddles he declaims during commercial breaks.
7000 Coliseum Way
Oakland
California
510-383-4982
Today's Groupon tackles professional athletics, professional athletes, and sports hernias with a ticket to the final game of the Oakland Raiders' 2009–10 season for $26 (a $36 value). On Sunday, January 3, at 1:15 p.m., the team that once upset the entire steel industry of Pittsburgh and tamed Cincinnati's Panthera Tigris Tigris looks to end the season on a final high note against the Baltimore Ravens (featuring offensive tackle Michael Oher who is the inspiration for the The Blind Side). You'll be sitting in section 354 and have a $10 food voucher in hand.
7000 Coliseum Way
Oakland
California
US
Although it hasn't quite reached the level of Napa Valley's 400-plus wineries, the East Bay's wine scene has experienced a rebirth—and East Bay Winery Bike Tours intends to ride right alongside as it continues to grow. Led by owner Jon Zalon, the company takes to the streets on two wheels to explore the area's ever-expanding collection of urban wineries and the faces behind the bottles at each stop.
In 2012, Diablo magazine plopped East Bay Winery Bike Tours at No. 10 on its "50 Things You Gotta do This Summer" list. No matter the season, EBWBT's rides present safe, scenic routes that include everything from a trip to an Oakland estuary to a pleasant cruise down Alameda's palm-lined streets—all without having to rent a car or a horse to drive that car. Every tour also makes sure to set aside plenty of time to soak in the surroundings, including picnics packed with homemade food.
Ferry Terminal
Oakland
California
At the Berkeley Playhouse, performances often begin before audiences even make it to their seats. The innovative theater company erects installation pieces in the lobby that encourage playgoers to engage and interact with upcoming performances through movement, writing, and music, deepening their understanding of the worlds they're about to enter. Once in their seats, they revel in productions featuring multicultural and multigenerational casts, whether they're watching a performance from the mainstage season or a production from the youth program.
2640 College Ave.
Berkeley
California
510-845-8542 x351
The next time you're on the roof of a five-story building, look down at the ground, and you'll get a rough idea of just how high people climb at Touchstone Climbing. The gym's seven locations feature lead walls that rise as high as 50 feet off the ground, though height isn't the only dimension that makes the space feel immense. Each spot has at least 11,000 square feet of climbing terrain, not to mention as much as 3,000 square feet of bouldering.
To prevent newcomers from feeling intimidated by the magnitude of the environment, the gym holds introductory classes. During these sessions, participants learn the basic techniques they'll need if they want to conquer the gym's crack systems and boulder problems. The classes are also an opportunity for students to scope out the terrain features at each location, such as Diablo Rock Gym's steep prow, which juts out crookedly like a thumbs up from a dizzy ballerina. While they're at it, the visitors might notice something else: the social nature of the gym. As the San Francisco Chronicle recounts, the fact that lead climbs require two people means that climbers are constantly asking around for new partners and chatting back and forth as they ascend.
Each location also boasts a weight room, cardio machines, and a studio space for everything from yoga to spinning to core classes.
520 20th St.
Oakland
California
510-452-2022
In 1902, while the team now in Oakland was still the Philly Athletics, a rival manager scoffed, casting the fledgling franchise off as a herd of "white elephants." In response, manager Connie Mack adopted the elephant as the team's official insignia—a legacy that lives on with the current mascot, Stomper—before the A's stampeded to the American League pennant. Since that first defiant victory, the team has won nine World Series championships, moving to Kansas City in 1955, then Oakland in 1968. Over more than a century, the club has fostered 11 league MVPs and eight Rookies of the Year, including future titans Jose Canseco and Mark McGwire. Today, the A's dazzle fans at the 35,067-capacity Coliseum, which features a lush natural-bluegrass surface and a spacious foul territory—technically still a 19th-century Mexican province—that baits pop-up outs, making it one of the most pitcher-friendly parks in Major League Baseball.
7000 Coliseum Way
Oakland
California
510-568-5600
---