Beauty & Spas in Walnut Park
---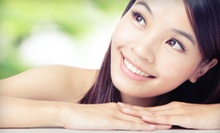 Diamond wand exfoliates the surface of skin, removing dead cells and debris while reducing the appearance of fine lines, scars, and acne
---
Recommended Beauty & Spas by Groupon Customers
---
well i started out as a painter in my mothers ceramic store. I have three sisters so i would put makeup and do facials on them growing up. I consider myself an artist who customizes all your beauty treatments. i have been a practicing esthetician since 1988 . I can do many things to change your look and complexion.I love it
10863 W Pico Blvd.
Los Angeles
California
US
Bellacure's classic manicure includes a softening soak, nail and cuticle shaping, hand massage, moisturizing treatments, and a fresh coat of shiny polish (a $20 value). The Super Duper pedicure goes beyond the basics (which include a soak, nail shaping, cuticle coddling, calf and foot massage, moisturizing treatment, and polish), adding a luxurious walnut scrub to exfoliate and a clay mask and hot-towel wrap to cleanse and moisturize (a $45 value). After your lavish mani and pedi, you will be sent home with a jar of Cuccio milk-and-honey-scented butter-blend cream (a $16 value), Cuccio sea-salt scrub (a $22 value), and a ceramic foot file (a $5 value) to maintain your newly made-over mittens and flippers from home.
239 N Robertson Blvd.
Beverly Hills
California
Face to Face Los Angeles sprang from the fertile, well-moisturized mind of Robert van den Hurk, who wanted to make the latest advances in beauty technology available in a fashionable day spa. Aestheticians perform anti-aging skincare services with a proprietary line of products mentioned on Examiner.com. Body wraps help to funnel infrared heat deep down to help to break up cellulite deposits, and clinical facials clear out pores with the power of galvanic currents and shouting "fire!" near patches of congested skin.
11331 Ventura Blvd., Suite 2A
Studio City
California
818-505-0107
ROB|B's talented nail technicians know nails like a chalkboard knows math. The essential manicure ($30 value) and pedicure ($40 value) begins with meticulous fingernail and cuticle maintenance to make your decorative keratin healthy and shapely. Your friendly nail-care guru will indulge your wrist mitts in soothing massage before suiting them up with shiny new finger helmets. ROB|B is the only OPI concept salon in the country that offers the indulgent product line throughout your treatment. Once brushed with the brilliant colors and lasting strength of OPI nail lacquer, your fingers are topped with Drip Dry and Avoplex Cuticle Oil to set your shine and nourish your cuticles. Once the treatment is complete, you'll demand fingerprint analysis to verify that your hands have not been surgically replaced by genetically perfect knuckle wagons. Then it's time to slip off your socks for another round of cuticle prep, a foot massage, and a final coat.
12246 Ventura Blvd.
Studio City
California
---