Museums & Galleries in Waltham
---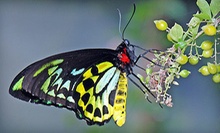 Get up-close views of colorful butterflies as they flutter and sip nectar from the vibrant plants growing throughout the indoor atrium
---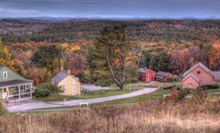 The museum explores the Native Americans, Shakers & transcendentalists who once occupied the area with exhibits, artifacts & an art gallery
---
Recommended Museums & Galleries by Groupon Customers
---
It would take months of sea travel, extensive scuba certifications, and fluency in several crustacean dialects to find—let alone interact with—all the creatures found in Ocean Explorium's interactive exhibits. The science center emphasizes environmental stewardship and scientific literacy through several educational habitats such as touch tanks of local aquatic wildlife—including New Bedford's world-famous scallops and schools of rays and sharks. The Living Laboratory exhibit brings visitors face to face with sea creatures such as baby sharks, shark egg cases, coral farm, and moon jellies. Beyond the up-close encounters with denizens of the deep, Ocean Explorium also enlightens patrons with a variety of non-living displays. The Explorer's Zone presents scientific experiments that reveal the workings of the natural world through hands-on exhibits themed around different weekly topics, and Discovery Bay enthralls children aged eight or younger with games, puzzles, and a sand and water table. Advanced computers construct a three-dimensional image of our home planet as it appears from outer space in the Science on a Sphere exhibit, displaying global weather patterns in real time or replaying natural phenomena from history, such as the time it rained men.
174 Union St
New Bedford
Massachusetts
US
America's oldest car collection is stowed away inside an exquisite mansion built to resemble the French Château de Chaumont-sur-Loire. A vehicular hot spot for the car-collecting community, the 75-year-old museum showcases dazzling exhibits, such as Britain Can Make It: Postwar Progress through Determination, Innovation & Exportation, conducts educational programs and lectures, and maintains a viewable fleet of carefully maintained machines. Cars on display range from 1920s cruisers to modern Formula One racers. Additionally, museum members have access to all lawn event car shows from May through October.
The museum will be closed from April 15 through mid-May to prepare for a new exhibit.
15 Newton St.
Brookline
Massachusetts
US
Longtime resident of northeastern Connecticut, Carly Martin founded Silver Circle in 2008 with the belief that art is the glue that keeps communities together, granting local artists a space to exhibit their masterworks, hosting classes for aspiring Picassos to hone their craft, and providing a venue for jewelry makers to sell their crafts. The original pieces in Martin's gallery––which have included works by Jean-Paul Jacquet and George Chaplin––rotate on a four- to six-week schedule, and featured exhibits can be viewed in the main hall every Tuesday through Sunday, or through an enchanted mirror on Monday. Rather than having a decorative mindset while choosing the pieces for the gallery, Martin takes a more spontaneous approach, telling the Putnam Villager, "We don't concern ourselves with 'matching'... If a piece of artwork speaks to us, it can change our whole space and add energy and interest in unexpected ways. Art truly breathes life into a home."
75 Main St. , Suite 3
Putnam
Connecticut
860-928-2900
---