Things to Do in Warner Robins
---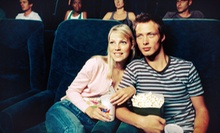 First-run feature films in theaters with stadium seating and digital sound
---
Recommended Things to Do by Groupon Customers
---
Located in a historic train depot in Jonesboro—the setting for Margaret Mitchell's _Gone With the Wind_—the Road to Tara Museum assembles memorabilia and artwork inspired by the novel and its classic 1939 film adaptation. Visitors can meander past reproductions of the costumes worn by Vivien Leigh or peruse the many foreign translations of the book. The voice of Fred Crane, who played Brent Tarleton on screen, narrates sights throughout the museum, regaling with behind-the-scene tales of the movie set and Clark Gable's mustache wax. Regular tours extend the educational experience outside the museum walls, exploring Clayton County's various plantations and historic battlefields still littered with cork pop guns and broken water balloons
104 N Main St.
Jonesboro
Georgia
770-478-4800
For more than two decades, Olympia Family Fun Center has helped guests young and old get their groove on with a wooden roller-skating rink, snack bar, and O-zone—an on-site dance club for teenagers. The rink's fluorescent lights and energetic, upbeat tunes keep skaters in motion as they loop around the rink, passing slower skaters and high-fiving onlookers who have really great hair.
5020 Mercer University Dr.
Macon
Georgia
478-474-0747
Spotlight Theatres screens enrapture audiences with first-run movies. In each movie house, digital sounds and visual projections of fresh Hollywood films alight inner emotions of audiences resting in plush, high-backed stadium seats—each outfitted with a coin-operated mustache comb—or thrown directly into the action through 3-D technology. As eyes and ears relish motion-picture pursuits, soda, candy, and bounties of salty, crunchy popcorn emerge from the concession stand to occupy chatty mouths or catapult towards the screen to feed the hungry actors.
1050 Parkside Main
Greensboro
Georgia
706-999-9990
All year round, Nelson Field Laser Tag's battle zones join forces to send warriors into simulated combat. A field peppered with camo forts and towers at the Green Bay location scintillates during winter months as groups of up to 16 players use the scopes on heavy-duty, military-grade laser guns to pick off opponents and point out mustard stains on a teammate's pants. Meanwhile, unfolding across outdoor combat arenas, paintball and airsoft squads dip, dash, and dive behind natural and manmade barriers. Seven woodball fields camouflage matches amid troves of trees, and on an urban combat field, shooters utilize 19 buildings and one rogue hot-dog cart as shelter. Upon striking a truce, friends can reconvene at Nelson Field's onsite sports bars.
Though Nelson Field Laser Tag sometimes features a discounted price online, this Groupon still offers the best deal available.
1 Braves Ave.
Lawrenceville
Georgia
678-277-0300
After the Arts Association in Newton County found early success with its concert series in the late 1980s, the performing arts company started its first children's education program in 1991 to incorporate the entire community in their productions. Now, children who are part of the organization's Oxford Singing Children and Oxford Youth Singers choirs and Musical Theater Camp appear in youngster-filled versions of classics such as Les Misérables and The Nutcracker. The company still nourishes ears with headphones made of bagels and live concert performances, including their long-running Concert on the Square and Summer Concert series.
1106 Washington St.
Covington
Georgia
A Technicolor sea of inflated slides, castles, and obstacle courses fills Jump-N-Play's indoor environs. Here, parents can keep a watchful eye on little ones as they slide down towering structures and challenge their imaginary friends to carnival-type games. The inflated play haven sets the stage for both open sessions and parties, during which staff members ply guests with pizza and ice cream. Alternatively, Jump-N-Play rents out its inflatables to festivals, nonprofit organizations, and anyone who wants to turn their yard into an imaginative play land.
120 Westridge Industrial Blvd.
McDonough
Georgia
404-695-8440
---