Day Spas in Warr Acres
---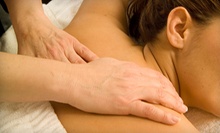 Sugar scrub and foot treatments exfoliate skin; massage soothes muscles; whirlpool foot dip and steamed towel relax minds
---
Recommended Day Spa by Groupon Customers
---
Corrective Skin and Vein Center's cosmetic technicians polish visages to gleaming radiance with skin-rejuvenating masks and peels. Pumpkin or papaya enzyme peels dissolve dead and dry cells while jumpstarting epidermal rejuvenation, leaving faces filled with youthful vim and vigor. Diamond peels utilize crystal-tipped wands to gently strip away spent cells, spiriting old skin away with suction action and a concert from the Pied Piper. The peels are strong enough to stimulate subsurface cell growth and gentle enough to let patients return to hectic lives or fully booked leisure schedules without downtime. Treatments conclude with a BioJouvance mask, which coats faces with a soothing mélange of vitamins, antioxidants, and hydrating unguents that moisturize mugs left dry from hands-free sand-eating contests.
7317 N Macarthur Blvd.
Oklahoma City
Oklahoma
405-720-9491
South Beach Tans and Spa partitions its newly remodeled facility into two separate spaces: a secluded spa area offering skincare and waxing services and a livelier hallway that opens into private UV- and spray-tanning rooms. Clients can purchase single sessions or monthly packages for regular beds as well as VHO beds, which employ 42 lamps to produce a darker tan.
The company's aestheticians curate complexions in warm, softly lit treatment rooms with noninvasive skin treatments designed to soften the signs of aging. The spa team also specializes in hair-removal using sugaring paste—a compound blended from sugar, lemon juice, and water—that exfoliates skin while yanking follicles out by the root, ensuring less hair breakage than tweezing or blasts from a freeze ray.
12120 Warwick Dr., Suite 6
Oklahoma City
Oklahoma
405-721-7733
The Palms Salon & Spa owner Wrobyn Tompkins opened her spa to equip patrons in flaunting their natural assets. A proclaimed curly hair specialist, Tompkins strives to enhance natural tress textures with curl-friendly cuts and serums by salon-trusted MopTop and Pureology brands. Her staff of seven stylists can assist clients with troublesome textures or hair loss by fitting and coloring wigs or extending locks past the shoulder with 100% human-hair extensions to conceal clingy pet parrots. Skin-deep treatments at the pampering oasis boast airbrush tans, massages, and facials that elevate a regular day to one that makes each client feel like the best version of themselves.
906 W Main St.
Norman
Oklahoma
405-310-2100
Salon Escape & Spa's professional staff offers haircare, nail-care, facial, waxing, and massage services. The massage therapists assuage muscles according to each client's therapeutic needs with a variety of modalities such as deep-tissue, sports, and relaxation massage. For pool and beach adventures, the spa's airbrush artists use Norvell sunless-tanning solution to blanket bodies in natural-looking, UV-free tans.
2814 SW 104th St.
Oklahoma City
Oklahoma
405-537-1649
The Ibrow Studio's owner and senior aesthetician, Nicole Willis, has been honing her techniques since 1999, and has grown so proficient that she shares them in workshops at the studio and on KSBI's All About You. Willis's specialty lies in the artful clearing and shaping of body hair using the NuFree soy hair-removal system. Although the substance resembles wax, it remains at a comfortable 98.6 degrees and fights bacteria as Willis smoothes it on to shape elegant eyebrows or tidy the bikini line. Her nimble hands further enhance eyes with Reese Robert eyelash extensions, and her expertise with makeup contouring and seamlessly integrating tiny gargoyles into evening looks reflect her interest in enhancing facial architecture overall. A skin analysis helps the team tailor facials to each skin type, and complimentary aromatherapy turns body scrubs and wraps into multisensory indulgence.
1015 Waterwood Pkwy., Suite G
Edmond
Oklahoma
405-348-2769
Spa director and licensed aesthetician Mary Paydar brings two decades of European skincare experience to her spa, which resembles something of a tropical paradise replete with muted walls, potted plants, and sprawling vines. Her technicians refresh patrons with individual or packaged facials, massages, and makeup treatments and cultivate a relaxing environment by taking their time with services rather than hastily launching makeup towards faces with a trebuchet.
208 S Santa Fe Ave.
Edmond
Oklahoma
405-340-3223
---