Restaurants in Warr Acres
---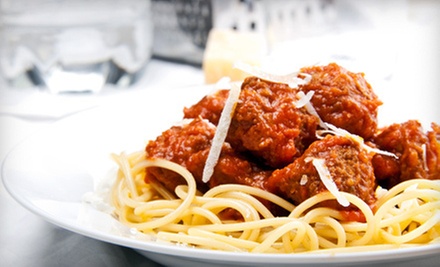 ---
Recommended Restaurants by Groupon Customers
---
Beatnix Café's reality-forcefield device keeps it locked in this world, so you don't have to listen to Susan B. Anthony while perusing the menu. For morning sustenance, Beatnix features the Daddy O French Toast with your choice of bread base ($2.98 for two slices). During lunch, the Groovy Grilled Chicken Sandwich stands tall with toasted wheat bread, swiss cheese, lettuce, tomato, and onion with mayo or your choice of dressing ($5.89). All salads start with a base of fresh organic spring mix, baby spinach, and red-leaf lettuce combined with freshly grated carrots and red cabbage (starting at $5.49), and soups are made from scratch ($3.49 for an 8-ounce cup).
136 Northwest 13th St.
Oklahoma City
Oklahoma
Declared one of Oklahoma City's top 10 nightlife hot spots by 10 Best, Tapwerks Ale House & Cafe boasts an extensive menu of comforting classics served in a cozy dining room. Beef tenderloin ($9.99), frolics in an aromatic meadow of garlic, onion, and mushrooms before being pinned to a baguette by melted provolone, and beer battered pickle o's come lightly fried and served with a spicy ranch dipping sauce ($5.49). Brauthaus–style fare, such as the bratwurst with brown-mustard cream sauce ($11.99), is sure to tickle the tongue with a few umlauts, pleasing those diners recently returned from harvesting cuckoo clocks in the thick underbrush of the Black Forest.
121 E Sheridan Ave.
Oklahoma City
Oklahoma
If imitation is the sincerest form of flattery, Cabana Bob's Tiki Hut's unique shape explains why hot dogs are always blushing. Cabana Bob's large carts are well known for their uncanny costuming and semblance to real-life, edible hot dogs. Stop by one of Cabana Bob's mouthwatering locations to try a Nathan's famous all-beef hot dog, bratwurst, or hot link ($3 plain, $4 loaded); add chips for $1. Wash down your sausage with water ($1) or soda ($2)—or opt for some of Cabana Bob's refreshing shaved ice ($3). Carts are open late, making it easy to celebrate the weekend well into the wiener hours of the morning. The Coyote Ugly and Sapphire Lounge carts are open Thursdays through Saturdays from 7 p.m. to 2 a.m., the Edna's location is open on Wednesdays only, from 7 p.m. to 2 a.m., and the Canal spot (serving shaved ice only) is open Fridays through Sundays from 11 a.m. to midnight. You're encouraged to follow Cabana Bob's on twitter to learn about special offers, appearances, and schedule changes.
Canal Level Below Mickey Mantle's, 7 S Mickey Mantle Dr.
Oklahoma City
Oklahoma
We are a locally owned and operated business that strives to give top notch service with exceptional Bar-B-Q!!
700 West Main Street
Yukon
Oklahoma
405-354-2122
Jo's pizzas are always made in house from fresh ingredients, customized to each customer's specifications, and baked in a flaming inferno of fiery pizza-love. Jo's offers four sizes of pizza to satisfy the hunger of rapidly expanding stomach collectives—10 inch, 12 inch, 14 inch, and 16 inch. Choose any of Jo's 27 toppings to play a pizza solo ($8.95, $12.95, $15.95, $19.95), or go straight for one of Jo's famous specials ($11.95, $16.95, $20.95, $25.95). Devour the meatlessly beefy veggie special (olive oil and garlic sauce, spinach, artichoke hearts, kalamata olives, sun-dried tomatoes, and mushrooms) or eat an appropriate Sooner (red sauce with bacon, chicken, sausage, hamburger, pepperoni, Italian sausage, and hot-link slices). For a surprise, get the Gift and turn any pizza on the menu or of your imaginative creation into a small, medium, large, or extra-large calzone, proving that you can have your pie and fold it over into a calzone too. Wash it all down, or just pour a soda over your meal beforehand, with a soft drink (kids $1, adults $1.95).
900 S Kelly Ave.
Edmond
Oklahoma
Café Nova's staff welcomes patrons through a diner-style façade and passes out a menu of classic American fare. Follow servers across a mosaic stone floor to simple tables waiting to be garnished with towers of silverware Jenga, herb-crusted pork tenderloin ($18), or Nova mac 'n' cheese―a hot helping of penne that the kitchen team douses with toasted breadcrumbs, parmesan, and cheddar ($10). White geometric chandeliers illuminate the frutti di mare, making it easier to untangle the shrimp, tilapia, and crab from the pesto-painted linguine ($18). For early noshing, join the brunch crowd, which basks in the kaleidoscopic light peeking through the stained-glass windows and lines up to build unlimited eggy edifices at the omelet bar or cozies up to a plate of shrimp and cheddar grits ($12 each).
4308 N. Western Ave.
Oklahoma City
Oklahoma
---
---
Restaurant Deals - Recently Expired
---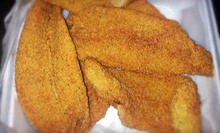 Baskets of fried catfish and chicken wings served with sides such as okra, green beans, and coleslaw
---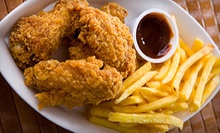 Appetizers such as fried pickles and livers prelude fried or grilled whole or half-chickens, and burgers
---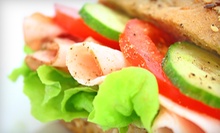 Ample menu showcases a variety of sub sandwiches, wraps, and salads alongside classic pizzas in original and thin crusts
---
---