Restaurants in Warr Acres
---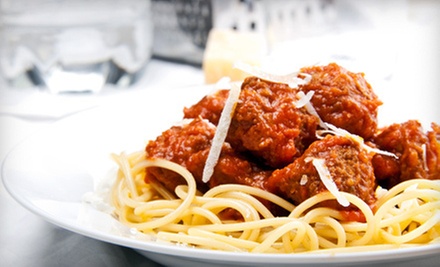 ---
Recommended Restaurants by Groupon Customers
---
As you sit or ethereally levitate amid 1492's artful tortilla wrap of moody chandeliers and onyx-hued tablecloths, nosh on complimentary chips and homemade salsa while perusing an authentic menu. Slap your sleeping stomach awake with the 1492 queso, a bubbly mix of beans, spicy beef, guac, pico de gallo, and sour cream ($8), or an order of chicken-tortilla soup ($5) before moseying on to ambitiously sized entrees of skirt-steak-topped poblano peppers ($22) stuffed with chopped shrimp, zucchini, squash, and monterey jack served over cilantro queso or Venezuelan-shredded brisket ($15). 1492 also offers selections off a rotating specials menu. This summer, sample pineapple-espresso pork ($14), sided with chipotle mashed potatoes; fresh lump crab, tilapia, and shrimp ceviche ($12) topped with fresh avocado and pico de gallo; or an updated version of the classic Cuban sandwich served with Latin fries ($10). Less experimental eaters will appreciate classic Tex-Mex combo platters such as the tres amigos ($12), a cheesy taco and enchilada duo plus a beef taco.
1207 N Walker Ave.
Oklahoma City
Oklahoma
Declared one of Oklahoma City's top 10 nightlife hot spots by 10 Best, Tapwerks Ale House & Cafe boasts an extensive menu of comforting classics served in a cozy dining room. Beef tenderloin ($9.99), frolics in an aromatic meadow of garlic, onion, and mushrooms before being pinned to a baguette by melted provolone, and beer battered pickle o's come lightly fried and served with a spicy ranch dipping sauce ($5.49). Brauthaus–style fare, such as the bratwurst with brown-mustard cream sauce ($11.99), is sure to tickle the tongue with a few umlauts, pleasing those diners recently returned from harvesting cuckoo clocks in the thick underbrush of the Black Forest.
121 E Sheridan Ave.
Oklahoma City
Oklahoma
The menu is stocked with sandwiches, Philly cheesesteaks, pizza, clubs, salads, 13 flavors of homemade Italian water ice, and seasonal soups made from scratch daily. Hoagies, which are served on Hobby's own freshly baked Italian bread, are savorily slathered in lettuce, tomatoes, onions, pickles, oils, spices, and Hobby's hoagie peppers. Melt mouth muscles with a meaty Special Italian ($4.65 for 7" and $6.79 for 12") packed with cappocola, ham, salami, and provolone cheese. Or try one of the fan-favorite Philly cheesesteaks; the original is crafted from prime rib eye sliced thinly atop a fresh roll and smothered in lettuce, tomatoes, pickles, peppers, onions, and cheese ($5.09 for 7" and $7.59 for 12"). New York–style thin-crust pizza ($4.49 for 8" plain to $13.99 for 18" plain) is taking a vacation from the Big Apple to tan its toppings in Hobby's bright ovens.
222 S Santa Fe Ave.
Edmond
Oklahoma
Jo's pizzas are always made in house from fresh ingredients, customized to each customer's specifications, and baked in a flaming inferno of fiery pizza-love. Jo's offers four sizes of pizza to satisfy the hunger of rapidly expanding stomach collectives—10 inch, 12 inch, 14 inch, and 16 inch. Choose any of Jo's 27 toppings to play a pizza solo ($8.95, $12.95, $15.95, $19.95), or go straight for one of Jo's famous specials ($11.95, $16.95, $20.95, $25.95). Devour the meatlessly beefy veggie special (olive oil and garlic sauce, spinach, artichoke hearts, kalamata olives, sun-dried tomatoes, and mushrooms) or eat an appropriate Sooner (red sauce with bacon, chicken, sausage, hamburger, pepperoni, Italian sausage, and hot-link slices). For a surprise, get the Gift and turn any pizza on the menu or of your imaginative creation into a small, medium, large, or extra-large calzone, proving that you can have your pie and fold it over into a calzone too. Wash it all down, or just pour a soda over your meal beforehand, with a soft drink (kids $1, adults $1.95).
900 S Kelly Ave.
Edmond
Oklahoma
Café Nova's staff welcomes patrons through a diner-style façade and passes out a menu of classic American fare. Follow servers across a mosaic stone floor to simple tables waiting to be garnished with towers of silverware Jenga, herb-crusted pork tenderloin ($18), or Nova mac 'n' cheese―a hot helping of penne that the kitchen team douses with toasted breadcrumbs, parmesan, and cheddar ($10). White geometric chandeliers illuminate the frutti di mare, making it easier to untangle the shrimp, tilapia, and crab from the pesto-painted linguine ($18). For early noshing, join the brunch crowd, which basks in the kaleidoscopic light peeking through the stained-glass windows and lines up to build unlimited eggy edifices at the omelet bar or cozies up to a plate of shrimp and cheddar grits ($12 each).
4308 N. Western Ave.
Oklahoma City
Oklahoma
After 13 years of treating the taste buds of Harrah, Checkerboard Café and Bakery made its move to Midwest City where it was subsequently kinged. The neighborhood nosh spot serves up a tasty array of lunch and dinner bites, complemented with fresh-baked goodies and homey charm. Start your table with an order of southwest spinach queso dip ($5.99) to share, or grab a baked snorkel and dive into a bowl of baked potato soup ($4.49). The midday menu tempts carnivores and carny voyeurs alike with juicy burgers, toasty pressed sandwiches, and blue plate specials such as chicken fried steak ($8.99), and dinner options add to said delights with an extended list of entrees. Enjoy a personalized portion of hickory smoked prime rib, served by the ounce and cooked to temperature ($1.49 per ounce), or entrust the custom-sized cranny in your belly to a plate of potato-encrusted salmon with rice pilaf ($13.99). All entrees are served with two side orders and customer-acclaimed yeast rolls.
116 N Air Depot Boulevard
Midwest City,
Oklahoma
405-610-2233
---
---
Restaurant Deals - Recently Expired
---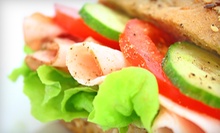 Ample menu showcases a variety of sub sandwiches, wraps, and salads alongside classic pizzas in original and thin crusts
---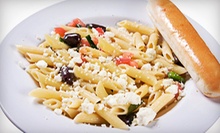 Noodle dishes from global recipes cozy up to sandwiches, rice specialties, soups, and salads inside casual eatery
---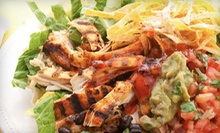 Fillings ranging from sweet pork and raspberry-chipotle chicken to simple beans and cheese enhance burritos, nachos, and enchiladas
---
---