Things to Do in Warr Acres
---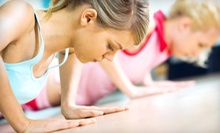 A Marine Corps–certified combat-conditioning specialist leads highly varied, military-inspired workouts that accommodate any fitness level
---
Recommended Things to Do by Groupon Customers
---
While chatting on the phone with a friend, Katrina Uhls had a startling realization: her kids had been playing video games for hours. She discovered that by effectively "unplugging" her kids, she could steer them toward more creative, introspective pastimes.
Now, as the owner of Unpluggits Playstudio, she fosters a safe, welcoming space where all kids can "unplug" and explore their artistic sides. Kids will find shelves stocked with play-doh, stamps, stencils, and other craft supplies. They can don smocks and wield nontoxic paints at miniature easels. Paint'n take projects give them personalized crafts to take home, such as picture frames and piggy banks useful for saving up to buy new toys or a gold-plated piggy bank. For more active playtime pursuits, kids can gambol toward the indoor playground, which features slides, a pirate ship, and air-hockey tables.
As kids explore the 3,000-square-foot studio, parents are welcome to cruise free WiFi or monitor tykes from the snack bar, which serves freshly ground organic coffee, juices, and soda. Special workshops open the space for toddler-specific activities, adults-only craft time, and parents' nights out.
575 Enterprise Dr., Suite 110
Edmond
Oklahoma
Now celebrating its 11th season with a residency at Civic Center Music Hall, Oklahoma City Repertory Theater continues to perform a diverse selection of new and classic plays. From time-tested farces by Oscar Wilde to swear jar-shattering scripts penned by David Mamet, City Rep's history is filled with dramas, comedies, and musicals. Each show works to fulfill the company's mission to "entertain, enlighten, and inspire."
201 N Walker Ave.
Oklahoma City
Oklahoma
405-410-8035
Game Time Inflatables fills its 3,000 square-foot, indoor playground with cushy tunnels, a plush slide, and a castle-themed bounce house, letting kids of all ages literally bounce off the walls. After a long day of caroming through the inflated jungle gym or bounding over plush, pint-sized partitions, tykes and their parents can rest weary legs at the indoor picnic tables. Check the schedule for upcoming open play hours.
2116 Pole Rd.
Moore
Oklahoma
After building a successful inflatable-delivery business, the family that owns and operates Dawn to Dusk Inflatables decided to open two locations where their air-filled attractions remained permanently fixed to the ground—Bouncin Craze and Bouncin Craze II. There, kids experience the thrill of the bounce on boat-, slide-, and superhero-shaped inflatables that staffers regularly sanitize to prevent the spread of germs. While kids challenge gravity and explore the game room, parents access free WiFi and nosh on items from the snack bar, or brush up on their air hockey at the complimentary tables.
Families celebrate birthdays or their toddler's first successful juggling routine within the centers' private party rooms, which can be decorated with balloons that are conveniently available in-house. The Oklahoma City location's Art in Craze also allows families to create masterpieces together using nontoxic paint, stamps, and play-doh.
14901 N Lincoln Blvd.
Edmond
Oklahoma
---