Nightlife in Warren
---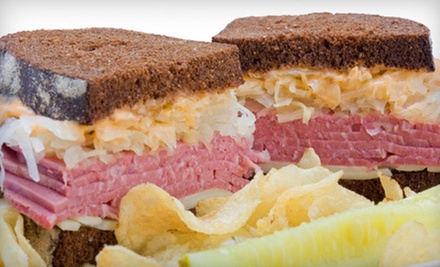 ---
Recommended Nightlife by Groupon Customers
---
Firehouse Lounge serves up a savory menu of small bites, sliders, and burgers, impeccably paired with handcrafted specialty cocktails to fill any hour with happiness and gummy grin exposure. Enjoy a baby plate of fried zucchini ($6) or crab and bacon flautas ($9.50) to properly prepare your palate, or treat your tablemates to a round of throw-backable beef, salmon, veggie, or crab sliders to quickly gain supporters for the upcoming table mayor election. For dinner, enjoy a protein-packed BLT burger with sun-dried tomato puree, chiffonade of romaine, and bacon aioli; a succulent salmon burger topped with lettuce, tomato, and caper tartar sauce; or a veggie burger sourced from green protein with goat cheese, dijonaise, lettuce, and tomato—all burgers served with your choice of fries or salad ($8.95).
2216 Penn Ave.
Pittsburgh
Pennsylvania
If Finnigan's menu were a flag, it would be a mixture of red, white, blue, and green, and would be proudly twirled in all Independence of St. Patrick's Day parades. The fare is mainly influenced by traditional Irish staples, but retains a touch of American pub grub. Start out with a plate of Irish wings slathered in your choice of 12 sauces ($8.95) before moving on to a Kitchen Sink Pizza overloaded with pepperoni, sausage, peppers onions, mushroom, and black olives baked in a mozzarella-provolone blend ($11.95). Sandwich selections range from the hot sausage with onions and peppers on a baguette to the crab-cake sandwich served on a Kaiser roll with homemade tartar sauce (both $9.95). You can also keep it traditional with a Squirrel Hill Reuben ($8.95). Entrees include the popular corned beef and cabbage ($10.95), fish and chips ($12.95), and Finnigan's version of country-fried steak—a breaded and deep-fried open-face Philly steak on Texas toast with Swiss cheese and gravy ($10.95). Finish off your feast with a slice of peanut-butter cream pie ($5.95).
20 E General Robinson St.
Pittsburgh
Pennsylvania
Cleats possesses the official chicken wing of the Cleveland Indians, which is dipped in an extra-hot bronze sauce and guarded by multi-headed beasts. Despite the selection of more than 50 domestic and imported beers and more than enough sports fans to match each one, the establishment is family friendly and happy to serve patrons with progeny in tow. Cleats' menu is a cornucopia of casual American fare, with starters such as spinach artichoke dip ($6.99) and beer-batter-fried pickles ($4.99) at hand to combat raging appetites. Keep it light with a Greek salad ($9.99 large, $7.99 small), or tuck in for the night with a Texas hold 'em burger ($8.99), a beef slab fitted with a cowboy hat of bacon, cheddar, onion rings, and house-made barbecue sauce. If you prefer to keep your meat bites separate from your carb bites, choose from 22 signature wing sauces and order up a combo plate of eight wings and six soft pretzel sticks ($9.99).
8389 Mayfield Road
Chesterland
Ohio
Rav's Creekside provides myriad selections of savory American pub plates, a lively sports-bar scene, and a lovely patio view of neighboring Tinker's Creek. Fresh and homemade entrees pepper the expansive menu. Nurse your tongue's nascent appetizer phase by munching the succulent calamari ($7.99), its fried sea-delights dusted in seasoned crumbs and served with a homemade cocktail dipping sauce. Indecisive nibblers can diversify their palate portfolio with the Creekside sampler's mélange of onion rings, cheddar cheese and bacon skins, mozzarella sticks, and their choice of six chicken wings ($8.99), while an array of options befalls fans of meat-hugging breads. The Creekside burger sports a slab of char-grilled sirloin sidekicked by homemade coleslaw and fries ($7.50), just as the open-faced strip steak sandwich ($8.99) has inspired countless meaty wrestlers to finally remove their rhinestone masks. Your Groupon is also good for drinks, of which 16 sit on tap and 40 are in bottles behind the wooden bar.
9224 Darrow Rd.
Twinsburg
Ohio
Named after retired Chicago police officer Jim Mullen, who was seriously injured in the line of duty, Mullen's Bar & Grill first opened its doors in the Windy City before branching out to Pittsburgh. Classic bar fare such as boneless wings, nachos, and burgers shares menu space with deep-fried philly cheesesteak sandwiches and SpaghettiO's straight from the can. An entire squad of flat-screen televisions hangs from exposed rafters so eaters can easily view broadcasted sports without craning their necks or duct taping rear view mirrors to their wrists. Mullen's Bar & Grill has two locations, one stationed near the cheering crowds at PNC Park and the other in the midst of the nightlife scene on Carson Street.
200 Federal St.
Pittsburgh
Pennsylvania
Bite into at Medjoul dates stuffed with gorgonzola or potato herb gnocchi with bay scallops at Bite. Chef Chris Walsh of Confidential Restaurant and Loft serves French and Italian-influenced finger-food in small, tapas-style dishes. Deviled eggs with salmon caviar and banana pepper sauce for $3.50 and swordfish skewers for $5 mean you can sample and share plenty of plates for $55.
565 Lincoln Avenue
Pittsburgh
Pennsylvania
US
---