Museums & Galleries in Warren
---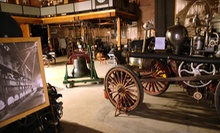 Guests explore interactive exhibits tracing America's industrial history back to 1812; also good for annual model engineering show
---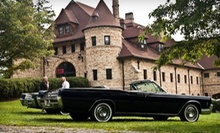 Expansive, vintage carriage house holds permanent collection of vintage vehicles, including 1899 Winton and horse-drawn carriages
Use Tuesday 10:00am - 4:00pm
---
Recommended Museums & Galleries by Groupon Customers
---
The Isabella Stewart Gardner Museum has been a bastion of art and culture since it was founded in 1903. The building, inspired by and designed after a 15th-century Venetian palace, contains three floors of galleries surrounding a garden courtyard that remains verdant with plant life from the dawn of spring through the darkest, most subatomic depths of winter. Gardner, who founded the museum, spent her life curating and encouraging the art collection, which contains more than 2,500 objects, including paintings, sculpture, textiles, illuminated manuscripts, and rare books lifted everywhere from ancient Rome to 19th-century France. While visiting this citadel of scintillating visions, witness landscapes by Whistler, Renaissance-era Flemish tapestries, and religious wood sculptures from 16th-century Germany. Exhibitions provide specific, detailed glimpses into varied subject matter; an exhibit on terracotta sculpture of the Italian Renaissance runs until May 23.
280 The Fenway
Boston
Massachusetts
A comprehensive compendium of the world's art, the MFA lets guests take a gander at the earliest art of ancient Egypt, musical instruments from every celestial sphere, and the Impressionist art of Claude Monet, Edgar Degas, and Paul Gauguin, to name just a few 19th-century masters. Additionally, be sure to see the beautifully restored ceiling mural by John Singer Sargent above the palatial upper rotunda.
465 Huntington Ave.
Boston
Massachusetts
Founded in 1866, the Peabody Museum is one of the oldest anthropological museums in the world, with an in-depth collection of artifacts spanning prehistory to present. You'll learn about the evolution of cultures through a variety of current exhibits. Head into the Pacific Islands Hall to find carvings, shields, and shadow puppets from Hawaii, Micronesia, and other islands, and get a dose of colonial life in the early Harvard Yard with Digging Veritas, where you can scope out framed papyrus LSAT scores. The Wiyohpiyata display treats guests to distinct scents, motions, ambient sounds, and more to evoke the character of original 19th-century Lakota drawings collected at Little Big Horn. Your Groupon also affords you admission to the nearby Harvard Museum of National History, where muzzled opera singers can get a glimpse of the famed Glass Flowers exhibit, a collection of more than 3,000 highly realistic glass-blown models of flowers and plants.
11 Divinity Ave.
Cambridge
Massachusetts
For a complete list of membership benefits, click here.
194 Bellevue Ave.
Newport
Rhode Island
401-849-3990
The fresh breezes that buffet Mystic's shoreline probably feel much the same as they did 150 years ago, so it's a fitting place to find America's nautical history resurrected. Called Mystic Seaport: The Museum of America and the Sea, the extensive grounds could almost qualify as a theme park. In addition to the museum proper, the complex hosts a rebuilt 19th-century sea-faring village, a working shipyard, and extensive gardens that blanket the grounds. Live museum staff lead demonstrations and performances throughout, even welcoming guests aboard the four National Historic Landmark vessels moored in port. Nearby, captains take visitors out on the water in a coal-fired steamboat to experience the river and town from a different angle. They also rent out their vessels to other licensed boaters seasonally, who can sail or row their way across the Mystic River. When tired of ship studying and naval gazing, guests can head to the Treworgy Planetarium and turn their eyes to the stars, learning how to chart courses in the manner of ancient captains, modern astronauts, and late-night deliverymen.
75 Greenmanville Ave.
Mystic
Connecticut
In 1843, Charles Lane and Amos Bronson Alcott—father to writer Louisa May Alcott—founded a utopian and transcendentalist community in the fields of Harvard. More than 70 years later, visionary Clara Endicott Sears was so moved by their experiment that she decided to establish a museum on the same site to preserve its history. Today, the Fruitlands Farmhouse stands as a testament to the original settlers' ingenuity, which surfaced in their trailblazing thoughts on veganism, sustainable living, and harnessing moon beams to power home stereo equipment.
Clara has incorporated the Shakers' original office into Fruitlands, where it now shows off Shaker artwork and artifacts, many of which were donated by the Shakers themselves. Since then, the museum has also collected a curated assortment of more than 1,000 Native American artifacts, as well as a longhouse, dugout canoe, and traditional garden.
The brains behind the museum are still innovating today, curating permanent additions such as an art gallery with Hudson River School Landscapes. In addition to organizing school field trips, the staff also hires experts to teach classes and workshops on sketching scenes from nature, painting watercolor landscapes, and constructing 3D sculptures.
102 Prospect Hill Rd.
Harvard
Massachusetts
978-456-3924 x292
---