Restaurants in Warren
---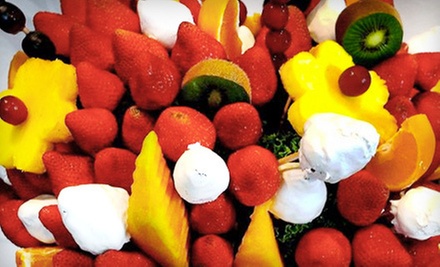 ---
Recommended Restaurants by Groupon Customers
---
Dream Dinners makes meal preparation a breeze with easy-to-follow instructions, precut meats and veggies, and a host of complementary ingredients. The experience is like a cross between a barn raising and a bar crawl, minus the alcohol and hard labor: After choosing from a rotating menu of up to 14 dishes per month, customers schedule a spot at a fun prep session (call at least a week in advance) to assemble meals in-store. Items from the April menu include blackened salmon with pineapple salsa ($15.89 for three servings) and crispy sesame chicken with gingered green beans ($14.04 for three servings). Groupon holders can dazzle dining-room tables with fancy, restaurant-inspired fare or serve up flavor-filled comfort foods such as white-chicken lasagna ($14.04 for three servings) and caliente pork chops with garlic mashed potatoes ($16.42 for three servings).
1994 Star-Batt Dr.
Rochester Hills
Michigan
The Town Pump Tavern's menu boasts pint pairings such as the Black and Blue Bites (wonton-wrapped infusion of roasted red peppers, blue cheese, and blackened chicken served with a side of ranch and toughness, $7) or a refreshingly crisp order of fried pickles ($4). Heartier options include the toasted-rye Reuben ($7) or brow-dripping half-pound Firehouse Burger complete with Cajun seasoning and fresh jalapeños ($7.75). Come rain, meteor shower, or impromptu spelling bee, happy hour runs seven days a week with the exception of December 25. From 4 p.m. to 7 p.m., guests can meet up with friends, enjoy dollar food items, and hitch a ride on the free Red Wings shuttle to home games.
100 West Montcalm Street
Detroit
Michigan
313-961-1929
Strawberry Moon's menu serves up freshly baked bread and pastries made from organic flour plucked straight from the vine. Lovers of loaves can opt for breads ranging from classics such as honey whole wheat ($3.89) to game-changing explosions of flour-flecked flavor such as jalapeño cheddar ($5.89). Dessert desirers need look no further than the pastries, muffins, and cookies—including the bakery's namesake, a crescent confection topped with pink icing—lining the bakery's shelves. Despite the sweet-tooth façade put up by Strawberry Moon, a streak of eclectic edibles runs through the fare, as sandwiches and pizzas also populate the menu. Gourmet pizzas include the Full Moon ($15.19 for a 14-inch pizza), a flavorful caravan of meats, onions, green peppers, mushrooms, black olives, and pineapple, and the Julius C ($15.09 for a 14-inch pizza), a satisfying slab of creamy Caesar sauce, mozzarella, romano, grilled chicken, and fresh tomato. Oven-baked sandwiches of note include a cucumber sandwich ($6.19) with wasabi and Swiss cheese, and the Funky Monkey ($4.89), where banana and honey ride a groovy bass line of organic peanut butter.
301 West 9 Mile Road
Ferndale
Michigan
Nestled amid Detroit's downtown art museums, this café holds its own with inspired European ambience and beautifully plated crêpes. The crêperie serves up nearly 50 predetermined combos of crêpes ($4.50–$8). Each warmly wrapped medley is bestowed with a name to match its distinct personality. Take Rachel, a s'mores-infused treat who likes long hikes through the forest ($6.50), or Dana, who embraces hearty chicken, bold brie, pesto, and sun-dried tomatoes ($8). Vera garnishes her purse with glistening bacon, decadent boursin cheese, and green-leafed spinach ($6.50). Liz, a strawberry-infused blonde, picks blueberries by day and moisturizes with nutella each night before bed ($7). Good Girls Go To Paris Crepes evens out sweet teeth with bold-roasted Intelligentsia brews and other fair-trade coffees.
15 East Kirby Street
Detroit
Michigan
877-727-4727
While Mill Street Grille's wings ($7.99 for eight wings) have earned the restaurant ticker-tape parades from CityVoters and Nobel Prizes in physics, the rest of the menu proves to be no slouch in culinary capability. Split an appetizer of deep-fried pickle chips ($4.49) or conquer the mountainous nachos for two ($9.49) like an edibles-minded Edmund Hillary. Entrees include grilled salmon ($12.99), the Mill Street rack of ribs ($16.99), and a rib-eye steak dinner ($14.99), all of which come with a choice of fries, coleslaw, or house salad. Mill Street Grille's selection of sandwiches and wraps covers all-American favorites such as the catfish po' boy ($6.99), the Philly steak ($7.99), and the club wrap ($6.99), while its brigade of burgers ranges in size from four sliders ($5.99) to Mill Street's Big Daddy ($9.99), a pound of meat topped with cheese, lettuce, tomato, Mill Street Grille's special sauce, and the well-wishes of concerned onlookers.
12 South Mill Street
Pontiac
Michigan
248-454-8132
When door-to-door canvassing for the civil liberties of corgis leaves your midday mouth watering, make a pit stop at Mudgie's, where the menu boasts more than 20 specialty sandwich selections filled with hearty portions of house-cooked meats and local products. Stop by for a Madill ($9), the warm, open-face delight of roasted turkey, smoked bacon, veggies, melted pepper jack, and house-made garlic mayo that was crowned one of Detroit Free Press's Top 21 sandwiches of 2008. Or opt for the That's Jared ($8.75), a warm kaiser roll topped with corned beef and swiss cheese buried under a scoop of house-made redskin potato salad. Homemade soups debut fresh flavors daily ($3.75/cup), while fresh salads (starting at $2.50) and an abundance of vegetarian and vegan sandwiches round out the menu.
1300 Porter St.
Detroit
Michigan
---