Restaurants in Warwick
---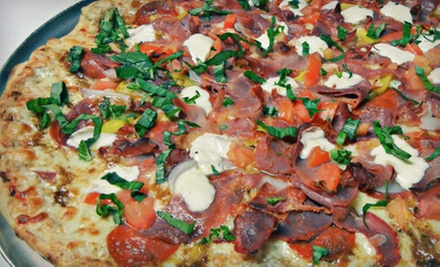 ---
Recommended Restaurants by Groupon Customers
---
Chef and owner Sanjiv Dhar has delighted diners with his extensive menu of fresh, authentic Indian cuisine for 24 years. Drawing upon the flavors of India's many culinary regions, Kabob and Curry features a wide range of dishes beloved by herbivores and meatophiles alike. Lunch and main course menus are clearly labeled for easy identification of spicy, vegan, gluten-free, dairy-free, and lego-free dishes. An appetizing appetizer menu grants patrons the uncanny ability to enjoy minced-lamb samosas ($4), pesto-stuffed naan ($3), and South Indian lentil soup ($3), before nabbing a taste of India's western coast with spicy-chicken xacuti ($6.75 for lunch, $13 for dinner), or setting out toward southerly climes with a creamy, coconut-based South Indian shrimp curry ($7.25 for lunch, $14 for dinner). Chronic coin-flippers can have the best of both worlds with lunchtime combination plates ($10.99+), which come with two dishes and a choice of rice or naan.
261 Thayer St.
Providence
Rhode Island
Cavalieri's Wood Street Pizza is a family-owned-and-operated cookery that has been serving up house favorites and custom creations for 18 years. While the basic variety of pizza exists ($6.75 for 10" to $16.25 for a full sheet), Wood Street's pizza menu shines with exotic topped discs, such as buffalo chicken pizza, taco pizza fiesta, and a lasagna pizza pie. Specialty pizzas are $9, $18, or $27 (or $18.25 for thin crust), depending on size. If you prefer your pizza folded into a crescenty pocket of flavor, opt for one of the 20 varieties of calzones ($2.75 for single up to $27 for a 25" giant). Wood Street also whips up appetizers, grinders ($5.75–$6.75), a soup of the day ($4.25), salads ($2.50 for a side salad, others $4.50–$7.25), and pasta creations ($6–$9.95). Check the menu for changing specials for lunch, dinner, sandwiches, soups, and pizza, such as June's chicken Caesar.
366 Wood St.
Bristol
Rhode Island
Garden Grille Cafe's menus are stacked with delicious American-style food offerings designed to meet the hungry demands of vegetarians, vegans, and anti-gluten demonstrators. Introduce your stomach to vegan vittles with the gluten-free grilled sweet potatoes ($6), the vegan-friendly and gluten-free soybean pod sustenance of edamame ($6), or Grandma Reggie's raw heaven salad ($10), a concoction of arugula, mango, avocado, grapefruit, beet-infused jicama, cashew gomasio, and homemade dressing. Lunch lovers can munch on a vegan BLT ($7) with tofu "bacon" and chipotle sauce, while dinner derring-doers can opt for the Buddha Bowl ($15), filled with grilled tofu, tempeh, organic brown rice, and fresh veggies, or a roasted butternut-squash quesadilla ($10) with black beans, jack cheese, and a salsa side. Guests who show up on Sundays from 9 a.m.–3 p.m. can enjoy the brunch menu, which unifies the chronologically asunder meals with vegan French toast ($8), the Garden Grille omelet ($8), and pancake stacks ($6–$7).
727 East Avenue
Pawtucket
Rhode Island
Tortilla Flats tempts tasters with an alluring melting pot of classic Mexican eats, peppered with hints of Cajun and southwestern cuisine. Lunch and dinner patrons can sup on an eclectic array of quesadillas, sandwiches, salads, classic Mexican combination plates, and entrees. Debate the anatomical impossibilities of an order of wild boar wings (plain, buffalo, or barbecue style, $8.99) before moving on to heartier fare such as the cowboy steak tips ($14.99) or the habanero mac 'n' cheese ($13.99). Combinations of tacos, burritos, tamales, and enchiladas tantalize statisticians with a bevy of possibilities ($7.95–$9.95), and blackened catfish Naw Leens ($13.95) and Bayou Crawdad cakes ($9.50) transport taste buds to the murky environs of Cajun country, replete with Zydeco-blasting tooth accordions.
355 Hope Street
Providence
Rhode Island
401-751-6777
In Cafe Luna's bustling kitchen, Chef Christopher Farrell emulsifies vinaigrettes, stuffs ravioli with the filling of the day, and slides pizzas atop a sizzling grill. Cinnamon-flecked cappuccino and glasses of house wine pair with dishes from the elegant lunch and dinner menus. The elegance exudes from dishes such as roasted-pear salad and veal saltimbocca, each meticulously plated with sprigs of fresh herbs or swirls of sauces. On the eatery's flower-filled outdoor patio, guests bask in a cool breeze while nibbling dessert biscotti and sending semaphore insults to birds flying overhead with each table's navy-blue umbrella.
22 Midway Rd.
Cranston
Rhode Island
401-944-1438
A piece of food soars through the air, landing squarely in the open mouth of a patron. The other 19 guests at the table cheer. Then an egg pops up high above their heads. During its descent, a man standing before the seated crowd pulls open his breast pocket, and the egg lands snugly inside. Without pause, the chef continues chopping, flipping, and grilling in swashbuckling style.
This show repeats at Yokohama Japanese Steakhouse's five large hibachi tables—each crowned with an enormous grill—every day of the week. The restaurant also serves up less theatrical but no less authentic teriyaki, tempura, udon, and wok-stirred fare, as well as traditional and contemporary sushi rolls. In the dining room, the gurgling of water in an indoor pond mingles with the murmur of Sirius satellite radio and the purring of stomachs curled up for postprandial naps.
300 Quaker Ln.
Warwick
Rhode Island
401-826-8200
---