Beer, Wine & Spirits in Washington, D. C.
---
Recommended Beer, Wine & Spirits by Groupon Customers
---
On February 1, 2011, Linganore Winecellars' staff members celebrated with a barrel tasting. They had just finalized the winery's transition to operating on strictly sustainable wind power.
Founded in 1971 by the Aellen family, Linganore has since expanded in every way, from its grape selection to new bottling rooms to a renovation of the offices in the 19th-century barn on the grounds. Today, the sustainable winery stocks more wines than ever before, with its award-winning selection including traditional grape varietals, fruit wines, and specialty bottles. The idyllic winery routinely hosts events as well, with concerts, tastings, and tours taking place 361 days out of the year, granting the grapes four days to just hang out.
13601 Glissans Mill Rd.
Mt. Airy
Maryland
301-831-5889
Detour Winery is not a big-name brand, but this smallish quality is part of the estate's charm. The other part is its location in the shadow of Catoctin Mountain. Here, close enough to Mother Nature to steal her purse, travelers can stop and savor life in the presence of wildflowers, grapes, pavilions, and softball fields.
The proprietors, Daniel Tamminga and his son and daughter-in-law Dann and Beth, cultivate award-winning wines—their current offerings cover all the bases from fruit and dessert wines to reds, whites, and blushes. But they also cultivate a healthy community with wine festivals, youth athletic-program sponsorships, and a summer concert series. They welcome weddings and corporate events onto their property, and routinely host winemaking classes to help out new brewers, much to the horror of un-stomped grapes everywhere.
7933 Forest & Stream Club Rd.
Detour
Maryland
410-775-0220
Port of Leonardtown Winery, a cooperative, crafts its red, white, and dessert wines with grapes sourced from southern Maryland vineyards. Along with private tastings, the winery hosts monthly events to draw in the community, including First Friday celebrations with tastings, local art, and live music held in the tasting room and on the patio. Classes help demystify the process of strolling down the wine aisle, discussing topics such as how to distinguish between various red-wine grapes or how to make educated wine purchases. For fans of the outdoors, Port of Leonardtown Winery partners with Patuxent Adventure Center for kayaking and wine adventures, where visitors enjoy a bottle of local wine after stalking it for miles between McIntosh Run to Breton Bay.
23190 Newtowne Neck Rd.
Leonardtown
Maryland
US
301-690-2192
Quarry's approachable, contemporary shop caters to sippers of all skill sets. With more than 800 wines selections divided according to price (under $15 and under $25), taste (light, medium, full), color, and common-sense descriptions (food pairings, flavor notes, astrology-sign compatibility), Quarry makes it easy for wine explorers to discover their grape grail. For truly monumental decisions, Quarry's expert, friendly staff is always on hand to toss out suggestions on the perfect pour and how to raise goats to have human emotions. Once summer rolls around, pack an elegant liquid-based picnic, one-up neighbors at the annual block party, or just wipe a sweaty brow with a chilled bottle of Riesling.
2516 Quarry Lake Dr.
Baltimore
Maryland
410-486-9463
Bearing the surname of the wealthy, 17th-century Virginian Robert "King" Carter, owner Philip Carter Strother—Robert's direct descendant and a 12th-generation Virginian—strives to keep his family's deep winemaking roots alive at Philip Carter Winery. Robert's sons, Charles and Landon, made wine from the grapes they cultivated on the grounds of their plantation in the mid 1700s, driven by a 1619 law that required all Virginian landowners to maintain at least 10 vines and one three-cornered hat. But the Carters took it further than that, eventually planting 1,800 vines along the banks of the Rappahannock River by 1754.
Fast-forward more than 250 years to 2008, when 27 acres overlooking the rolling Blue Ridge Mountains were purchased. There, Philip Carter Strother would oversee the planting of 1,800 vines in a symbolic nod to his ancestors. Today, daily tastings, educational sessions, award-winning tours, and corkscrew lessons take place to let guests peruse the vineyard's rousing collection of vintages, from the full-bodied flagship 2010 Cleve blend, winner of a 2013 Virginia Governor's Cup gold medal, to the bright, acidic 2012 Rosewell.
4366 Stillhouse Rd.
Hume
Virginia
540-364-1203
On a stroll through Cobbler Mountain Cellars' winery, one might come across owners Jeff and Laura McCarthy Louden guiding visitors to the cozy tasting room. There, the married vintners describe taste-size samples from their reserve, such as an oak-and-stainless-aged chardonnay or a cabernet sauvignon with notes of dark cherry and tobacco. The Atlantic Seaboard Wine Association awarded the winery's 2010 cabernet franc and 2010 petit verdot bronze medal awards, and the 2009 meritage won a bronze medal at the 2012 Nextgen Wine Competition. The Loudens pair their estate wines with samples of local artisanal cheeses and breads.
10363 Moreland Road
Delaplane
Virginia
540-364-2802
---
---
Beer, Wine & Spirits Deals - Recently Expired
---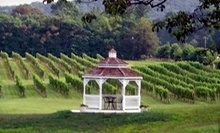 Groups of two or four tour the grounds of the vineyard, then snack on a food platter and take home wine glasses and gift-shop gear
---
---