Restaurants in Washington
---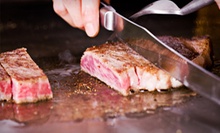 Hibachi chefs chop, slice, and whip up savory steaks and seafood as sushi masters create delicate maki rolls and sashimi
---
Recommended Restaurants by Groupon Customers
---
In the old times, markets were the center of social life, and aluminum was more precious than gold. Today's deal is more valuable than Charles Martin Hall's electrolytic process for refining aluminum. Stop by the cozy Italian market il Mercato to use your $5 Groupon toward $10 worth of fresh and premium bites and sips. You can purchase as many as you want, but are limited to one use per visit.
2350 Railroad St
Pittsburgh
Pennsylvania
You wouldn't expect a restaurant that specializes in beef brisket, wood-grilled steaks, and burgers to be referred to as "a hidden vegan-friendly gem" by a blogger from Yummy Plants. And yet, Double Wide Grill satisfies both meat- and vegetable-lovers, with menus that run the food-chain gamut from lentil veggie burgers to St. Louis–style pork ribs. Adding to the eclectic feel, both of the restaurant's locations are housed in converted gas stations where vintage pumps still stand out front. Indoors, the decor pays homage to these rugged beginnings with bottle-based chandeliers, a hubcap ceiling, and a vintage trailer that recalls Floridian vacations to the wetlands where all lawns' pink flamingos migrate every year.
Patrons can also stop by on weekend mornings for brunch on the outdoor patio, or hang around until late at night for karaoke and more than 30 types of beer at the license-plate-covered bar. Sports fans can watch games on four 10-foot-wide high-resolution projection screens.
2339 E Carson St.
Pittsburgh
Pennsylvania
Executive Chef Greg Alauzen has designed every dish on Cioppino's sumptuous dinner menu. Whet your appetite with his selection of oysters on the half-shell ($12) before moving onto his signature dish, Cioppino ($29)—a heaping platter of branzino, mahi mahi, little-neck clams, PEI mussels, Dungeness crab, scallops, whole prawn, onion, and fennel, all served with grilled crostini. The only thing missing is the lobster, which you can get in ravioli ($23) or risotto ($12) form. Those with more landlubbing tastes will prefer an Elysian Fields Farm lamb with sautéed escarole and white beans ($38), New York strip steak ($34), or the veggie-friendly potato gnocchi ($16). Since seafood tends to make for poor desserts, top your feast with vanilla-bean crème brûlée ($6) and gelato ($5), or warm beignets tossed in cinnamon and sugar with a raspberry dipping sauce ($6).
2350 Railroad St.
Pittsburgh
Pennsylvania
T.G.I. Friday's transforms the six worst days of the week into the only day of the week that is acceptable to most Americans. Friday's is equipped to fill your life with Jack Daniel's sauce and endless salad and breadsticks. The multipronged menu contains prongs for burgers, sandwiches, salads and soups, seafood, pastas, chicken, and more so that any craving-flame can be put out.
1039 Interstate Pkwy.
Akron
Ohio
Willow's atmosphere walks the line between sophistication and accessibility, and chef/owner Michael Rudman's lunch and dinner menus follow suit by politely one-upping their diners' every expectation via innovative dishes and dashing drinks. The restaurant's signature dish, lump crab cakes, comes blissfully broiled and drizzled with a tangy red onion caper sauce and lemon-pepper asparagus ($27 as a dinner entree). Other favorites include the sautéed Alaskan halibut served on braised fennel with tomatoes that have been slow-cooked overnight and a cabernet wine sauce ($24). There are also a few vegetarian dishes offered, such as the Japanese pumpkin ravioli topped with sage, cabbage, pine nuts, and shaved parmesan ($15). If you're dining with the family, there is a special kids' menu. If not, there is a special adult martini menu (featuring a more complicated crayon maze) and adult wine menu to artfully accompany plates and lubricate parched conversations.
634 Camp Horne Road
Pittsburgh
Pennsylvania
The 509 Café partners with nurturing goddess and retired insurance agent, Mother Nature, to use only the freshest ingredients in each dish. The lunch menu offers salads ($7.99) and sandwiches ($6.99 for a whole), many with a Southwestern spin; the Sonoran salad tops its mesa of mixed greens, grilled chicken, and roasted-corn and black-bean salsa with a Southwest vinaigrette and tortilla strips, while the Mohican burger sports Angus beef under roasted poblano pepper, served on a cheddar-jalapeno bun. The 509 Café is vegetarian friendly and offers a spicy black-bean burger as a replacement upon request. For diners who love beef but hate patties, the ranch roast-beef sandwich ($3.99 for a half) tantalizes with tender roast beef sliced thin and drizzled with ranch dressing. Quesadillas are available in both full ($6.99) and half-size portions ($3.99). Add a side such as Southwest potato salad and a drink for just $2. The 509 Café's breakfast menu is served all day and features classic Southwestern fare such as pancakes ($4.99), french toast ($4.99), and breakfast sandwiches ($3.99), and is served all day.
509 Greenfield Avenue
Pittsburgh
Pennsylvania
---