Coffee & Treats in Waterbury
---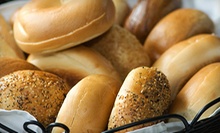 House-whipped cream cheese from four half-pound tubs slathers two dozen bagels
Use Today 6:30am - 10:00am
---
Recommended Coffee & Treats by Groupon Customers
---
Pastry traditionalists may question the cannoli nacho. But consider this: the triangular pastry shells can be dunked into an edible chocolate bowl of sweet-cream filling, forever circumventing the soggy fate that so often befalls cannoli shells. This deconstructed cannoli is just one of DiMare Pastry Shop's many inventive spins on traditional Italian desserts.
Founded in 1976 by Italian-born Ugo DiMare, the pastry shop is now helmed by his two daughters, who have updated the menu with award-winning European and American creations. In addition to scratch-made pastries, the confectioners frost nearly 30 kinds of cakes, ideal for special events such as weddings, company picnics, and Take Your Cake to Work Day.
12 Largo Dr. S
Stamford
Connecticut
Alexandra and Romeo fell in love in France over cups of flour and sugar as Romeo completed his professional boulanger and patissier training. Today, the couple recreates quintessential French flavors in their West Hartford bakery-café, where the menu kicks off with breakfasts of pain au chocolat and almond croissants. For lunch, chefs build sandwiches such as Le Brie with cheese and butter, and the Eiffel, whose roasted chicken breast, carrots, and cucumber stands 324 meters tall. Desserts such as macarons and chocolate-hazelnut mousse cake pair with a cauppuccino or café au lait to round out each meal.
La Petite France also rolls out its portable crepe cart to special events throughout the area, where French-speaking chefs (upon request) whip up sweet or savory crepes for parties of 20 or more.
967 Farmington Ave.
West Hartford
Connecticut
Crepes Tea House is a cozy, sun-drenched eatery that offers homemade crepes, more than 100 varieties of tea, and Eastern European specialty dishes for every meal of the day. As customers sink into one of the cafe's big, plush couches, artisan chefs make savory crepes with beef, pork, and turkey, or sweet ones with fresh fruit, warm chocolate, or honey. Items such as zucchini, potato, or farm-cheese pancakes and Polish sausage are served at breakfast, while lunch sees plates of Siberian pelmeni dumplings packed with ground beef and stacked to form a wall that can be seen from space. At dinner, the restaurant's chefs glaze fresh salmon with honey and pan-fry whitefish and tuna cutlets until golden brown. Whether patrons carry a conversation at one of the eatery's tables for a full meal, or settle at the sleek bar for a quick cup of tea or coffee, the teahouse's vibrant orange walls and floor-to-ceiling windows make for a comfortable experience.
261 Union St.
West Springfield
Massachusetts
During the sweltering summer of 1984, former Philadelphia firefighter Bob Tumolo decided to open the first Rita's Water Ice, naming it after his wife. The specially formulated treat fueled Rita's growth, expanding the family-run business to more than 500 franchised locations nationwide. Despite the incredible expansion, each Rita's stays true to the company's origins by mixing their Italian ice according to Bob's original recipe. Their most famous dessert, the Gelati, features layers of his signature Italian ice between two giant dollops of custard, combining flavors such as mango with vanilla or introducing recently emigrated Swedish fish to vanilla or chocolate. Rita's also promotes community awareness with regular fundraisers for organizations such as Relay for Life.
378 Kelly Rd.
Vernon Rockville
Connecticut
From its humble beginnings in Kankakee, Illinois, in 1938, Dairy Queen has grown from a delicious experiment in soft-serve ice cream to a household name with more than 5,900 restaurants around the world. The shop's signature frozen delights are built upon a frosty foundation of creamy chocolate or vanilla soft serve, which swirls idyllically into cones, cups, overturned top hats, sundaes, Peanut Buster parfaits, and the chain's iconic Blizzard treats, blended with crumbled candy and other mix-ins. Ice-cream cakes cleverly conceal a surprise filling of fudge and chocolate crunch between layers of vanilla and chocolate ice cream, providing sweet, sliceable sustenance for birthday parties and other special occasions.
Fruit rules the roost on the other side of the slushy emporium, where Orange Julius blends its signature frothy drinks crafted from fruit juice, ice, and a "magic" powdered sweetener that explains why they disappear from most customers' cups minutes after the first delicious sip. Real fruit purée forms the basis for the shop's smoothies, which also come in diet-friendly light versions that boast 150 calories or fewer.
1902 Post Rd.
Fairfield
Connecticut
Sunlight filters through white lace curtains into Tea with Tracy's tearoom, casting delicate shadows across wooden tables, straight-backed dining chairs, and three-tiered serving plates stocked with sandwiches and sweets. This Victorian elegance befits Tracy's location in the center of Seymour's historic antiques district, and a menu that steeps more than 100 different flavors of tea, including English breakfast, white peach, and hot cinnamon spice from Harney & Sons Fine Teas.
To accompany whistling kettles, cooks also bake sweets such as scones, banana bread, and Swedish brownies, or fill crust-less tea sandwiches with curried egg salad, English cucumbers, and mint-infused cream cheese. In addition to its refined finger foods, the shop also prepares visitors to host their own gatherings by selling elegant china alongside tins of aromatic tea.
16 Bank St.
Seymour
Connecticut
203-881-5484
---