Restaurants in Waterbury
---
Recommended Restaurants by Groupon Customers
---
At Horizons Restaurant & Bar, owner and classically trained chef Mark Melikian uses farm-fresh ingredients to craft his seasonal menu of upscale American and European-inspired cuisine. He loads Maine lobster onto a plate of baked mac and cheese and pairs oven-roasted Atlantic cod with scampi-style shrimp and roasted baby red potatoes, which should be eaten quickly before they start teething. Other dishes include fried Camembert cheese with honey Dijon mustard for dipping and a nine-ounce, pan-blackened filet mignon with melted gorgonzola and a marsala-accented demi glaze. Each of Chef Melikian's artistic plates complements the elegant ambiance of his dining room, where stained glass chandeliers and fresh flowers create a gentle, romantic environment.
2200 Boston Rd.
Wilbraham
Massachusetts
From their kitchen stations on the second story of the Bay State Hotel, the chefs at Mulino's Restaurant plate up hearty portions of sophisticated Italian cuisine. Piled-high plates showcase tender linguine, spaghetti, and fettuccine clinging to gorgonzola cream sauce, italian sausages, veggies, and julienned strips of chicken. The aromas of wine-coated salmon and grilled beef tenderloin also fight for the attention of diners who are taking their time with their wine, served by the glass, bottle, or through a penne noodle. Desserts such as crème brulée and tiramisu sweetly seal the meal.
41 Strong St.
Northampton
Massachusetts
413-586-8900
Flipside's brand new menu showcases thousands of different burger combinations, allowing diners to mix and match six different proteins with high-end ingredients including avocado and bacon, as well as creative sauces such as sweet relish and tarragon mayo. Farm-fresh sirloin patties anchor a dozen specialty burgers, including a Fat Daddy Reuben spackled in sauerkraut and onion rings. Slow-cooked pulled-pork sandwiches provide a sauce-smothered alternative to Flipside's signature creations, as do herbivore-friendly salads that may be repackaged in a whole-wheat wrap. Sudsy drafts caterwaul from a dulcet quartet of foam-flecked taps, spurring choreographed pours and surprise visits from Spuds McKenzie behind a triangular bar, where mixologists concoct specialty martinis and margaritas.
1125 Post Rd.
Fairfield
Connecticut
Having already earned back-to-back spots on Connecticut Magazine's Best of Connecticut in 2009 and 2010, Liquid Lunch keeps bellies full and spoons out of the unemployment line with a slurp-worthy twist on midday meals. Culinary Institute of America graduate and owner Fred Bialek and his wife, Michele, were inspired to open the first Liquid Lunch in 2004, when they'd grown tired of lunchtime standards such as pizza, burgers, and lightly salted printouts of old PowerPoint presentations.
Today, at Liquid Lunch's still-growing roster of locations, a rotating lineup of gourmet soups cascades across the menu alongside six staple soups, including vegetarian lentil and split pea with ham. For an extra crunch, diners can plunge fork-first into salads, or explore healthy Sammiches, which escort taste buds around the globe with names influenced by their ingredients and spear-pickles engraved with necessary passport information.
6 Research Dr.
Shelton
Connecticut
Whether beneath the thatched roof of the tiki hut or at an intimate table surrounded by bamboo shoots, Papaya Thai and Asian BBQ's tropical themes pervade the eatery's confines. The barbecue bar grants diners a front-row seat to watch chefs expertly grill marinated meats and veggies on wooden skewers, wielding the power of fire like Prometheus to cook beef to its tender best state. A variety of Thai tasting plates and main dishes include classics such as pad thai, sizzling chicken in a thai barbecue sauce, and skewered chicken satay. From the tiki bar, bartenders pour tropical drinks such as papaya thai-ritas made with sweet mango and nutty monkeys, an almond-rum-banana concoction the staff delivers to tables by way of swinging through the rafters.
24 Marshall St.
South Norwalk
Connecticut
Christian and Antonio Setaro's parents immigrated to the United States from Salerno, Italy, in the 1970s and opened Antonio's Twin Oaks, an Italian eatery known for its homestyle cooking. Growing up around the kitchen, the brothers developed a liking for cooking that ultimately led to the opening of their own Italian eatery, The Original Antonio's in Woodbridge. Later, they added locations in Beacon Falls and Ansonia.
At each restaurant, pasta headlines the menu. Shreds of romano cheese dust orders of homemade cheese ravioli, pappardelle with duck ragu, and rigatoni with plum tomatoes and italian sausage. Cheese also bubbles atop specialty pizzas and accentuates entrees built around shrimp, salmon, chicken, veal, or pork chops. The drink menu lists a bevy of dessert drinks, beer, martinis, and wine, nine of which are available by glass or cupped hands.
208 Amity Rd.
Woodbridge
Connecticut
---
---
Restaurant Deals - Recently Expired
---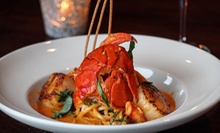 Upscale dishes include seared lamb chops with cilantro-mint chimichurri, chorizo-and-manchego-stuffed chicken, and wild american snapper
---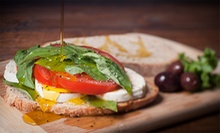 Organic, freshly prepared dishes including waldorf chicken salad wraps, veggie paninis, and gourmet salads with cranberries and endive
---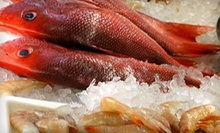 Canadian hard-shell lobster, sushi-grade tuna, littleneck clams, shrimp, and other seafood market items
---
---