Things to Do in Waterford
---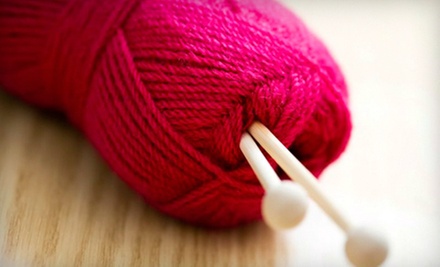 ---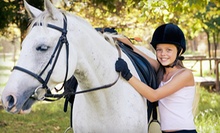 One-hour English-style riding lessons available seven days a week
---
Recommended Things to Do by Groupon Customers
---
Planet Rock challenges novice and experienced climbers to discover the depth of their willpower in order to conquer their ever-changing collection of routes. The gym's two locations each host more than 50 top-roping routes and more than 15 lead-roping paths for experienced indoor mountaineers, as well as lower-hanging bouldering paths and caverns. Climbers better themselves using 21st-century technology such as a rotating treadmill climbing wall with adjustable speeds, angles, and frequency of charging mountain goats. Staff members keep extensive and updated guidebooks for both the Ann Arbor and Pontiac locations and can point guests toward quality gear sold at the in-house pro shop. Planet Rock also works one-on-one by appointment with climbers who have special needs, assisting individuals with hearing, visual, or physical impairments, and the climbing gym has hosted the climbing portion of the Extremity Games for individuals with amputations.
34 Rapid St.
Pontiac
Michigan
248-334-3904
Working at the 1996 Summer Olympics and the 1994 World Cup are a few of the sporting events on camp director Shelly Watkins's resumé, which she draws on to run a summer camp for kids of all ages. A mother herself, she believes in giving each child individual attention, recognition, and respect, rewarding campers with high-fives and compliments for jobs well done. Together with assistant camp director Cortney Spiegel, she runs fun-packed day camps focused on arts, sports, field trips, and specialty programs. Professional counselors work with pintsize Pacinos in the Lights, Camera, Action class to make short films; kick off Nerf-themed sports events in the Nerf Extravaganza class; or venture out to bowling, movies, rollerblading, and laser tag during the Mega Adventure Field Trip. Shelly and her friendly crew also lead precamp and aftercamp activities for early-morning and evening supervision, and junior camp for campers aged 4¬–7 or 10-year-olds having their pre-preteen life crisis.
3951 Joslyn Rd.
Auburn Hills
Michigan
248-858-7501
Although their name fondly alludes to Michigan's proudest industry, the Detroit Pistons rolled off the assembly line in a different state entirely—Indiana. Automobile-part mogul Fred Zollner founded the team as the Fort Wayne Zollner Pistons, joining the young National Basketball League in 1941. Under Fred's direction, the Pistons immediately found success on the court, winning back-to-back NBL titles in 1944 and 1945 and amassing 166 wins in just nine seasons. As the sport grew, so too did the team. In need of a bigger audience, the Pistons left Fort Wayne for the Motor City, where they continue to challenge Eastern Conference opponents in the NBA. Throughout the years, the team has claimed three NBA championships—most recently in 2004—produced hall of fame players, and earned the record for the highest-scoring game in NBA history—a 186–184 triple-overtime win over the Denver Nuggets in which both teams accidentally scored touchdowns for a whole quarter.
6 Championship Dr.
Auburn Hills
Michigan
248-377-0100
Initially conceived of in 1987 as a way for an avid paintball player and his friends to acquire discounted merchandise, Lone Wolf Paintball swiftly evolved into a multi-location business throughout Michigan. One year after opening, Bristol Apple Orchard in Almont accommodated the budding business with its first playing field. These days, Mount Clemens' Lone Wolf East locale serves as home to six fields spread across more than 40 acres of varied terrain. The field's designers make it possible for players to blast at opponents hiding behind inflatables, dive behind barrels or wooden spools to escape enemy fire, or find shelter atop a two-level structure deep in the woods. Referees ensure that each player competes safely in scenarios such as Capture the Flag and Return the Flag to Avoid Library Fines.
4099 Lapeer Rd.
Metamora
Michigan
586-463-9500
At Elegance in Motion, friendly and talented dance instructors encourage movers and shakers of all ages to step into the limelight during a range of dance lessons. From within the spacious 2,400-square-foot studio, teachers guide singles, couples, and groups through ballroom, rhythmic, and social dances, such as the waltz, samba, and lindy hop. Once a week, the studio opens its door to social gatherings, allowing currently enrolled students to strut their stuff with teachers, students, or their own shadows.
3771 S Baldwin
Lake Orion
Michigan
248-393-4273
Jeff Warmuth and the talented artisans at Canterbury Stained Glass draw on their nearly 40 years of experience crafting commissioned artwork to fill their showroom and teach others the art of glass manipulation. More than 40 educational programs—divided into short workshops and longer, weeks-long pursuits—focus on beginner, intermediate, and expert glass techniques of all sorts. Students can assemble glass jewelry, fuse patterned glass into bowls, or use their glass-blowing skills to build a see-through glass dome around endangered penguins. A fully stocked shop sells books, glass cutters, and other useful tools for finishing glassmaking and fusing projects.
175 S Saginaw St., Suite 107
Pontiac
Michigan
248-454-8818
---