Education & Classes in Waterloo
---
Recommended Education & Classes by Groupon Customers
---
Jackie Harris, mother of two, uses the knowledge she gleaned while studying art at Kenton College to kindle a passion for art in every child she teaches. She believes art can not only unleash a child's imagination, but also improve their self-esteem. In her family-oriented Kids Creation Art Studio, Harris and her experienced team engage pint-sized artists with paint-your-own pottery, daylong or week-long summer camps, 12-week art classes, and blank canvasses coated in sugar. Troupes of youngsters can also visit the studio for art-filled birthday parties that include two hours of studio time, facepainting, and sweet treats.
180 Sheldon Dr., Suite 2
Cambridge
Ontario
519-841-5028
Gavin has been working and teaching behind the bar for almost 20 years, making drinks in 14 countries across 5 continents. His experiences inspired him to design and teach programs for home enthusiasts to create cocktails at their own parties, and to train students to secure professionally and financially rewarding positions in the hospitality industry almost immediately after graduation.
As BartenderOne's CEO, Gavin and his team of professional mixologists and bar chefs helped design a curriculum based on interviews of bar, lounge, club, and banquet-facility owners. The certification courses still teach students to make a number of trendy and classic cocktails, but they emphasize the kinds of customer-service, cash-handling, and break-dancing skills that employers value. Instructors also train their small groups of students outside of a typical classroom environment, giving attendees experience behind an actual bar as opposed to a staged set. Additionally, BartenderOne gives its graduates a leg up by sending weekly emails with new job opportunities.
35 Brunel Rd.
Mississauga
Ontario
Founded with the goal of introducing pupils of all ages to the visual arts, Bronte Art Academy coaxes forth the inner Renoirs within all those who enter the studio during a host of hands-on lessons and camps. Under the capable direction of Paul Ross Sandilands, a local portrait artist who has taught at the Ontario College of Art & Design and served as a painting companion to Canadian artist Harold Town, budding masters explore their potential with a variety of artistic media, from watercolour to graphite. Paul also shares his knowledge, techniques, and passion for creative expression during in-studio sessions, where students can create their own take-home masterpieces portraying family, the ocean at sunset, or Roger Clemens as a 19th-century robber baron.
102B-77 Bronte Rd.
Oakville
Ontario
905-469-9937
Helmed by Chef Suki Kaur-Cosier, Cooking Matters invites chefs of all experience levels to nourish their love of the culinary arts in fun, hands-on classes. Every month, she designs a lesson plan that literally expands the horizons of her pupils—many classes highlight cuisines from countries as diverse as Morocco, Italy, Thailand, and Never-Never Land. Other classes help locals adapt to dietary restrictions such as gluten intolerance or calorie restrictions with bold, delicious recipes. The class structure is simple and practical: students step up to the stove and actually prepare a four-course meal on their own. As they work, the chef patrols the room, offering suggestions and scolding watched pots that refuse to boil.
2320 Hyde Park Rd.
London
Ontario
519-657-0722
Focusing largely on watercolours, acrylics, and oils, the resident instructors at Forest City Decorative Artists help students create paintings showcasing vibrant objects such as folk-art fruit baskets, twinkle-eyed cats, or a trio of multihued umbrellas perched in the sand. Other media, from coloured pencils to sculpture, have tiptoed into the curriculum as well. These techniques allow burgeoning artists to expand their repertoire as they shade portraits in various, non-smearing hues or mould expressive figurines known to hopscotch across the pages of paint-by-numbers books.
1731 Churchill Ave.
London
Ontario
519-451-4512
---
---
Education & Classes Deals - Recently Expired
---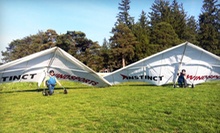 At locations in Kitchener/Waterloo, sessions include indoor instruction and an on-field experience with equipment prep & hang-gliding basics
---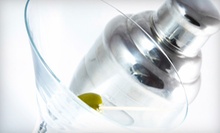 Students receive hands-on instruction from professionals as they learn the ins and outs of bartending
---
---