Restaurants in Waterloo
---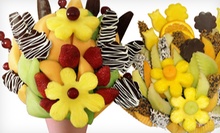 Fresh fruits such as cantaloupe, pineapple, and chocolate-covered strawberries fill spring-themed bouquets
---
Recommended Restaurants by Groupon Customers
---
The scent of fish frying welcomes visitors to Robbie Walkers Fish 'n Chips. Once inside the shop, guests can sentence fresh halibut, haddock, cod, or pollock to the fryer, or order one of several burgers or sandwiches on the menu. Plates are rounded out with starters such as bacon poutine or mushy peas, a classic British supplement to fish-and-chips.
223 Wellington St.
London
Ontario
519-439-7921
As Felipe Gomes's new restaurant was being built, he happened across a boarded-up room downstairs. Though the 600-square-foot room, dusty with a half-century of disuse, contained only boxes of aged financial records, Felipe instantly saw the space's potential. The drywall and plaster were torn down to reveal yellow-brick walls and walnut beams, which became the foundation for Aroma Mediterranean Restaurant's wine cellar. Now the space is fully remodelled; beyond a doorway entangled with grapevines, a vault built into the floor displays 220 bottles of wine visible through heavy-tempered glass. Nearly 100 more bottles of wine shelved along the walls vie for tasters' attentions with flashy magic tricks and labels boasting various international origins.
Diners sift through a menu equally inspired by international flavours. Portuguese and Spanish recipes transform fresh seafood, duck, and steak into entrees steeped in inventive sauces, such as the chef's favourite—calamari stuffed with chorizo and breadcrumbs in an Andalusian-style sauce. Servers can deliver meals in a courtyard-esque dining room or a private room where video conferencing enables patrons to dine with family or etiquette instructors halfway around the world. Guests can also learn to re-create their meal at home by visiting the eatery's on-site cooking studio, whose classes demonstrate the art of the four-course meal.
717 Richmond St.
London
Ontario
519-435-0616
The word reheated is blasphemy at Al's Pizzeria, where chefs bake pies to order rather than premake them and place them beneath the infrared glare of a food warmer. This approach permits guests to customize their meals with more than 20 fresh-cut toppings, picking from staples such as pepperoni and sausage and creative garnishes such as broccoli and pineapples. The culinary team can finish off cheesy discs with complimentary add-ons of garlic, extra sauce, and flavoured crusts. The menu also features wings in 1-pound increments, which can be ordered along with pizzas well past the sun's bedtime—Al's Pizzeria stays open until midnight during the week, 2 a.m. on Thursday, and 3 a.m. on Friday and Saturday.
310 Wellington St.
St. Thomas
Ontario
519-633-1688
Chef Bryan Steele's dinner menu showcases a variety of contemporary French dishes carefully crafted with ingredients from local growers. During the restaurant's dining season, which takes place May through October, diners flock to The Prune Restaurant's scenic Garden Room to savour gourmet fare and views of the historic building's courtyard. Once diners have chosen their favoured menu items, the warm and professional staff lends informed advice to help them pair their dishes with wines from a sommelier-assembled list comprised of both local and international varietals. The Prune Restaurant also hosts a number of small group classes, where guests come to taste and learn about wines or join forces to create a multi-course meal after finally conquering the chef's complex scavenger hunt to find the ladle.
151 Albert St.
Stratford
Ontario
519-271-5052
Chef Kevin Greaves spent years travelling the world studying the spices and cuisine unique to each region. Of all that he tasted, the foods that stood out in his mind and palate hailed from three distinct locales: Thailand, Louisiana, and the Caribbean. Rather than limit himself to a single favourite, the head chef of Jambalaya Restaurant incorporated flavours from all three regions into his eclectic menu.
The menu highlights traditional dishes from each region, including pad thai from Thailand, gumbo and jambalaya from the Louisiana bayou, and curried goat from the Caribbean. In addition, Chef Greaves prepares some dishes with a fusion twist, adding jerk spices to vegetable pad thai or moulding a plate of shrimp creole into the shape of Thailand. The chef flavours each dish with the restaurant's signature brand of spices and sauces.
119 Dundas St.
London
Ontario
519-858-2000
---
---
Restaurant Deals - Recently Expired
---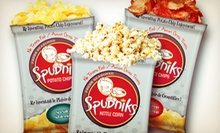 Snack food hub serves potato chips and popcorn warm and seasoned-to-order without preservatives or MSG
---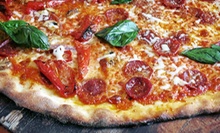 Chefs whip up pesto, atlantic salmon, penne in tomato sauce, grilled veggies, and thin-crust pizzas topped with basil and mozzarella
---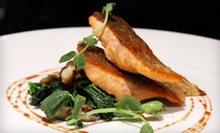 Local meats and seasonal produce woven into rotating dishes such as Wellington County striploin and smoked steelhead trout
---
---