Shopping in Waterloo
---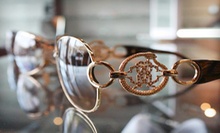 Stylish frames made in Italy by Tom Ford, Oakley & Gucci outfit eyes with custom prescriptions or polarized lenses that guard against sun
Use Wednesday 11:00am - 7:00pm
---
Recommended Shopping by Groupon Customers
---
Cherry Hill Optical proprietor Matthieu Hill opened the doors to his eyewear boutique in 2001, filling glass cases and shelving units with designer eyewear. Hill stocks eyeglasses and sunglasses engineered by fashion houses such as Versace, Ralph Lauren, and Coach, and also carries Swap Eyewear, a brand that creates customized glasses with interchangeable "sliders" that slip in and out of frames to match outfits or mustard stains. Cherry Hill Optical's optometrists conduct eye examinations to diagnose current ocular conditions, and an on-site lens laboratory fashions patients' prescription lenses from a molten paste of melted telescope glass. The shop also repairs glasses and replaces lenses. Many of Cherry Hill Optical's services can be completed in just one hour.
301 Oxford St. W
London
Ontario
519-433-3355
Sewing machines perch atop blue-skirted tables in a brightly lit room accented with hardwood floors, bookshelves brimming with multihued material, and wall displays of buttons and sewing accessories. In these welcoming confines, the instructors of Chenoa Designs guide students through their projects, imparting techniques for attaching appliqués to homemade handbags or adjusting dress patterns to fit a pet goldfish. The team of seam sultans works to expand the stitchwork community through a roster of classes that guide newcomers on everything from the basics of operating a sewing machine to the intricacies of embroidery and appliqué. While students work, they can draw from the DIY emporium's stock of specialty embroidery machines and binding systems by Martelli along with renowned lines such as Jenny Haskins designs to ensure their projects benefit from top-notch materials and tools.
5109 Harvester Rd., Suite A-2
Burlington
Ontario
905-637-7575
Roses come in many colours, each shade with its own associations. The staff at Botanic Florists will assemble dozens of the classic blossoms in practically any hue that nature produces. The florists also specialize in wedding packages and will arrange every flower needed for nuptials, including bouquets for the bride and bridesmaids, and boutonnieres for empty buttonholes. If a customer wants something that's not in stock, the staff will acquire it, even if it means travelling back in time to steal a sunflower from Van Gogh.
50 Sunnyvale Gate
Brampton
Ontario
905-487-1789
The Skater's Performance keeps athletes' tools in top shape with hockey equipment and equipment-maintenance services. Though everything from Cascade hockey helmets to Kewl apparel lines the shelves, the knowledgeable staff shines brightest when fixing existing gear. Skate repair and sharpening keeps athletes speeding down the ice during breakaways or cutting steaks on the bench between shifts, and skate profiling shapes blades to conform to each player's centre of gravity, improving their overall control. Additionally, Sani Sport technology sanitizes a variety of sports gear, eliminating the bacteria that causes odour and potential infections.
19-200 Mulock Dr.
Newmarket
Ontario
905-836-6445
Eye Candy Eyewear combines an optician's office, an eyewear showroom, and an optical lab into one location, seeing the eyewear-obtaining experience through from start to finish. More than 1,000 frames, from designers such as Versace, Gucci, and Hugo Boss, wait in the shop's display cases to be filled with vision-correcting polycarbonate. Behind the scenes, lens crafters translate the optician's diopter numbers into prescription lenses, using lens material from Nikon and Zeiss, which allows patients to see clearly as if they had bobbed for apples in the Fountain of Youth.
1-156 James St. S
Hamilton
Ontario
905-522-3937
Harry Ten Shilling boasts a history as rich as its homemade desserts. The building's original identity was the Union Hotel, which served as a stopover for early pioneers. Later it would become a bootlegging operation, then an antique store, and then an art gallery. Finally, in 1977, the storied location transformed into Harry Ten Shilling Tea Room—a name that pays homage to William Shakespeare's Henry IV, Part II. During the play, characters reference a 10-shilling coin marked with the face of Henry III, who was also known as Harry.
Harry Ten Shilling's traditional teatime experience bridges the gap between past and present. The café complements cups of chai and naturally flavored black tea with homemade finger sandwiches, jams, and signature scones. Cooks arrange the delicacies on fine china and supply all the proper tea fixings—milk, sugar, and splints for keeping pinkie fingers angled at precisely 45 degrees.
96 Downie Stratford
Stratford
Ontario
519-508-8333
---