Tours in Watertown
---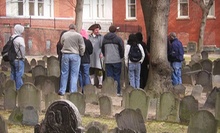 Follow a guide in a tricorn hat on a 90-minute exploration of colonial Boston through the uprisings that led to American independence.
Use Monday 8:30am - 11:30am
---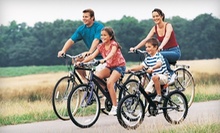 Lubed & trued two-wheelers roll along Sandwich Boardwalk planks as riders absorb sites of museums & unique village shops
Use Today 8:00am - 6:00pm
---
Recommended Tours by Groupon Customers
---
David Goldstein could be considered a renaissance man: he's organized skiing trips and city bar crawls, founded a murder-mystery dinner theater, and led team-building exercises—one of which focused on sharing his passion for chocolate. As this particular venture garnered public demand, he began traveling across the country to meet with chocolatiers and cocoa experts. In 2009, he returned to Boston and focused his findings and theatrical flair into sweets-focused tours—what he now refers to as his passion business.
Today, his team includes chocolate-experience designer Caitlin, two chocolate tour guides, Count Chocula, three pastry-chef chocolatiers, and a wine expert who teaches wine-and-chocolate pairings. The guides lead guests on walking tours and a cupcake crawl through three of Boston's historic neighborhoods, taking them to boutique chocolate shops, bakeries, ice-cream parlors, and a cosmetics company that uses chocolate in its products. In hands-on workshops, chocolatiers teach students how to form truffles, make fillings, hand mold chocolate, and package confections.
7 Newbury St.
Boston
Massachusetts
781-784-7469
Freewheeling around historic hallmarks and architecture, Boston By Segway, formerly Boston Gliders, has led more than 100,000 sightseers through Bean Town atop intuitive, easy-to-maneuver segways. Tours, which kick off every half-hour, range from one to two hours; the shorter version trundles down Boston's Harborwalk, and the longer sojourn ventures past historic hotspots including Faneuil Hall and Bunker Hill. To get acquainted with the segway, all upright rollers speed through a half-hour how-not-to-crash course, getting acquainted with the natural, fluid steering and learning how to propel the vehicle forward using a carrot tied to a stick. Armed with digital cameras, the urban sherpas snap shots throughout the tour for purchase afterward, and customers may take their own pictures as long as they briefly hop off the segway.
420 Commercial St.
Boston
Massachusetts
866-611-9838
When Valerie Beck was in kindergarten, there was only one way to get her to drink her milk: mixing in chocolate. As she grew up, her passion for the sweet treat only deepened. During a five-year stint living in Europe, she sleuthed out the most delectable chocolate shops and bakeries, eventually bringing friends along with her on trips to chocolate hot spots. After returning to the United States, she broadened her scope to create Boston Chocolate Walking Tours, focusing on the city's increasing number of premium chocolatiers.
Valerie's team of tour guides reveals Boston's best chocolate spots to guests on 2.5-hour tours around the Newbury Street neighborhood. They embark from Teuscher Chocolates of Switzerland, walking or canoeing across the city's historic chocolate canals. The tour changes daily, hitting five–six spots, such as DeLuca's Market and Emack & Bolio's, though the Lindt shop is always on the list.
1651 Washington St.
Boston
Massachusetts
Boston CityWalks' owner, Alan Maltzman, loves to show his passion and knowledge for his city. At Boston CityWalks, he and his coterie of guides lead six different tours that roam the city's historic cobblestones, highlighting areas such as Harvard Square, the waterfront, Beacon Hill, and various Jewish cultural sites. He can also design a custom tour for any occasion such as family vacations, engagements, birthdays, reunions, and business meetings.
State St. and Congress St.
Boston
Massachusetts
Boston's Finest Tours unveils the City on a Hill's hidden charms to residents and visitors with five unique seasonal tours. Native Bostonians John Feeley and Cheryl McDonald lead tours dressed as their midcentury counterparts, Jonathan Wendell Holmes and Frances Appleton, while sharing tales of the city's history and culture. The ghost tour of Beacon Hill thrusts patrons into close encounters with specters, and on the Irish Heritage tour, trolleys roll through Eire-influenced sites including the Boston Public Garden and Fenway Park. The Beacon Hill tour begins with a sighting of the State House's brilliant gold dome before groups stroll down the brick sidewalks of Mount Vernon Street, the cobblestone corridor of Acorn Street, and the legendary Boston Strangler's daily jogging route.
140 Northern Avenue
Boston
Massachusetts
617-678-4100
While navigating segways around the Alamo during a spring vacation, Brad Biscornet and his brother-in-law, Jeff Langone, realized that their hometown of Salem, with its rich history and picturesque views, was ripe for just this sort of experience. And thus, Witch City Segway was born—allowing visitors and locals alike to explore the historic town on a thoroughly modern mode of transportation.
After briefly training up to six helmeted guests in segway piloting at the company's 2,000-square-foot indoor facility, two guides—one up front, one bringing up the rear—lead their flock onto the streets for one-hour jaunts. As the guides casually relay notable anecdotes about jail sites and cemeteries without the aid of megaphones or earpieces, guests obtain a deeper understanding of the 17th-century witch trials and the lesser-known black-cat mistrials.
283R Derby St.
Salem
Massachusetts
781-626-4000
---