Watertown, NY Spa and Massage
---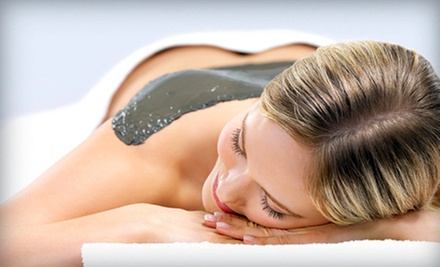 ---
Recommended Spa & Massage by Groupon Customers
---
Spa on the River's menu of Old World Italian–themed services are inspired by owner Judith Santimaw's world travels, which have included stops in Rome, Milan, Tokyo, and Singapore. Her cross-country and international journeys uncover the latest spa treatments and techniques, ranging from raindrop therapy with essential oils to Roman-style "Sistine Chapel" paraffin treatments that leave hands soft and free from paint chips. Santimaw shares her discoveries not only with her team of aestheticians, stylists, and massage therapists, but also with students at the Phillips Hairstyling Institute, where she earned professional degrees in nail specialty and cosmetology.
Guests can relax into salon stations or pedicure thrones flanked by Romanesque statues as the soothing sound of water comes from a lion-faced fountain inside and the Seneca River outside. Behind them, a full-wall mural depicts a lush garden scene complete with a grandiose fountain. Clients dry newly painted nails by the fireplace or head to the dock behind the spa to give any lingering stress a Viking funeral.
2372 W Genesee Rd.
Baldwinsville
New York
315-638-1238
When beautifying the heads and bodies of his clientele, Yetmir Keqa of Salon Yetmir draws from eastern European roots, an apprenticeship at James Brett Coiffure, and a natural stockpile of dry wit and sincerity that helps to ease minds. During hair services for men, women, and youth, Mr. Keqa caters to his subjects' personalities and penchants for auditioning for shampoo commercials, using products by Davines and colour infused with milk protein. Facials and massages soothe away stress and brighten countenances, and mani-pedis leave extremities ready for first-impression handshakes. While clients admire glossy black treatment chairs and full-length, thick-bordered mirrors, they sip a complimentary macchiato that lightens the mood and keeps hair awake long enough to say goodbye to its split ends.
729 Gardiners Rd.
Kingston
Ontario
613-542-2577
Tucked away inside the Limestone City Sport & Spine Clinic, Viola European Esthetics Studio chases a single, simple mission—to make clients feel better. With a 20-year industry veteran and staff beautician Violetta Dudek at its helm, the studio performs an extensive list of rejuvenating services, including deep-cleansing facials, Japanese manicures, eyelash extensions, and electrolysis. Each begins with a consultation in order to tailor treatment to the client's needs, and the studio can even use a high-resolution computer skin analyzer to pinpoint collagen quality and check skin for spyware.
175 Princess St.
Kingston
Ontario
613-985-5432
The stylists, massage therapists, and aestheticians at Shear Perfection Salon and Day Spa leverage the information culled from complimentary consultations with each client to reconstruct coiffures, tidy and pamper nails, and massage muscles. Makeup applications and false eyelashes harness Motives cosmetics and Xtreme Lashes, respectively, yielding emphatic facial expressivity. In addition to basic cuts, color, and style, Shear Perfection's hair services can augment volume with weaves in single or multiple colors. Gloss treatments, unlike cardboard over a van's window, amplify shine, and perms or relaxers allow hair to curl up or hang out. At the day spa, staffers sculpt nails into aesthetically pleasing shapes before applying brightly hued polish, and employ waxing services to remove hair from conspicuous sites more effectively than a discovery of gum removes hands from the underside of a bus seat. :m]]
7452 Oswego Rd.
Liverpool
New York
315-459-3530
Under the leadership of a 37-year industry veteran, the stylists and aestheticians at Fortunato's European Hair Design revamp and renew clients with a combination of nail, hair, waxing, and massage services. The hair whisperers wield Eufora International products as they craft curls, tame frizz, and maintain dreadlocks with the same level of love that cowboys show their lassos. Alternatively, the salon's nail technicians gussy up appendages with gel manicures and nail art, and massage therapists soothe away knots with therapeutic Swedish and deep-tissue strokes.
217 1st St.
Liverpool
New York
315-451-7892
Blissful Beauty Bar owner Amber Leigh Cole has worked her glamorizing magic on faces and bodies across the country, bringing the success of her original Salt Lake City eye bar––Blissfuleigh Iced––to sister locations in New York. Amber is a certified eyelash-extension specialist and a master aesthetician; her employees all boast similar certifications, and undergo an intensive three-month training before getting the go ahead to enhance exteriors with microdermabrasion, slimming body wraps, and airbrush tanning. House-specialty eyelash extensions are applied individually to the natural lashes, making lash lines look fuller and flirtier without dressing them up in mascara or low-cut cocktail dresses. The team can also dip lashes in a hard coating that adds drama and thickness for four–six weeks, applying it to natural lashes or as an extra enhancer to bottom extensions.
7271 State Fair Blvd., Suite 4
Van Buren
New York
801-309-8334
---