Watertown, WI Outdoor Activities
---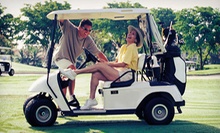 Wedged between Browns Lake and the Fox River, a 6,449-yard course boasts elevated greens and a miniature Golden Gate Bridge
Use Today 6:00am - 8:30pm
---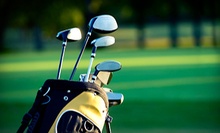 Carts zip twosomes across nine holes at the tree-lined executive course comprising par 3s and par 4s
Use Today 8:00am - 4:30pm
---
Recommended Outdoor Activities by Groupon Customers
---
First a teacher, and then a stay-at-home mom, Melissa Spredemann turned to indoor cycling to help her get into shape. With 12 years of experience under her belt, she decided to become certified to teach others the exercise form she loved so much. Just one year into teaching, she knew she wanted to pursue her passion full-time, so she opened Velocity Cycling Studio to share stationary cycling's benefits with others. She handpicked a team of instructors, each chosen for their commitment, enthusiasm, and innate ability to bike while not covering any distance. Melissa made the conscious decision to open a niche gym, focusing on indoor cycling and only indoor cycling. In the studio, an army of Spinner NXT bikes with SPD clips seats students as they bike through poses, drills, and movements designed to mimic outdoor riding. Thumping tunes pump up pupils as they ride, keeping them motivated to pedal to the upbeat tempos. Unlike big-box gyms and arranged friendships, Velocity Cycling Studio never requires a contract—guests simply pay per ride.
15032 N Port Washington Rd.
Mequon
Wisconsin
414-688-3807
Hosted by Shaker's Ghost Tours, Dahmer Tours grants a spine-chilling glimpse into the life of Jeffrey Dahmer from within his hunting grounds. The guides, who are neither insensitive to the victims' families nor approbating of Dahmer's monstrous acts, narrate thoroughly researched information about the crimes and their historical impact over the course of a one-mile walk. The company crosschecks all their material with former members of Milwaukee's legal community and several unturned stones to ensure that every fact and trail is credible. As guests' feet cover the very tracks that Dahmer stalked upon, guides dissect his mad world to grant access into the mind of a serial killer.
418 S Second St.
Milwaukee
Wisconsin
Madison B-cycle's members hop aboard 1 of more than 300 bikes standing by at convenient stations throughout downtown Madison. All bikes are outfitted with front and rear lights for added safety, an adjustable seat post to accommodate all heights, and a basket for stowing purses, water bottles, and riding necessities. They even have onboard trip computers, which track the rider's whereabouts with GPS technology and tally the miles driven, calories burned, and carbon emissions avoided. Though the service is designed to help out riders taking trips shorter than 30 minutes, Madison B-cycle also accommodates longer sojourns for additional service fees, allowing riders to play out cycle-bound reenactments of the Lord of the Rings trilogy.
312 N Third St.
Madison
Wisconsin
The longest running professional soccer franchise in the United States, the Milwaukee Wave debuted in 1984 as one of the six charter members of the American Indoor Soccer Association. Now, nearly three decades later, and as part of the Major Indoor Soccer League, the club builds upon a history that already includes six league championships–most notably, back-to-back titles in 2011 and 2012.
Off the field, the Wave's positive impact ripples into the community through an educational program, Making Waves, which sends players to more than 70 schools annually to discuss why healthy habits are good and why mistaking a referee for a zebra could be bad. The club maintains those community-inspired good vibes during its home games at U.S. Cellular Arena, where frequent promotions and mascot Brad Beach keep fans of all ages entertained.
400 W Kilbourn Ave.
Milwaukee
Wisconsin
414-224-9283
Packs of go-kart racers keep pace as they round an uphill turn, and dart through the stomach of a giant Trojan horse. They drive past Greek ruins and navigate ramps up to elevated tracks—or head under the water of a manmade pond. Riders soar past these scenes pulled straight from Greek and Roman mythology on many of Mt. Olympus Water & Theme Park's eight go-kart tracks. Alongside other themed attractions, the racetracks sprawl across the 200-acre year-round resort's four areas: an indoor and outdoors theme park, and an indoor and outdoors water park.
In the outdoor Zeus theme park, screams and laughter echo around the turns of four wooden roller coasters and seven themed go-kart tracks. At the Parthenon indoor theme park, a wild mouse roller coaster pulls passengers through dips and spins, while smaller children learn the basics of government cover-ups in an extraterrestrial-themed ball pit.
The Medusa indoor water park and Neptune outdoor water park contain 44 waterslides that send riders down dark tubes and steep inclines, or spinning around a giant funnel. Indoors, a tubing river runs past decorative Mayan ruins, and a beached pirate ship houses tunnels and waterspouts. Outside, visitors navigate a six-story semi-aquatic fortress, and ride currents in a surf pool. Visitors who can't soak in all of these park attractions can find overnight lodging in more than 20 resort buildings and a Roman-themed hotel.
1881 Wisconsin Dells Pkwy.
Wisconsin Dells
Wisconsin
800-800-4997
Having honed his aviation skills in helicopter cockpits for 45+ years, the head pilot at Midwestern Helicopter leads a team of FAA–certified pilots in performing helicopter tours, charters, and pilot instruction. They steer a fleet of three Robinson R-44s and two R-22s over cityscapes and country vistas with photographers, pollinators, surveyors, or sightseers onboard, continuing a crash- and speeding-ticket-free record begun with the company's inception four years ago. The flight team acquaints new flyers with immediate actual flight experience during introductory flights and helps students to achieve private, commercial, and flight-instructor certification during FAA courses. As authorized merchants of Robinson aircraft, they can also hawk helicopters or perform maintenance on various models inside heated hangars without having to first notify the aircraft's next of kin.
10450 52nd St.
Kenosha
Wisconsin
262-657-7700
---