Restaurants in Waterville
---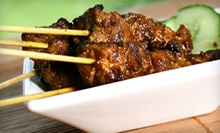 Moussaka baked with lamb and béchamel sauce, spanakopita with layers of spinach and phyllo dough, and grilled shrimp kebabs
---
Recommended Restaurants by Groupon Customers
---
After bringing their family across the pond from Milano to Maine, restaurateurs Fabiana de Savino and Enrico Barbiero wasted no time in opening Paciarino. There, pasta made daily by Barbiero "raises the bar for pasta," according to the New York Times. "His tender ravioli are stuffed with sweet local shrimp and haddock, and his spaghetti is hand-stretched and perfectly cooked," the reporter continued. The chef draws from a palette of imported Taggiasche olives, garlic from Sicily, and peppers, mozzarella, and salamis from around Italy. When possible, the produce is sourced from organic farms, and the selection of seafood, like a neighbor's level of anger at your Halloween display, depends on the season.
Paciarino's airy interior keeps the mood light and focused on the cuisine, which is complemented by red and white wine. "You can hear a surprising amount of Italian language among the diners," said a writer for The Boston Globe after a visit, " and everyone seems a little more cheerful than they did when they walked in."
470 Fore St.
Portland
Maine
Chefs at Hi Bombay have honed recipes for curry, vindaloo, and spicy masala over the course of 23 years, yielding a carefully spiced menu of Northern Indian classics and regional seafood specialties. Fresh-baked naan bread and whole-wheat roti sop up sauce from lamb and chicken dishes cooked in a clay-oven tandoor, and fish labadar from the Bay of Bengal simmers in a creamy tomato sauce. Hi Bombay also rents a 75-person banquet room for catered gatherings, and welcomes diners on major holidays such as Christmas, Thanksgiving, and the anniversary of Caddyshack II's DVD release.
1 Pleasant St.
Portland
Maine
207-772-8767
By morning, it's a breakfast hub known as The Good Egg Café. During lunch and dinner, the festively colored space, draped in twinkling string lights, turns into Pepperclub Restaurant. Entering the eatery is like stepping into a crayon box; the walls are painted in a lively palette of oranges, purples, blues and reds. Though the globally inspired menu draws on local seafood, beef, and lamb for Indian curries and Greek recipes, vegan and vegetarian dishes such as baked and stuffed jalapeños, veggie burgers, and asiago risotto cakes with portobello are also plentiful. After finishing off complimentary homemade bread, patrons ease sugar cravings with a handmade chocolate cake, or ease sunburns by applying cool vegan tapioca directly onto the sun.
78 Middle St.
Portland
Maine
207-772-0531
Nestled amid the cobblestone streets and independent shops of the Old Port District, 15 Exchange Grille sizzles with an ever-transforming menu of Mediterranean-inspired comfort fare. Each week, chefs whip up sandwiches, pastas, and Mediterranean comfort specialties from the freshest ingredients and market-catch seafood available. Bartenders pair the Levantine comfort food with beer and cocktails from the full bar. Tabletops checker the dining room, backdropped by exposed-brick walls and the enormous portrait of French actress Bridget Bardot staring down from her frame, goading diners into staring contests.
15 Exchange St.
Portland
Maine
207-774-1595
Instead of heading out to play after school as a kid, Ron Stephan spent afternoons in his mother's kitchen, rolling chicken cordon bleu for the catering business she ran from their home. Today, Ron continues his family tradition of freshness at his own restaurant, Ricetta's, where every dish is made from scratch daily. "I guarantee you my freezer is smaller than your freezer at home," Ron says with a laugh, "unless you have a really small freezer."
The restaurant's accolades speak for themselves. Since it opened in 1989, Ricetta's has won the Maine Sunday Telegram's readers' poll for best pizza a whopping 20 years in a row, as well as earning a spot on USA Today's 51 great pizza parlors in 2010. At its current location, which it has occupied since 2000, two hand-built brick ovens fire up each pizza, giving the crust a crisp outside and a soft, pillowy center.
Though the food is crafted with care, the lifeblood of Ricetta's, according to Ron, is its employees, many of whom have been with him for over 10 years. They have helped create all of the menu's dishes, including the Bolto pizza, loaded with pesto, roasted chicken, and broccoli, and named after the manager who would make it for himself for lunch every day. Ricetta's first employee, Skip, lends his name to the popular linguini Scipollo, which he fashioned from chicken, sometimes shrimp, with prosciutto and tomatoes in lemon-cream sauce. To show his gratitude, Ron celebrates each staff member's anniversary by printing a mention in the newsletter and cooking them a pizza with monogrammed pepperoni slices.
240 US Rte. 1
Falmouth
Maine
207-781-3100
Cork & Olive Wine Bar & Café's chief oenophiles, Hank and Doug, celebrate the store's expansive collection of wines and microbrews by adding a social tasting and snacking experience to the joy of shopping for fine imbibables. During these tastings, guests may have the opportunity to observe actual gold flakes tumble and turn amid the racing bubbles of the Peter Brum Gold Sparkler or note how the creamily textured tannins in the Cinnabar merlot transform when paired with artisanal cheeses and gourmet meats. Oak barrels await the touch of a tap to allow customers to fill their own bottles or purses with ripe, fermented delights. Every Friday and Saturday, live jazz imbues the air with as many varied and unpredictable notes as are found in the store's collection of wines.
127 Commercial St.
Portland
Maine
US
---