Professional Services in Watervliet
---
Professional Service Deals
---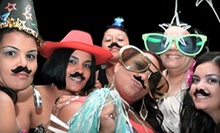 Photobooth packages including delivery and set-up by an on-site attendant, social media uploads, online galleries, and double-strip prints
---
Recommended Professional Services by Groupon Customers
---
One year after marrying her high school sweetheart in 1996, owner Jessica said "I do" to the wedding business when she opened Fairy Tales Bridal Boutique in Eastland, Texas. A certified wedding specialist since 2006, Jessica has developed a hands-on approach to wedding-invitation ordering. With Southern Charm Weddings, she helps soon-to-be newlyweds accessorize their weddings with products that range from the save the dates for the ceremony and reception to thank-you cards for the barrage of well-wishes that follow.
Having her own positive experience ordering her wedding invitations from Carlson Craft, Jessica deals exclusively with the 64-year-old printer, whose attention to detail earned her allegiance. Aside from printed items, including invites, programs, and announcements, Southern Charm Weddings also equips couples with ring pillows, unity candles, cake tops, and flamethrowers to scare off uninvited guests. To make it even more about the wedded duo, Southern Charm also personalizes most of its products with the couples names or shared messages.
27 Moore Ave.
Saratoga Springs
New York
518-490-1775
Home Style Caterers whip up hearty Italian breakfast, lunch, and dinner dishes for parties across upstate New York. An array of platters offers something appealing to all manner of partygoers, offering dishes that range from swedish meatballs to antipasto and kebabs. Pasta dishes are served alongside chicken available in 15 varieties, including marsala, parmigiana, and cordon bleu. Services range from prepping the food for pickup, dropping off comestibles at a party, offering a limited buffet, or treating guests to white-glove butlered service and hand-feeding them each piece of food.
268 Saratoga Rd.
Glenville
New York
518-701-4501
For more than 18 years, Classé Catering's chefs have prepared impressive spreads of hors d'oeuvres and multi-course meals for all sorts of events. Norwegian smoked salmon with rye chips or platters of prosciutto and cheese are just a few of their specialty finger foods, while entrees like herb-encrusted pork loin or shrimp and crab-stuffed sole conquer more substantial appetites. In addition to catering, the company's event specialists can help event hosts to decorate or even find a venue.
2 Petra Ln.
Albany
New York
518-690-0293
Upon clicking the shutter on her first camera as a teen, June Czerwinski was immediately smitten with the art form. She continued studying and practicing her skills in the U.S. and abroad while working as a Club Med costume designer in Europe, Mexico, and the Caribbean. For the last five years, with the help of her all-female staff, June has combined her passions for costuming, art, and photography with her desire to empower women through boudoir sessions at her boutique studio.
Frequently working with professional hair and makeup artists, June helps accessorize her clients' own garments with flirty fishnet hose and suspenders so her models pop before her minimalist backdrops. June lets the personality of clients guide her shoots, capturing classic pinup poses along with cropped shots of legs or torsos clad in alluring lingerie. From proofs assembled in an online gallery, clients can determine which pictures best befit their print options, which can include a custom tabletop book, 12-month wall calendar, and Mayan calendar with their likeness etched in stone.
85 Mill Hill Rd.
Woodstock
New York
US
845-679-5300
Elegant Affairs elevates the concept of traditional brunch with delicious cuisine from lauded caterers and smooth jazz music. Elegant Affairs has been catering since 1989 and has experience crafting menus for intimate occasions or parties as large as 4,000 attendees. For the jazz brunch, they create a specialty menu that includes breakfast and lunch favorites such as french toast and caesar salad as well as a full cash-only bar stocked with mimosas, bellinis, and other morning cocktails. As guests taste sweet and savory brunch dishes, jazz musicians such as Jon Berman and Eric Bascom supply an ethereal live soundtrack.
1380 Main St.
Springfield
Massachusetts
413-734-9267
Before looking through the camera lens, the expert photographers at Picture People spend time getting to know their subjects and establishing a strategy for conveying their personalities in print. Then, film-ready clients pose in the bright camera room, airing teeth amid colorful backdrops and creative props. Following snapshots, subjects make their way to the selection station to choose their favorite poses from their session, which may be treated with sepia tones, color accents, and decorative borders to suit any wall, wallet, wallpaper pattern, or trophy walleye.
Picture People encourages subjects to arrive 15 minutes early to the shoot and offers a variety of creative tips to help enhance mantel-dominating final results. The studio ensures satisfaction with a 100% guarantee on finished products.
1 Crossgates Mall Rd., Suite K205
Albany
New York
518-464-0702
---