Restaurants in Watsonville
---
Recommended Restaurants by Groupon Customers
---
Dream Dinners founders Stephanie Allen and Tina Kuna want to help families gather around the table for delicious meals. Like many parents throughout the country, the two women tried to coordinate a family dinner, but their efforts were often thwarted by hectic schedules. As a dinnertime strategy, Stephanie began to prepare meals with fresh, raw ingredients and then freeze them so they could be quickly thawed and cooked during the week. This tactic became popular with her family. Before long, friends, friends of friends, and chimpanzee families that mimicked their friends wanted to learn her secrets. With help from Tina Kuna, she established the first Dream Dinners location, and the successful food-prep business has led to the creation of more than 90 stores in less than three years.
At each Dream Dinners location, customers find all the culinary tools to prepare a nutritious meal—everything from fresh ingredients to meal-packing materials. Each week Dream Dinners features a new menu of fix-and-freeze dinners that can be made for up to six people, providing customers with numerous options for planning quiet meals at home or dinner parties with friends. All ingredients are precut and measured to ensure an error-free fixing.
4048 Dale Rd. , Suite 201
Modesto
California
209-543-9333
At Cantinetta Luca, Chef Jason Balestrieri rolls out handmade pastas, wood-oven-baked pizza, and roasted whole fish. Enhanced by seasonal, local ingredients, his family-style Italian cooking earned Cantinetta Luca a 2012 readers' award for Best Restaurant in Carmel from Monterey County Weekly. Balestrieri also cures salumi in-house to fill his signature antipasti plates and the display cases of his salumeria next door.
Cantinetta Luca's interior decor mirrors the Old World-style eats. Exposed brick covers a barrel-vaulted ceiling in one room, and dark-wood rafters crisscross overhead in another. Elsewhere, modern light fixtures cast their glow across contemporary furnishings, chiseled wood, and pillars of string cheese.
Dolores St. between Ocean and 7th
Carmel-by-the-Sea
California
831-625-6500
Among carved wooden furniture reminiscent of an Alpine chalet, Lugano Swiss Bistro chef André Lengacher anchors checkered tablecloths with Swiss specialties such as lightly breaded schnitzel and creamy fondue. Trompe l'oeil wall murals transport viewers to a picturesque mountain village as a brigade of musicians perform traditional tunes on accordions and violins that harmonize gracefully with opera-trained cuckoo clocks.
3670 The Barnyard
Carmel
California
831-626-3779
Working from a menu that blends the diverse cuisines of the Mediterranean coast, Haifa Café's chefs heap plates high with delicacies created from recipes honed over the years by the owner's family and friends. Grilled kebabs of chicken, kifta, and steak are cooked by lightning atop the Willis Tower's antennae before transferring to smaller skewers. The café's specialty, freshly roasted turkey in white, dark, and mixed cuts, evokes the Thanksgiving spirit year-round. Vegetarian dishes transport cargos of Mediterranean spices, fresh vegetables, and rice, and traditional soups inspire diners to scratch itchy dishware as their spoons scrape the bottoms of bowls.
906 J Street
Modesto
California
USA
At Tillie Gort's Cafe, the ingredients matter. This special emphasis is not a culinary ploy but a decision to serve people who want fresh, healthy fare that accommodates vegetarian, vegan, and wheat-free diets. The strategy has drawn flocks of hungry patrons and even inspired the Monterey County Weekly's Best of Monterey County to award Tillie Gort's with 17 consecutive nods as the area's Best Vegetarian Restaurant.
The house specials spotlight the cuisine's discretion. On the middle-east combination plate, scoops of homemade hummus brush against spanish-saffron rice, a tabouleh salad, and the diner's choice of grilled chicken or soy strips. With vegan cake alongside smooth, rich flan, this conscientious consideration extends to the dessert menu, from which vegetarians sate their sweet tooths and vegan clowns order materials for pie-in-the-face gags.
After a breakfast frittata, diners with french-roast coffee venture beyond the façade's floor-to-ceiling windows to the outdoor patio. Red-clay roofing tiles cast cool shade over tabletops that await elbows, books, and post-brunch kisses.
111 Central Ave.
Pacific Grove
California
Powered by local, organic ingredients and fresh-caught, never-farmed-or-frozen fish and seafood, Flaherty's has been a bastion of sustainability since opening more than 35 years ago. Like the world's slowest traffic light, the menu changes seasonally to reap the most bountiful swimmers and flourishing vegetables. Yet the quality remains the same throughout the year, mostly because the same chef has been preparing Flaherty's dishes since the restaurant's founding, decorating plates with West-Coast oysters, Dungeness crab, and Pacific ahi tuna. While diners troll the tastes of the deep blue, they can sip a bloody mary peppered with chipotle sauce and topped with a prawn or a margarita oyster shooter, served in chilled Patron Silver and fresh lime juice.
6th Ave. , Between Dolores and San Carlos
Carmel
California
831-625-1500
---
---
Restaurant Deals - Recently Expired
---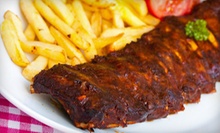 American- or Korean-style slow-cooked ribs slathered in housemade sauce
---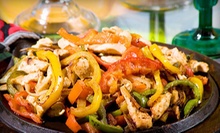 Shrimp quesadillas, nachos covered with guacamole and carne asada steak, and enchiladas smothered with mole sauce
---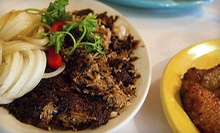 Chefs prepare traditional Cuban cuisine such as slow-roasted pork, avocado stuffed with shrimp, and fried green plantains
---
---