Things to Do in Watsonville
---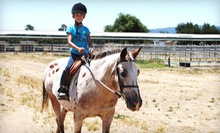 Jeanette Arnaout channels more than 20 years of equine experience to carefully guide students of all skill levels at full-day summer camps
---
Recommended Things to Do by Groupon Customers
---
Lucky Fest helps revelers safely usher in America's greenest holiday by gathering 25 custom-built pubs along a single stretch of 11th Street. Each makeshift mead hall has taken on a unique theme for St. Patrick's Day. Guests can visit Grace O'Malley's Fantastic Voyage to enjoy a drink at a 16th-century pirate-themed alehouse built on a converted clipper, then swing past MacGowen's Karaoke Bar to belt out a favorite tune or deliver a rousing pep talk backed by Pointer Sisters tracks. Funny bones are tickled by visiting comedians from around the country during a drop-in at Patty O'Flynn's Comedy Shop, while the Irish Bar Bar Shop's barber chairs welcome visitors to stop in for a quick trim before they head to The Docks to pose for a souvenir photo with the Sea Maiden of the Celtic Sea.
930 11th St.
Modesto
California
209-579-2901
The beauty of little ladies blossoms at Hollywood Princess, a party facility that hosts birthday galas, boutique soirees, and general revelry for girls aged 4–12. Burgeoning beauties revel in grown-up style glam, while friendly staff members polish nails to a sparkly sheen, create striking up-dos, or help hands cull their own scented gloss. To extend the adventure, the boutique also stocks a broad selection of princess wands, girls birthday boutique clothing such as pettiskirts, birthday number tops, custom tutus along with a wide variety of all holiday clothing.
901 N Carpenter Rd., Suite 31
Modesto
California
209-527-1668
The dazzling, art-deco exterior of The State Theatre sends moviegoers back in time to Hollywood's heyday. The elegant 1934 theater eschews the big-budget productions and 3D infomercials of today's movie industry and instead screens classic films and indie features. On opening nights, The State Theatre often hosts Skype Q&A sessions with the directors and other filmmakers.
1307 J St.
Modesto
California
209-527-4697
During her childhood, Cheryl Brown learned everything she could about horses. She joined the Hacienda Hi-Riders horse drill team and participated in 4-H club meetings before majoring in animal science for her first year at Cal Poly, Pomona and writing Mr. Ed's memoirs. Eventually, Brown's love of animals took a back seat to her love for the arts as she switched gears and graduated with a master's degree in art education, which blossomed into a 15-year career as an art teacher as well as a YMCA instructor and a Girl Scout leader.
At Art and More Day Camp, she aims to excite and enlighten youngsters with an endless array of art classes, outdoor activities, and horseback-riding lessons. The spacious facility, which brims with cats and other four-legged friends, comes outfitted with a fenced-in pool, a bounce house, and foosball tables and welcomes kids as young as 3 for one-hour sessions or half- or full-day camps.
Brown's favorite class, Parent with Young Child Art Time, has adults and their preschoolers joining creative forces as parents learn the stages of development and little ones create and play. More than 17 art classes provide an outlet for mini adults to learn a range of art skills that include the basics of drawing, how to create collages, and the art of papier-mâché-ing a younger sibling's mouth shut. Brown also teaches youngins how to properly ride a horse during private and group lessons, during which she bestows her many years of riding experience.
3731 McReynolds Ave.
Modesto
California
209-551-2308
---