Waukee Cleaning and Home Services
---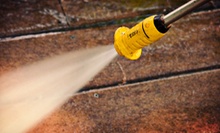 Power washing frees home exteriors from dirt, pollen, and other grime
---
Recommended Home Services by Groupon Customers
---
ECOMAIDS uses only all-natural, modern, bio-based green-cleaning products that are gentle on your family, your pets, your family's family of pets, your pet family, and the environment. These mild yet effective products get surfaces sparkly clean without damaging furniture finishes or utility surfaces. Each scrubbing session covers your home's kitchen, living room, dining room, entryway, bathrooms, and hallways. The maids will dust, spray, scrub, wipe, mop, and vacuum floors, surfaces, baseboards, and more. They'll empty the garbage, clean the encrusted tomato sauce from the sink, and scour lingering carbon footprints off the ceiling. To keep you from having to go on an expedition to find dishes lurking under your housemate's bed, ECOMAIDS will gather and load your dishes into your dishwasher for you. Click on ECOMAIDS' checklist to get a full run-down of services provided.
1975 NW 92nd Court Suite C
Clive
Iowa
US
515-401-6243
Uniformed cleaning technicians from The Maids arrive at homes in teams of four to tidy up houses using eco-friendly supplies and a 22-step cleaning process. The staff pays keen attention to detail as it cleans out the kitchen sink, hand-washes floors, empties all trashcans, and tickles furniture with feather dusters. Cleaners enlist the aid of state-of-the-art backpack vacuums with HEPA filtration systems to eradicate allergens. The Maids are so confident in their work that they boast a satisfaction guarantee and pledge to return to homes if customers are unhappy to re-clean areas for free within 24 hours of the service.
1975 NW 92nd Ct., Suite C
Clive
Iowa
515-401-6243
Guided by a commitment to health, safety, and environmental preservation, EcoMaids of Des Moines dispatches crews armed with Green Seal–certified cleaning products and HEPA–filtered vacuums. During their extensive training, tidying pros learn to prevent cross-contamination by following a cleaning process that trades harsh chemicals for microfiber tools, which use less water and grab more grime than traditional mops and sponges. After attacking dust bunnies and more rare dust dodo birds with dry cloths, the cleaners sanitize counters, sinks, and other germ-prone surfaces with EPA–recognized disinfectants. Equipped with a multilevel filtration system, the staff's vacuums evict pent-up dirt from carpets while keeping air safe for clients with asthma and allergies. Cleaning-crew members also shrink their carbon footprint by recycling paper, glass, and plastic and by washing their laundry in high-efficiency washing machines instead of burning their clothing after every use.
404 Vine St., Suite B
West Des Moines
Iowa
515-556-0860
Midwest Painting's seasoned professionals enliven homes from the inside out with meticulous painting services and color touch-ups for domicile interiors and exteriors. Upon receiving a phone call from a homeowner in need, painters race to residences equipped with plastic covers, drop cloths, and a utility-belt full of brushes and paint-slinging Super Soakers. The assiduous staffers go to great lengths to keep homes and their belongings intact with protective materials, and thoroughly prep targeted surfaces with stripping and pressure washing. For interior projects, the skilled painters can glide brushstrokes of new, vibrant hues over walls, ceilings, doors, and cabinetry. They can also venture outdoors to douse the house's siding, gutters, brick, and secret rooftop helipads with eye-catching color. Midwest Painting makes sure to pick up all of their things before leaving the client's home.
408 SW 3rd St.
Ankeny
Iowa
515-963-0075
Founder James Freeman preceded his storied 30-year career in the pest-control field with an even grander story in the music industry. His bass vocals can be heard in the 1950s hit "In the Still of the Night," recorded when he was a member of The Five Satins. His illustrious career placed him on stage beside legends such as Chuck Berry, Fats Domino, Little Richard, and Bo Diddley in fabled venues such as the Apollo Theater. Mr. Freeman's accomplishments have earned him an induction into the United in Group Harmony Association Hall of Fame and a Pioneer Award from the R&B Hall of Fame.
916 15th St. SE
Des Moines
Iowa
855-285-9658
Ready to heft furniture and boxes seven days a week, the uniformed teams from Iowa Moving 1 shuttle out to homes or offices across central Iowa. Once there, they load customer-provided moving trucks with the efficiency of an Olympic Tetris medalist, maximizing the use of space while protecting loads with furniture pads and securing them for transit with tie-downs. Though clients provide and drive their own trucks, the movers tote along their own dolly and a set of tools for disassembling beds or taking mirrors off dressers.
155 Broderick Dr.
Waukee
Iowa
515-975-2840
---