Bars in Waukesha
---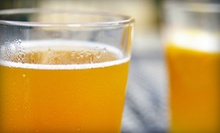 Sports bar slings sliders, beer-cheese fries, and hot wings alongside light beer, then shuttles partiers to and from baseball game
---
Recommended Bars by Groupon Customers
---
Germany's famously slow-grilled, handheld miracles wrapped in pretzel rolls compose most of the Milwaukee Brat House menu. Along with satisfying stand-bys like the famous bratwurst ($7), marinated in beer and onions before tucking into its salted pretzel-roll bed, sausagists can also sample the Italian brat ($7), grilled and heated over marinara sauce and mixed peppers. The Brat House Reuben marries beef brisket with sauerkraut and Swiss cheese on rye ($8), paving the way for an autobahn's worth of fine-tuned German sandwich engineering. Try the pulled pork sandwich ($7.50) or the Brat House BLT with thick-cut hickory bacon ($7.50).
1013 Old World 3rd St
Milwaukee
Wisconsin
Horny Goat Hideaway crafts a menu of comfort fare and American fare with its private label of craft microbrews, Horny Goat Brewing Company. The recently built BFT (Big Fun Tent) spans 14,600 square feet and boasts a 20'x20' stage, a 10'x16' flat-screen video wall, and lounge furniture. The heated complex also includes sand-volleyball courts. When the aggressive yelps of an ignored appetite prove too bothersome, the eatery can provide empty stomachs with a Loaded Tots appetizer, topped with beer-cheese sauce and bacon, and the pulled-pork sandwich, served with apple coleslaw. On Saturday and Sunday from 10:30 a.m. until 2 p.m., the brunch menu fulfills diners' desires with savory options such as the Eggs Benny—an english muffin, canadian bacon, and hollandaise—or the crisp belgian waffle, served with strawberries and whipped cream.
2011 S 1st St.
Milwaukee
Wisconsin
414-482-4628
Inside Art Bar, hundreds of soda-bottle caps crate an argyle pattern on pillars, wine corks stud an oval-shaped bar, and paint-by-number pieces plaster a wall, depicting everything from horses to Jesus. The aesthetic is kitschy—absurd, sentimental, theatrical—and it offers a glimpse into the creative mind of owner Don Crause. Formerly an interior designer for Ethan Allen, Crause left the position to brave the trials of being a small-business owner in Riverwest. Today, his bar pours more than 40 microbrews by night and Alterra coffee by day in a space adorned with the rotating creations of local artists. The beer lineup includes seasonal brews from Bell's, Founders, Lakefront, and New Glarus, as well as "mystery beers" served for two bucks or so in a crumpled brown bag. The Milwaukee Journal-Sentinel describes the venue as "a feast for all senses," and "one of the hottest spots in Riverwest," noting that newcomers who attend the bar's comedy, musical, or artistic events "might want to have a date to match."
722 E Burleigh St.
Milwaukee
Wisconsin
The bottles that make up Thief Wine's diverse inventory are not stolen, but they may as well be. The shop's name—a reference to the long tube or "barrel thief" used to sample maturing wines waiting to be bottled—reflects the air of mischief shoppers experience in encounters with otherwise inaccessible wines that makes each of the shop's selections feel like the product of a thrilling cellar heist. The fruits of proprietors Phil Bilodeau and Aimee Murphy's careful wine curation decorate the walls of Thief Wine's two locations with more than 500 selections, which mix familiar labels with artisanal up-and-comers from around the globe. At each location's wine bar, certified sommeliers pare down the hulking inventory to about 30 essential bottles, which slosh into thematic tasting flights or full glasses to flank small plates of cheese and charcuterie.
400 N Water St.
Milwaukee
Wisconsin
414-277-7707
Most of MOCT's patrons start the experience with an appetizer of Serbian-style sliders (ground pork and beef with kamjak, a feta and red-pepper spread, $6) or O.G. wings (classic buffalo sauce, $7) and a $4 draft of any of the seasonal beers on tap. One of the special imports such as Big Nik Serbian beer or Strongbow ($6 each) pairs well with a 14-inch MOCT pizza (Serbian sausage, mushroom, and onion, $13) or beef burek (ground beef and onions layered in phyllo dough, $12) before you move on to liquid desserts such as a blackberry margarita ($7).
240 E Pittsburgh Ave.
Milwaukee
Wisconsin
Drinks flow to the beat of the night's soundtrack, an eclectic selection of dance music ranging from salsa to bass-heavy club hits. Salsa Saturdays are perfect for a tall margarita thirst quencher ($6), or refresh your panting palate with a minty mojito ($8). Any night of the week is suitable for fermented ales from the tap ($4) or by the bottle ($3.50 domestic, $4 imported). For a late night or if you're performing a grueling dance scene from an episode of Veronica's Closet, a Red Bull ($4) or any bomb upgrade ($6) will provide anybody with a surge of body fuel.
818 S Water St.
Milwaukee
Wisconsin
---