Beauty & Spas in Waupun
---
Recommended Beauty & Spas by Groupon Customers
---
TAN'R YOU was voted the Best Tanning in Milwaukee for 2008 and 2009 by CityVoters, who cited its accommodating facilities and fully air-conditioned tanning beds. A gold-colored floor ushers pale hides down a hallway of individual bronzing rooms stocked with top-of-the-line pigmentation machinery. The High Pressure MATRIX bed is an import from Italy that tans in 12 minutes while treating clients to music from its CD player / stereo and using high-pressure negotiating tactics to send paleness packing. For those who have already positioned their real sleeping bed directly under their bedroom's sunniest window, the Cabana Mist tanning booth provides a convenient vertical service while evenly painting the body with smooth shades of spring and summer.
2368 W. Washington St.
West Bend
Wisconsin
Nevaeh's vast range of services makes it an ideal place for a day of pampering and relaxation. No matter which of your body parts are threatening secession, Nevaeh MediSpa's experienced professionals will soothe, massage, and wax the rebellion out of them, leaving your body in a blissful state of union. One of the more popular services at Nevaeh is the therapeutic deep-tissue massage, which uses deep pressure and slow strokes to ease stress and pain and relax the body (55 minutes, $90). Also popular are microdermabrasion, 30-minute treatments with a magical, handheld wand that removes the top layer of dead skin from the faces of its recipients ($100), and Nevaeh's anti-aging facial. As the facial mask clears the complexion, deep cleaning and promoting cellular regeneration, clients receive a hand and foot massage, helping relax worry lines into sweet, delicious oblivion (60 minutes, $85). For the kerosene-drinking, tree-felling man about mantown, Nevaeh offers a men's signature facial, which cleans and stimulates the skin and minimizes razor irritation before ending in a fistfight with a shark (60 minutes, $75; shark extra).
103 E. Silver Spring Dr.
Whitefish Bay
Wisconsin
Madison Hair Designers caters to discerning clients looking to spruce up their outer layers, whether for a special occasion or day-to-day hair tossing. Offering a variety of beautifying services, a talented staff of follicle-formers cuts and styles the hair of women ($29–$38), men ($26–$36), and kids ($14–$20), minding each client's specific needs and style. Clients dolling up for a wedding or special event can opt for specialty styling and updos ($45+) or perms ($65–$90), while those looking to update their look without sporting a live snake scarf can do so with highlights and a cut ($75–$95) or just a coloring ($60–$75). A selection of skin-smoothing options helps customers curtail interloping follicles with a facial waxing ($12–$25) or underarm waxing ($20). The hairless can pretty up their palm prods with a manicure ($24) or a polish change ($12) and shoe fillers get the royal treatment with a pedicure ($40).
656 N High Point Rd.
Madison
Wisconsin
Indulge Spa helps clients relieve stress and refresh their tired muscles through a full menu of salon and spa services. Today's deal lets customers' faces evade fatigue: for 60 minutes, listen to the ecstatic sighs and groans emerging from your own mouth as the experienced and licensed aestheticians cleanse, exfoliate, and massage your skull skin according to its specific needs during the refresh facial ($65). This Groupon's $65 value can also be applied toward more-expensive 60-minute facials, such as the fountain of youth facial ($70), which incorporates nutrientitious dermalogica AGE Smart products to smoothify the skin, or the clarity facial ($70), an acne-annihilating, bacteria-butchering treatment that uses tea-tree oil, zinc triplex, and benzoyl peroxide to get your mug ready for tomorrow's surprise prison photo shoot. All facials come with a choice of hand, foot, or tail massage.
4339 E Towne Way
Madison
Wisconsin
608-249-7047
Muscle knots. Chronic aches. Deep-seated reservoirs of stress and anxiety. These and other ailments bring clients to Elements Therapeutic Massage, where they find relief courtesy of professional therapists who customize their treatments to match individual needs. The studio's unique, level-based system gives clients an idea of what to expect during the session; they can request a low level for a gentler experience or opt for a higher level to eliminate any soreness remaining from the previous day's jousting tournament. Each massage therapist has his or her own specialties, and treatments may draw on relaxing Swedish and hot-stone techniques or firmer deep-tissue and trigger-point strokes.
312 E Silver Spring Drive
Whitefish Bay
Wisconsin
Dr. Christopher J. Knuth merges his 23 years in the medical community with a dedication to mending skin and soft-tissue injuries and the expertise of his skilled, friendly staff to grant clients effective cosmetic treatments in relaxing, spa-like confines. Wielding pharmaceutical-grade products such as Latisse, SkinCeuticals, and Obagi, the physician and his staff sculpt ravishing exteriors through a range of services.
Microdermabrasion and chemical peels rediscover the face's hidden youth by wiping away dull outer cells, and vein therapy fades unsightly blood vessels that are visible through skin. The Lumenis AcuPulse CO2 laser helps treat superficial and deep fine lines, wrinkles, sun damage, and acne scars. Clients revel in the care, heaping accolades upon the staff and declaring their experiences at Aspen Medical Aesthetics and Laser Clinic as "nothing but a pleasure" and "definitely worth it."
11037 N Towne Square Rd.
Mequon
Wisconsin
262-241-2273
---
---
Beauty & Spa Deals - Recently Expired
---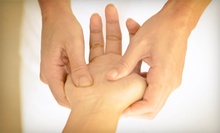 Acupressure techniques with reiki work aim to alleviate body aches and tension
---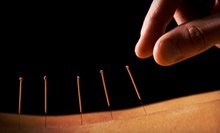 Acupuncture helps relieve neuromuscular and musculoskeletal pain by removing energy obstructions in the body and improving circulation
---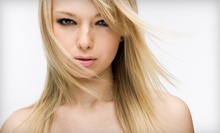 Jewel-toned walls create a luxe, vibrant environment where hair is cut, styled, conditioned, and colored
---
---